Asik trade sets up Rockets for even bigger ideas
A look at whether the Rockets could potentially set up a Big 3 of Dwight Howard, Carmelo Anthony, and LeBron James.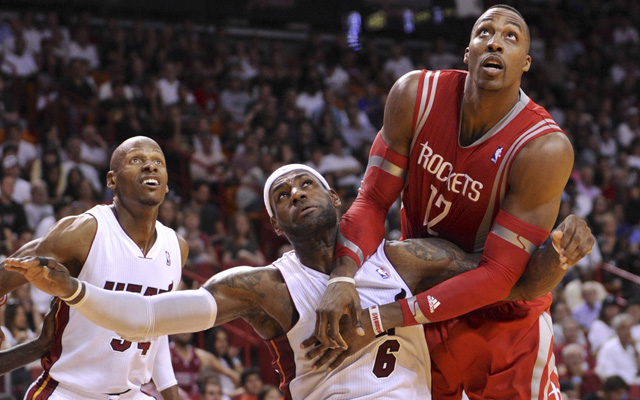 More Offseason Analysis: Coaching changes, news | Free Agency | Draft | Rumors
So the Rockets got to work on Wednesday night, trading Omer Asik to the Pelicans for a first-round pick, available from somewhere between 4 and 19 depending on who you ask about the protections.
For the Pelicans, it's a win-now move. They get a center to pair with Anthony Davis in an attempt to lower the impact of playing center on his body and improve their defense. Asik is an expiring contract next summer and if the Pels fail to re-sign him, they will have surrendered yet another pick in an attempt to win now. If it works out, though, it could provide them with the defensive combination to make the playoffs with a young roster with talented players they can trade later. 
But for right now, the more interesting part of the trade comes on Houston's end. Because that's where the superstars come into play. 
Moving Asik, taking no money back, and clearing his $8.3 million off their books wss a warning shot. It was a declaration that if they want to, they can make the room to sign a max free agent by moving Jeremy Lin. and clearing another $8 million. It helps them get within striking distance of adding a free agent. ESPN also reported Wednesday that there exists the possibility of Houston moving James Harden in a sign-and-trade to acquire LeBron James or Carmelo Anthony as a second superstar. 
But even in a vacuum, this deal is a success. Let's take everything with Melo and James and put them aside for a second. The Rockets were able to take a disgruntled center who was unhappy in his role and going to cost them $15 million next season, and convert it into a future protected first-round pick. That first-round pick can help them in moving Jeremy Lin, in a sign-and-trade with Chandler Parsons for a bigger deal, in adding a quality rookie as early as next season, the possibilities are endless. 
But the Rockets clearly have big aspirations on the horizon. Adding LeBron James to their core of James Harden and Dwight Howard seems like a pipe dream. Adding Anthony to that core seems like a nice, but ultimately, not title-contention-shifting move. But adding both of them? While adding two superstars is often thought of as harder than adding one, they're both more likely to buy into the idea if they can play together. A Big 3 of Anthony, James, and Howard would be a better situation than what Melo faces in Chicago with Derrick Rose's injury questions and Joakim Noah's relative offensive limitations, or what James has in Miami with Dwyane Wade's decline and Chris Bosh's role player status. 
The questions had been if anyone could really put together a feasible scenario where leaving New York and Miami were legitimately better options for the two and if there was a realistic scenario for them to play together. Houston may have created that and we're not even to July 1 yet. 
Houston's swinging for the fences. Even if they don't make contact with the ball on this swing, they've got the pitcher in the count they want. 
Thomas took to Twitter to let the Celtics know he doesn't want to ruin Pierce's night

The Hall of Famer was a seven-time All-Star with the Celtics, and was MVP of the 1976 Fina...

It's rare to see a legit punch in an NBA fight, but this was definitely one of them
We've got all the scores, highlights and news from an NBA Tuesday

The former Slam Dunk Contest champion will take his talents to Tri-State

Do NBA players have look-a-likes from famous paintings? We found out on the new Arts & Culture...