At first look, Dante Exum and Nerlens Noel have dazzled audiences
Dante Exum and Nerlens Noel finally made their summer league debuts for us, and they had us enthralled no matter how they played.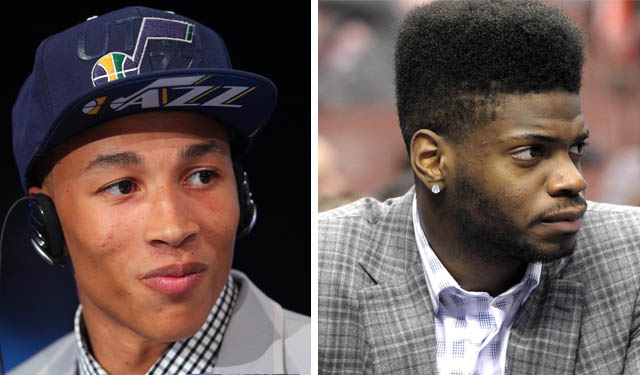 More Offseason Analysis: Coaching changes, news | Free Agency | Draft
LAS VEGAS -- The unknown quantity in sports, especially when it comes to young basketball players, can be a very exciting thing. The idea of potential can often trump a tangible alternative. The situation with the Cleveland Cavaliers and their decision of whether or not to include Andrew Wiggins in a trade package to acquire Kevin Love is a great example of the struggle between the two ideologies.
The anticipation of getting to see a young player finally showcase his talent against the next level of competition can bring about an anxious feeling. If you were down on the player heading into the draft, are you going to look like a fool if they come out and look to be as talented as advertised? If you were high on the player, will you look like your "eye for talent" is blind if the player in question doesn't look like they belong on the court?
The first measuring stick for this type of confirmation of talent -- or lack thereof -- is the summer league season. Young players, unproven players, veterans looking for a second life, and unknowns flock to Orlando or Las Vegas or both, hoping to further their career in whatever way they can. But the energy that fills up those buildings the most comes from a rookie with high potential. 
Being in the building, whether it's the size of a college arena or a high school gym, for the Las Vegas summer debuts of Dante Exum of the Utah Jazz and Nerlens Noel of the Philadelphia 76ers was electrifying. While Noel was limited to just two games, his impact in those games showed waiting for a year for his debut was worth the wait. Waiting for Exum to finally show us what he looks like against better basketball talent also started to justify the hype of this mysterious Australian point guard of this past year's basketball lore.
Judging summer league play can be tough because the process has so much more currency than the results. Good or bad, the stats dissipate into the ether almost instantly and certainly did with these two players. I couldn't tell you how many points Exum scored; I can tell you he held the collective attention of everybody in the arena as soon as he stepped onto the floor. As soon as he was bouncing the basketball against the hardwood, the presence and poise he displayed were dancing in the fantasies of fans and writers wondering how good he was going to be.
For that first game and the ensuing action he had on the floor, he never busted through with monster statistics. Exum simply kept his eyes up and forward against ball pressure, double teams, and the help defense. His strides were long while his steps were quick. His control of the ball kept his teammates anticipating helping him complete plays. The collective breath of the audience was bated wondering how he'd dazzle their senses. 
"I think we can remove any doubts about that kid," a Western Conference scout told me following Exum's time in Vegas. "It's not that he doesn't have stuff to work on; the cloudiness of what he might be seems to be over."
Exum didn't shoot particularly well, which was a concern about his game heading into the draft. We hadn't seen much of his competition prior to summer league and what we did see only offered up more questions about what was real and what was simply hope for a new star. The international man of mystery knows the jump in the level of competition with Vegas summer league and then joining the Australian national team this summer is something to embrace as he figures out how to succeed consistently.
"It's definitely going to be harder," Exum said after playing in his five games in Vegas. "I'm playing against grown men who know how to use their bodies. It's just a faster-paced game. Playing with the Australian team, I'm definitely going to get the chance to play at a high level like this was.
Last games I played were high school games. I'm one of the bigger guys out there that can push guys around. Here, I get to the paint and I'm getting knocked over."
Noel had a different story, but a similar anticipation. He blew out his knee in his freshman year at college, and in an effort to ensure his health while keeping his development progressing, the 76ers held him out of his first year in the NBA. He made his debut in spectacular fashion in Orlando, averaging 12.2 points, 5.7 rebounds, and 3.0 blocks in 24.7 minutes over four games. When he came to Las Vegas, he only played in two games but his defensive presence was sensational in person.
"Watch him on defense and you begin wondering how he wasn't the top pick in that draft," another scout offered up about Noel. "Sure, you had concerns with the knee and those legs are so thin it's worrisome. If New Orleans doesn't make the playoffs soon or struggles to find a guy to put next to [Anthony Davis], how do they justify that trade?"
Noel is a prowler on defense. His instincts aren't perfect but they're pretty close for someone with such little experience. His activity is noticeable. As he rotates over to someone looking to drive to the rim, the anticipation in the building increases. Any and everybody in the building with an eye on the game are waiting for the shot to be sent back at the shooter. It's hard to glean too much off of two games in Vegas, and Noel knows he can't be satisfied.
"I feel I haven't been good enough, yet," Noel said following his first game in Vegas. "I haven't been as focused as I have to be for this team."
His feet are quick, and if we've only seen a less-than-completely attentive and focused Noel, his idea of being focused must result in a special brand of defense. Noel isn't just someone waiting on shots to block either. He's active in post defense, trying to deflect post-entry passes, swiping at guards driving into the lane, and he plays a passing lane or two if the gamble is worth the risk. He knows his activity is something tangible to the opponent.
"Yeah, I do," Noel explained when asked about if he could feel his own defensive presence impacting the game. "When the guards start being a little more timid, when they stop on their drives, and start shooting a lot more floaters, then I know the presence is felt. I still have to stay aggressive, do what I can for my team, get up on screens, get as many steals as I can, so we can get stops and get back in the game."
There isn't a guarantee that either player will be an All-Star level guy in the league during their careers, although that is certainly the expectation with Exum being the fifth pick in 2014 and Noel being the sixth pick in 2013. And while summer league isn't an indication of greatness or the possibility of being a bust, the process over the results is strong with both of these players. The energy they brought to their developmental time in Las Vegas (and Orlando, too, for Noel) was as tangible as energy could be.
You could feel it in the building with every movement. Exum and Noel made us wait on seeing just what they are capable of being, but as the unknown becomes unveiled, we can see the wait is probably going to be worth it.
The Pacers believe the Lakers tampered with Paul George before they traded him

Among the questionable decisions by Jackson was signing Noah to a long-term, lucrative dea...

This Akron store doesn't want their hometown hero to leave again
Milwaukee's star did not get cleared to play for his national team due to a painful knee i...

Ball, the second overall pick in the NBA Draft, is receiving even more hype

Rap mogul supports the vision the outspoken father has for his brand and sons