At LeBron's bleakest hour, an electrifying performance and no regrets
BOSTON -- With a performance as electrifying as any in his career, LeBron James had 45 points and 15 rebounds Thursday night as the Miami Heat beat the Boston Celtics 98-79 to even the Eastern Conference finals at 3-3 and force a Game 7.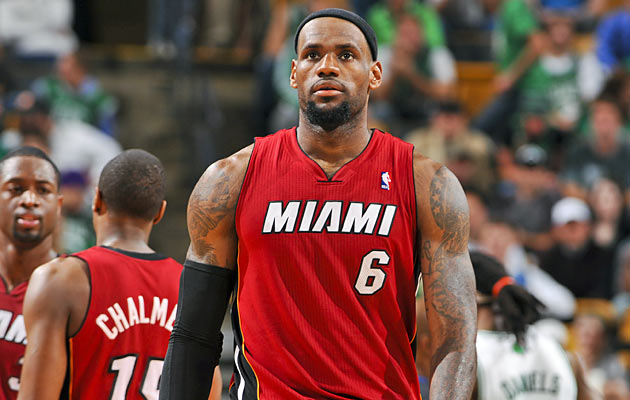 LeBron is the first player with 45 points, 15 boards and five assists in a playoff game since Wilt Chamberlain in '64. (Getty)
BOSTON -- This was the
LeBron James
everyone expects, the one everyone wants to see. For one night, he indulged us.
He had no choice.
At the end of his ninth season, the flames of another potential playoff failure flickering in the distance, James had to do what he did Thursday night. He had to be great. The circumstances, the stubborn old
Celtics
and his own legacy demanded it.
This is what the moment called for, and frankly, it was a revelation to see James play this way again.
You know, like LeBron James.
This wasn't the timid facilitator we saw at the end of Game 5 of this series. This was not James standing in the corner while
Dwyane Wade
hoisted shot after shot in a devastating loss to the Celtics that should have doomed the
Heat
-- should have torpedoed the Superteam for the second straight spring. This was a calm, relaxed, locked-in athlete in his prime, recognizing what the moment demanded and delivering it -- delivering it in breathtaking fashion. This was as electrifying as James has ever been.
More on Heat-Celtics
Related links
Video
The question, before James' 45-point performance in a 98-79 throttling of the Celtics Thursday night had even been digested, was obvious: Can he do it again?
In response, James said simply this: "I won't regret Game 7."
James spoke about how he went to his "habits" in this elimination game in Boston, perhaps the most daunting challenge of his career -- a career that, suddenly, is nine years old. But the biggest habit for James during the previous eight seasons has been regret. As one crushing playoff defeat after another piled up on his burly shoulders, the image of the "King" and the "Chosen One" sank deeper and deeper into oblivion.
So for once -- the first time in a long time -- LeBron James reintroduced us to LeBron James. It was a window into his basketball consciousness, and somehow it was reassuring to see what James revealed. There was, as it turned out, a cunning assassin under all that hubris, a basketball talent so powerful that it could win a playoff game on the road -- in the bleakest of circumstances -- almost by itself.
"You just try to keep the pedal down," James said. "You just can't ... you can never let go."
He was 6-for-7 in each of the first two quarters, 5-for-8 in the third and wasn't needed in the fourth as the Heat led by as many as 25. He put up a career playoff high 30 in the first half, and fell short of his overall playoff high of 49 only because more wasn't needed. He had 15 rebounds. Twice in the third, Boston threatened to cut the lead to less than 10, and each time, James delivered a dagger.
As shot after shot went down -- contested jumpers from all angles -- what was striking was not the ability, which we all knew was there. What jumped off the parquet floor -- besides James himself, who at one point rose so high for a ferocious putback dunk that he seemed to still be on the rise as he threw the ball down -- was the killer instinct that has so often been missing.
James had been 2-9 in playoff games in Boston against these Celtics, 0-2 in elimination games here. He hadn't shown up in Game 5 at Cleveland in the 2010 conference semifinals, then had 27 points and 19 rebounds in the ensuing Game 6 loss at TD Garden.
There would be no regrets on this night, and as James promised, not in Game 7 Saturday night in Miami, either.
"He was locked in from the beginning of the game," Wade said, "like I've never seen him before."
Before the game -- the nearly 48 hours before -- James was quiet. His teammates said he didn't say much, but that he had a certain look they'd seen before. His teammates in Cleveland used to say similar things in the aftermath of performances like this.
In the pregame locker room, James was engrossed in the novel he's reading, "Mockingjay," the finale to the Hunger Games trilogy about an imperfect society hurled into chaos. So engrossed, in fact, that as James bent to one knee to be stretched by a trainer, he cradled the book in one hand while the trainer stretched the opposite arm behind his back. Then, he switched hands.
Barely an hour later, he would unleash his transcendent gifts on the Celtics, and on the imperfect basketball society he inhabits, in ways that he rarely allows himself to do. He would put the pedal down, as he said, and keep it there. 
"We needed an effort like that to win in Boston in a closeout game,"
Shane Battier
said.
And so after doing this to the Celtics -- doing what the Celtics usually do to him -- there was James at his locker afterward. A doo-rag on his head and his feet in an ice bucket, James studied the stat sheet sitting in his lap with no expression. Soon, he would pick up his book and read.
He was still the three-time MVP with no rings, but James had achieved a measure of satisfaction on this night. But when he appeared in the interview room, the words didn't match the actions.
"I didn't need any extra motivation tonight," James said. " ... For me, this game is all about team. I was coached that way as a kid, and it was instilled in me ever since I picked up a basketball. As an individual, you can't do it by yourself."
But he just had. James had literally done it by himself -- if for no other reason than he had to.
"If two guys come to me or three guys come to me, I'm very good at math," James said. "That means someone is open. I believe in my teammates, and they're going to knock that shot down. So that's how I play the game, and I will continue to play the game like that, because it's gotten me to this point."
James had reached a crossroads Thursday night, and he chose the path almost no one thought he would. This is the LeBron we all want to see, and he showed us that he does, in fact, exist.
The Bulls lead by three with 10 seconds left but lost 116-115

Larry Nance Sr. starred for Cleveland from 1988-94

The hotline comes in the wake of the 'Sports Illustrated' investigation into the Dallas Ma...
Giannis, who spent last weekend in L.A. for the All-Star Game, says he loves 'low-key' Mil...

We have all the scores, highlights and news from the first day back from the All-Star brea...

Smart, set to return Friday, said doctors told him he was very lucky that the glass did not...