At this point, it's hard to find the words for Stephen Curry's greatness
Stephen Curry puts on another show in leading the Warriors to a 3-1 lead over the Nuggets. Ken Berger says it's getting hard to put Curry's greatness into words.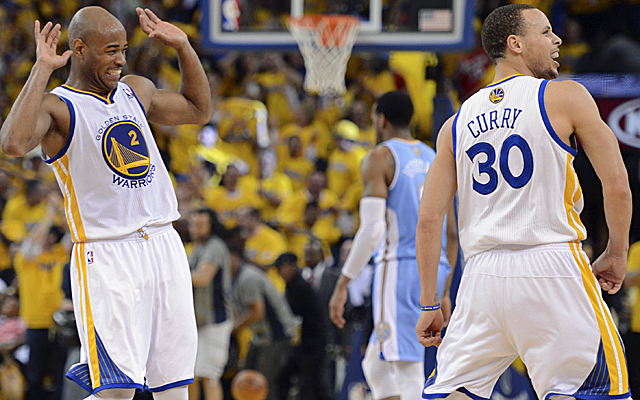 OAKLAND, Calif. – We all saw it. You saw it, too. You saw Stephen Curry test the boundaries of basketball greatness yet again.
Describing it? Capturing it? That's another matter entirely.
"I don't know how to call somebody and tell him what was going on," said Curry's teammate, Jarrett Jack. "You're at a loss for words."
More on Nuggets-Warriors
Related links
By you, hopefully he didn't mean me, because unlike Jarrett Jack, it's my job to put it into words. And it's times like these when I wish I was as good at my job as Stephen Curry is at his.
He did it again on Sunday night, the risen star of these NBA playoffs leading the Warriors to a 115-101 victory over the Nuggets and a commanding 3-1 series lead. Not the rising star, mind you, because Curry should have his own constellation by now.
In the third quarter of a pivotal Game 4, Curry proved once again why he is the most thrilling attraction in his sport when he has the ball in his hands and the basket in his eyes. And as he proved again, it doesn't matter how far he is from the rim, how many people are guarding him or how big the moment is. Stephen Curry delivers.
He delivered again in Game 4 with 31 points, 22 of them in a third-quarter barrage that further cemented his brilliance. Just when the Nuggets had cut a 15-point lead to four in a desperate bid to even the first-round series at 2-2, Curry did what the great ones do. He put a stop to that avalanche and started another one in the other direction. He did it with a flair for the moment and as the perfect reflection of his environment. A playoff game at Oracle Arena -- any game, really -- is an edgy, joyous celebration that's just on the edge of delirium. Just like its leading man; just like its ringleader.
"This place is crazy," Jack said. "That's another thing I can't describe. People want to know, 'What is it like playing there?' No word comes to mind that can do it justice. Pandemonium? It's crazier than that. Rowdy? It's rowdier than that."
Curry has embraced this vibe, this place -- playing to the crowd, clapping right along with them after each breathtaking play. "When you're playing well they get to enjoy it, and the noise level is out the roof during those kinds of runs," Curry said.
When it was still an eight-point game, just when the Nuggets seemed to have survived, Curry sized up a trap well beyond the 3-point line. He pointed this way and that, and the defense relaxed for a split second and -- bang -- he rose up for a 3-pointer from 29 feet. He was asked about it afterward, asked if that was the shot that triggered the avalanche, the moment that set off the chain reaction of talent and sheer ecstasy that is Curry playing to the crowd at Oracle. This is what he said: "I don't even remember."
It's true: When you're going like that, who can keep track?
On the next trip, he knifed through contact in the lane, tossed in an impossibly high scoop shot and converted a three-point play with 90 seconds left in the quarter. Then he stripped the ball from Ty Lawson and raced the other way -- just on the edge of out of control, like his surroundings -- and pulled up for another 3-pointer from dead center for a 17-point lead.
"Let's go! Let's go!" Curry shouted -- to his teammates, to the crowd, to the moment.
"I was just trying to be aggressive," he said. "Just trying to make plays. … Just trying to do my part."
The best part of the story is that it came very close to not happening at all. With Curry laboring on a sprained ankle suffered in Game 2, he was 1-for-3 in the first half with seven points. He received a pain-killing injection before the game, and it didn't seem to be working. Jackson called his star over for a heart-to-heart during the first half, his New York accent thick and his tone dead serious.
"I actually took him out in the first half and was considering shutting him down," Jackson said. "And I told him that. And it was almost like a boxer that really was on the ropes, because it was just a matter of time. I told him I don't need him to be a hero. … I guess he realized and sensed it and he captured the moment; he embraced the moment. It was almost like he'd been waiting for this his entire career and he wasn't going to allow his body to tell him it was too hurt to match the moment."
As it turned out, it wasn't just the chronically troublesome ankle that almost earned Curry a precautionary trip to the bench. When the players arrived for the video session on Saturday, Curry's teammates noticed a nasty looking black-and-blue running up the back of his leg. Another price of playoff basketball.
None of it would stop him. Nothing could squelch the joy and brilliance of the NBA's emerging showman. Not even getting poked in the eye early in the fourth quarter could slow him down; he stayed on the bench only long enough to be able to reopen the eye.
As if he needs both eyes open to put the ball in the basket anyway. Perhaps the greatest moment of his third-quarter onslaught (when he was 8-for-11 from the field and 5-for-8 from 3-point range) came when Curry launched a 3-pointer off the dribble from the left corner, then turned and started running back up the court -- conveniently past the Nuggets' bench -- while the ball was still in the air.
"I played with Reggie Miller, and he was a guy that didn't just do it once," Jackson said. "He did it so many nights when the lights were brightest. Another all-time great shooter; seems like every time he let it go out of his hand it was going to touch nothing but net. Steph had one of those quarters, one of those nights."
He's had nights like this before -- 54 points and 11-for-13 shooting from 3-point range at Madison Square Garden in February, and 47 points against the Lakers on the fateful night when Kobe Bryant tore his Achilles' tendon. He'll have many more. When asked about a comment from Magic Johnson on TV about how Curry has emerged as a star, Jackson squirmed in his chair at the interview table and conjured up this gem.
"Those guys are just coming to the hospital," he said. "The baby's been born already."
Enjoy him. Cherish him. They grow up so fast.
Thomas spent a day with a 10-year-old girl whose family is also new to Cleveland

Barkley did not hold back with his opinion of the Big Baller Brand patriarch

We have all the latest scores, highlights and news from Wednesday's NBA games
LaVar Ball also made it clear he thinks his sons are being placed in 'a great situation'

The Thunder are just 12-14 on the season, despite the addition of Paul George and Carmelo...

The then-Heat teammates squared off during the 2011 ECF, but Erik Spoelstra put a stop to the...