Atlanta Hawks coach Larry Drew promises changes to reeling team
Atlanta Hawks coach Larry Drew promises changes to the lineup after his team's terrible stretch.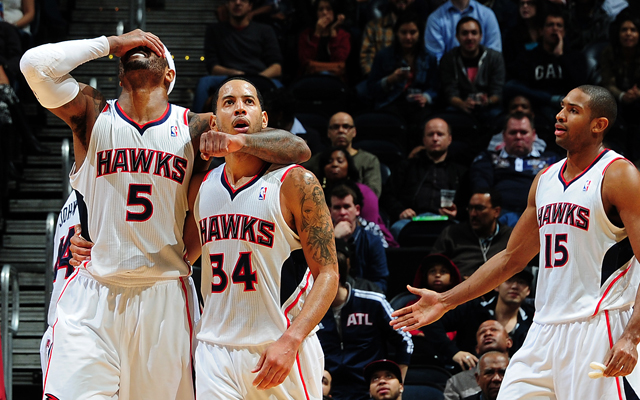 The Hawks have been inducing face-wings lately. Get it? Like face-palms, only birds.
(Getty Images)
It seems like only two weeks ago that the Atlanta Hawks were everyone's darling in the Eastern Conference. After jettisoning Joe Johnson's enormous contract in the offseason and bringing in shooters to open up the attack, Atlanta was off to a 20-10 start after Jan. 1 and looking like a potential pain in the feathers come playoff time.
Unfortunately for the Hawks and their fans, they haven't had any success lately and have tailspun into the laughing stock that was their 97-58 loss to the Bulls on Monday night. The bad streak of play for the Hawks has prompted coach Larry Drew to promise changes to the team. From the Atlanta Journal Constitution:
"This was very, very embarrassing," Drew said. "From where we were as a team to where we are right now we have lost all sense of team on both ends of the floor. Why that has happened, I really can't put my finger on it. To have a team that started off so well, that really trusted and believed in each other at both ends of the floor, we have lost that sense of trust for one another. Why that has happened, I really have no idea. I will say, it's time that we do shake things up. As we go back to Atlanta to prepare for Brooklyn (at home Wednesday), there will be some changes. We have to find a group that will compete on both ends at a high level with no excuses, with no finger-pointing as far as blaming officials, blaming each other. We have to go out and we have to play our first few games of the season.
"We need to shake things up and that will be the first line of business when we get back to Atlanta is to make some changes within our lineup."
Atlanta certainly has a much deeper team than it had last season, so shifting players around and finding new lineups and roles shouldn't be a problem for Drew. It's finding the right combination that may be tricky though. The Brooklyn Nets (Atlanta's next opponent) have won six in a row.
The Hawks, on the other hand, have won just once in their past seven games with their last three losses coming in double-digit form. During this seven-game stretch, the only positive net rating on the team is Devin Harris at +2.4 points per 100 possessions. Everybody else has a negative net rating. This is dumbfounding on so many levels. 
Harris has been pretty bad throughout this season and Drew insists on playing him at the end of games. Maybe shaking up the lineup by letting your super-fast point guard who can shoot the ball well (Jeff Teague) finish games instead of throwing Harris out there is the way to go. Teague hasn't played well during this stretch but he has to be allowed to finish games and give the team more of a threat on the court.
The plan before the season seemed to be a pick-and-roll with Teague and either Al Horford or Josh Smith, with shooters to spread the floor by occupying the corners and wings. Instead, we're seeing a lot of isolation basketball and bad jumpers being taken. The combination of Teague and Harris on the floor seems to take away the need for Teague to be aggressive on the court.
And if Atlanta's offense isn't aggressive, it's pretty easy to stifle. The Hawks have an offensive rating of just 91.9 during this seven-game stretch. If they kept that up over the course of the season, it would be one of the worst offensive showings in NBA history. 
Atlanta has to find a way to let its point guard play with more freedom and surround him with players to space the floor. It doesn't mean the Hawks have to make Teague their No. 1 option; it just means they need to spread out the defense to use their weapons properly. 
It's the best change Drew could implement right away and it might snap them out of their current funk.
Cavs star chose to be very secretive when talking to Lakers rookie after Thursday's game

New York announced Porzingis would not return shortly after star forward left game

Teletovic missed the final three months of 2014-15 season with Nets recovering from same i...
Keep it right here for all of the news, notes, scores and highlights from around the leagu...

The NBA's City edition Nike jerseys are bold and very different

The Wolves may be smoke and mirrors, but the Pacers have the look of a team that can hang in...