Atlanta Hawks hire Danny Ferry as new GM
The Atlanta Hawks have reportedly hired Danny Ferry as their new GM.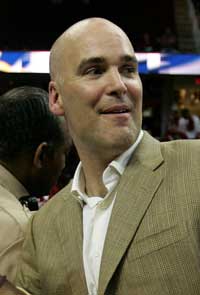 Danny Ferry has been named GM of the Hawks.
(Getty Images)
A team that seems to have reached its apex has made a change at the top.
The Atlanta Hawks announced that they had hired San Antonio Spurs executive Danny Ferry as their next GM on Monday morning.
"Over the past nine years Danny Ferry has earned tremendous respect as a front office executive in the NBA," said Atlanta Hawks partner, Bruce Levenson. "His philosophy, character, and commitment to creating enduring and successful organizations exemplify exactly what we are looking for in a leader of the Atlanta Hawks. Danny's systematic and value driven approach has helped him become one of the preeminent minds in basketball.  He is passionate about building an organization the right way, knows how to win and knows how to forge winning teams. We look forward to having him as our leader of basketball operations."

"My family and I are thrilled to join the Hawks organization and Atlanta community," said Hawks new President of Basketball Operations and General Manager Danny Ferry. "There were many components that made this the right fit for me but clearly my confidence in the ownership group and their dedication to building a Championship caliber franchise was most important.  They are committed to building with the right people and investing in critical areas for development; both essential elements if we want to create sustained success."
ESPN.com reported Monday that Ferry accepted a 6-year offer. Yahoo Sports with the details and the Atlanta Journal-Constitution first reported that talks were getting close on Sunday. 
Ferry's only run as a No. 1 guy came from 2005-2010 with the Cleveland Cavaliers. He resigned just weeks before his contract was set to expire and roughly one month before LeBron James "took his talents to South Beach" to join the Miami Heat.
In Cleveland, Ferry was facing the highest of expectations, as the Cavaliers looked to build a championship caliber team around James. It just never happened. The Cavaliers made one trip to the NBA Finals, another that ended in the Eastern Conference Finals and the other three seasons ended in the second round.
With the Hawks, Ferry is dealing with a different set of circumstances. Atlanta has made the playoffs for five straight seasons but has yet to advance out of the second round of the playoffs. The current roster is talented at every position but lacks the true starpower to put the team over the top. The Hawks project to be over the cap next season, making additions difficult, and there's the matter of talented forward Josh Smith, who has made noise about getting out of town.
Other than a wonky ownership situation and a recent failed franchise sale, the job has a lot going for it. The fanbase isn't going to call for your head, no one really expects a title, the immediate roster moves are more likely to be minor than major, and the talent assembled pretty much guarantees a playoff appearance every season. For someone like Ferry, who saw his previous GM job explode in disappointment and drama, it would seem to be a good place to get back on the horse.
Minnesota has even bigger expectations headed into next season. Can it live up to them?

Durant labeled the Cavs' situation as a regular problem in the NBA

James takes to Instagram for a better look at the Cavs' new Nike-made uniforms
When the NBA MVP odds came out, it got us thinking: Will stat-compiler Russell Westbrook win...

Kevin Durant says he doesn't agree with what President Donald Trump agrees with

Evaluating where the future Hall of Famer might land up if he is freed from Chicago's rebuilding...