Back in Vegas, Anthony Bennett is himself again
The No. 1 pick in the 2013 NBA draft puts last season's negativity behind him to shine at summer league in his old stomping grounds.
• 9 min read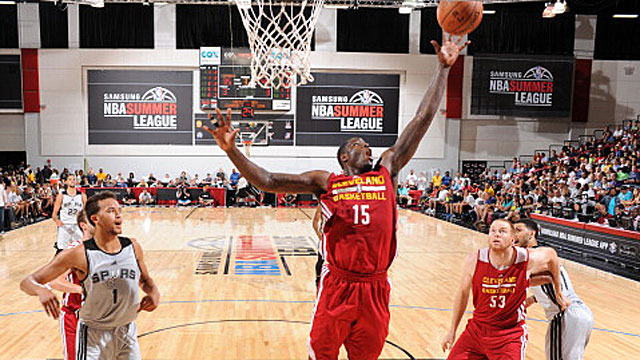 LAS VEGAS -- Anthony Bennett sat down for his exit interview in April and got straight to the point. Sitting with Cleveland Cavaliers general manager David Griffin and then-head coach Mike Brown, the No. 1 pick of the 2013 draft didn't hide from anything. The Cavs had failed to make the playoffs and Bennett had failed to make an impact. It was obvious this would be a big offseason.
No one in the room knew that LeBron James would be returning, but they knew things would be different in Cleveland. Bennett looked ahead to his next chance to compete.
"I told them pretty much it was a disappointing season for me, but I'm not going to stop there," Bennett said. "I'm not going to get down on myself. I'm going to continue to work hard throughout the whole summer and do my thing in summer league."
Griffin and Brown told him some things he needed to work on, and that was it. Bennett hired a personal chef and focused on getting better. He had already gone through several years' worth of NBA drama in the previous few months. There were injuries, trades and reports of locker-room dysfunction. Chris Grant, the GM who had drafted him, had been fired. It all added up to an NBA crash course for which he couldn't possibly have been ready.
Less than a month after the end of the regular season, Brown was fired, too. David Blatt, who had left his post at Maccabi Tel-Aviv having done all there is to do in European hoops, took over the job in June. He reached out to Bennett. 
Back in 2006, Blatt had watched Andrea Bargnani go first overall after coaching him at Benetton Treviso. He knew all about the weight of expectations, and he knew that Bennett's rookie season wouldn't have been easy on anyone. The two of them got acquainted and were soon making jokes.
"The one thing I didn't mention was the fact that he was the No. 1 pick and he had a disappointing season last year," Blatt said. "All I talked to him about was what we were going to do together, and where we're starting and where we want to get to. Because I think that that's the best way for someone to start anew."
All Bennett could do with his 33-win, four-points-and-three-rebounds-per-game season was learn from it. He never expected to only play in 52 games, some exclusively in garbage time, but he observed and listened. The biggest things he took from the experience sound pretty simple.  
"Just gotta try to have fun," Bennett said. "It's a business. You just gotta come out there and play hard because you never know when another player might take your spot."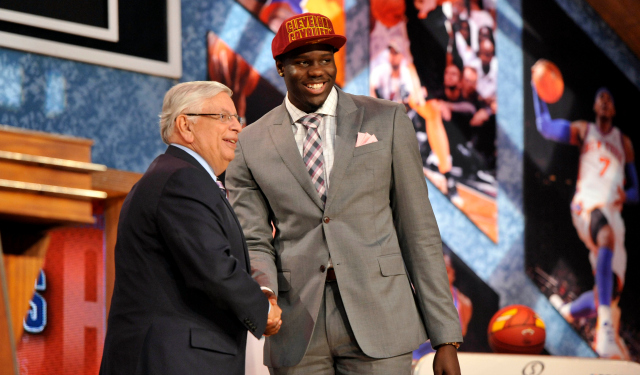 The 21-year-old Bennett describes himself as shy. He doesn't like to talk much, he doesn't need to be the center of attention. Those who know him well say he's funny, but not flashy. He likes his laptop, his NBA 2K, his Chipotle, his Jordans. He likes to dance, he always has his headphones on. Ex-Cavs guard Jarrett Jack nicknamed him Radio Raheem.
"Honestly it doesn't matter," Cleveland forward Carrick Felix said. "It could be Michael Jackson, it could be Lionel Ritchie, it could be all the new stuff, Drake, you name it. He knows the song, he knows the lyrics."
Essentially a typical guy for his age, he was thrust into one hell of a challenging situation. Bennett never asked for the pressure of being the top pick -- when it happened, he said he was as surprised as anyone else. Cavs fans weren't thrilled with the front office's recent decisions, and he wasn't the guy they wanted. The city was desperate for the team to return to relevance after three miserable seasons, so a lot was put on his shoulders. Those shoulders literally couldn't handle it.
Seven weeks before draft night, Bennett had surgery to repair a tear of the upper part of his labrum. He couldn't work out for teams, play in summer league or represent Canada in international competition. He got out of shape. 
When he appeared winded in preseason, Brown told reporters it was due to asthma and sleep apnea. Bennett missed the first 16 shots of his regular-season career, playing just short spurts. Fairly or not, criticism came from all angles. His minutes fluctuated and then disappeared. Some said he should be sent to the D-League. He naturally didn't have the same swagger that he had at UNLV.
"It's very hard to keep your confidence when you don't play because you need to see that ball go through the hoop, you need to be interacting with the fans, you need to be interacting with your teammates on the court," said former NBA veteran Jerome Williams, a member of Findlay Prep's coaching staff during Bennett's time there. "If not, you're sitting there and you don't feel like you belong."
Idaho Stampede head coach Michael Peck, formerly the head man at Findlay, sent encouragement with texts and direct messages on Twitter. He would tell him to hang in there, and that he can always control his attitude and his effort. 
Other peoples' opinions were unavoidable, but Peck told him to try not to worry about them. He needed to remember that he was a professional, getting paid to play the game he loves. 
"He's always going to be measured and analyzed and scrutinized based on being the No. 1 pick," Peck said. "That comes with the territory. Whether you like it, agree with it, disagree, whatever, it doesn't matter. That's a fact of life, so you can either accept it, embrace it, ignore it, hate it, whatever. It is what it is. You or I ain't changing that."
Bennett said it wasn't always easy to remain positive, though.
"Just injuries, conditioning wasn't right, I wasn't making as many shots as I wanted to, I could've been playing a lot better so all that's kind of been pounding down on me," Bennett said. "And it kind of built up, so I kind of got down on myself, but I spoke to all the teammates, all my coaching staff, trainers. Everybody was just saying, 'You'll be all right, this is how most of the people start off. Start off slow, but finish strong.' "
Bennett fought through the adversity, improving as the season went along. While out of the rotation, he dropped a significant amount of weight. The highlight was a 19-point, 10-rebound performance against the Kings in February, after which Sacramento head coach Mike Malone told reporters, "Anthony Bennett kicked our butt."
A month later, there was another blow. A left knee injury put him on the sideline. He didn't return until the final game of the year. Bennett had shown flashes of his talent, but the season ended without any sort of sustained productivity. 
In the city where he starred in college and high school, the joy is back on his face. Bennett made a statement in his first summer league game, with 15 points, seven rebounds and a monster dunk. In his second, he had 13 and 14. He has been getting out in transition, pounding his chest after big plays and using the agility and strength that made him a special prospect. There's been no shyness when it comes to shooting, and he's made some plays off the dribble and in the paint. 
UNLV assistant coach Todd Simon, formerly both a head coach and an assistant at Findlay, is thrilled to see Bennett healthy, happy and getting results. None of it surprises him. It all looks familiar. 
"He's a guy that plays with a spirt and an intensity," Simon said. "It's part of what makes him great. He's got that confidence. Just seeing his emotions start to come back and all that stuff, he's enjoying the game again."
Simon recalled Bennett, "a king-like fixture in Las Vegas," sitting at the end of the Findlay Prep bench while his name was all over the draft boards as a college freshman. He poured the players water, cheered them on and came into the locker room like he was still a part of the team. "Here's a guy that walks on water and is the biggest thing on campus, and he's giving them the time to do that," Simon said. 
Bennett also routinely walked from campus to the nearby YMCA to play and work out right alongside people who were buying Runnin' Rebels tickets and watching on TV. He smiled wide as he said he liked seeing Rebels hats and jerseys again in this setting.
"I'm having a lot of fun," Bennett said. "I'm healthy, I feel like conditioning-wise I'm where I'm supposed to be at. I could be a lot better. Just playing with these guys, getting to know them, new coaching staff, just everybody, and plus playing in front of my home school, UNLV, it's just a great feeling."
The buzz is building about what the Cavs can do next season with this version of Bennett, 2014 No. 1 pick Andrew Wiggins, a highly esteemed coach and the greatest player in the world. James' presence means there are already exponentially more eyes on Cleveland. The vast majority of them will be locked on him, though, allowing Bennett and Wiggins, his former AAU, Team Canada and Nike Global Challenge teammate, to play supporting roles. 
Both of them have already been mentioned in trade rumors involving Minnesota Timberwolves star Kevin Love, but if they stick around they have an extraordinary opportunity to learn from the best. They'll also have space on the court like they've never seen. While no one's forgotten what Bennett went through, the Cavs aren't worried about it.
"We've left that behind us," Blatt said. "We're kind of focusing on right now, and I think that Anthony's doing a great job and has done a great job all summer preparing himself. And certainly his play has shown that he's turned the corner."
Summer league success never guarantees anything. Sometimes it's meaningless or even downright misleading. With Bennett, though, this was something he needed. For himself, for the organization, for the UNLV fans in the stands and the people watching in Cleveland and Canada. 
"I think he had a bitter taste in his mouth from the season," Simon said. "This is probably as close to him feeling like the way he's used to, and his body the way it's been, in the past year or so. I think from that standpoint he has as much to show people as anyone."
The next step is carrying this over to training camp and beyond. With what he's displayed in Vegas, that doesn't seem too much to ask. All of a sudden the future looks much brighter.
"He's playing with a chip on his shoulder right now, showing and proving to everybody that he deserved that No. 1 pick last year," Wiggins said. "He's just gonna stay killin'."
LeBron said he'll give 'passion, commitment, and inspiration' while he's wearing a Cavs un...

SportsLine's computer model simulated Celtics vs. Cavs 10,000 times with surprising result...

There are a lot of rumors, but Irving is keeping quiet about his motives for leaving Cleve...
From the Warriors to the new superteams to the Sacramento Kings, get ready.

Brett Brown said recently that Embiid's minutes would likely be in the teens to start the...

According to D'Antoni's specific plan, Houston's All-Star duo will play 18 minutes together...