Baseline Awards 2012-13 Predictions: Heat's LeBron James still runs the game
Last season, we saw LeBron James take home his third MVP and Finals MVP. We chronicled the season in our weekly Baseline Awards, covering the stories that developed, handing out fake awards and keeping track of the awards race. We resume this season with a preview of this year's award candidates, with our patented fake awards interspersed.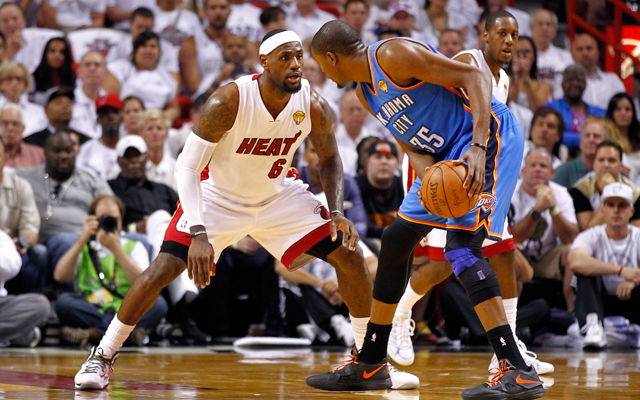 These two guys will be No. 1 and No. 2 in the MVP voting again this season.
(Getty Images)
Welcome back, my friends, to the show that never ends. The Sergeant's going to sing a song, and he wants you all to sing along. The 2012-13 NBA season tips off Tuesday night in Miami.

Last season, we saw LeBron James take home his third MVP and Finals MVP. We chronicled the season in our weekly Baseline Awards, covering the stories that developed, handing out fake awards and keeping track of the awards race. We resume this season with a preview of this year's award candidates, with our patented fake awards interspersed.

Awards projections are based on who should win the award, not based on probability due to narrative or fuzzy wuzzies. This is for those who watch League Pass night in and night out and do the work, while factoring that some games mean more than others.
Most Valuable Player
1. LeBron James, Heat: This should not, will not, cannot shock you. LeBron James remains the superior player in the NBA. Not to the average, to everyone. He is stronger, faster, more versatile, more talented, and now, finally, more determined than any other player in the league. His ability to constantly make the right play translated last season from always looking for the open man to taking control of the game when it was needed. 

James' adaptation of the post and his move to point-forward-center once Chris Bosh was hurt was a revelation for his career, the Miami Heat  and the basketball world. How do you guard him? You double, and he finds the open shooter or cutter. You wait to double, and he has the post turnaround jumper. If he misses, he's just as likely to get the rebound and putback.

He remains deadly on the perimeter defensively, the scariest chasedown block threat in the league, a lockdown defensive attack artist for point guards, shooting guards, small forwards, power forwards. He guarded Dwight Howard ably last season for small stretches. His defense is not isolated, and his communication and floor leadership defensively is nearly unmatched.

He is becoming basketball death, the destroyer of worlds, and to pretend that he does not begin this list and deserve the last word is nothing more than folly.

He is the once and future King.

2. Kevin Durant, Thunder: The consensus favorite from every CBSSports.com NBA writer but me for MVP, Kevin Durant took his game to amazing heights last season. He led the league in scoring again but managed to do it more efficiently. There were long stretches for the Oklahoma City Thunder last year in which they were simply unstoppable. Durant is without question the most deadly offensive player in the league and was voted by executives the player they fear most with the ball for a gamewinner.

Durant didn't just improve defensively last year, however. His defense, which for so long had been the issue, finally started to take a step forward. More and more, he accepted the toughest defensive role on the perimeter, and his one-on-one defense thrived. His length has gone from an awkward liability to a tactical advantage, his strength catching up as he enters true manhood physically.

But it stays with the offense for Durant's candidacy. He's the most likeable candidate, to be sure, and his intangibles are admirable as well. But it's the 24-year-old's ability to put the ball in the basket that puts him No. 2 on this list.

It's entirely possible Durant could be the first member of the 50-40-90 club (50 percent from the field, 40 percent from the arc, 90 percent from the line, an exclusive club) to lead the league in scoring. (Durant shot 49.6 from the field, 38.7 from the arc and 86 percent from the free throw line last season.) Should he do that, I don't think there's any way not to vote for him. It's going to take some sort of statistical achievement in addition to games won and leadership to topple James. Durant has a legitimate chance. That's how good he is.

3. Dwight Howard, Lakers: The back injury means there's a gap between Durant and Dwight Howard , but to be clear: there is not a more physically imposing force than Howard. He's the best defender in the league when committed, and he should be this season. With Steve Nash throwing lobs and Kobe Bryant preventing teams from being able to double, Howard could dominate at an even higher level. The biggest threat to his candidacy might be the same thing that keeps him at the top. He's going to win a ton of games because of the Los Angeles Lakers ' talent around him. But not only will those other stars pull numbers from him, they'll chip at the credit he'll get for the wins. But given that Howard was worthy of sharing the award with Derrick Rose in 2011, he remains a dark horse now that he's back.

4. Chris Paul, Los Angeles Clippers : Best point guard in the league. Will always be an efficient shooter. Able to control the flow of a game and bludgeon teams to death with his efficiency and productivity, while being one of the fiercest leaders on the floor.

Chris Paul will not win the award because he long ago realized that regular-season accomplishment only brings exhaustion and wear and tear on knees that only have so many miles left on them. He'll disappear for long stretches of games and during the season. He plays now for the postseason and doesn't have the physical ability to grind through 82 at full speed. Additionally, his lethal efficiency and understanding of the "grind" approach to winning has robbed him of the creativity he showed in his youth. This is an award voted on by people, and how fun you are to watch does matter. Maybe it shouldn't, but I'm willing to factor it based on the entertainment aspect of the game. Paul will still be a worthy candidate.

5. Russell Westbrook, Thunder: People foolishly had Tony Parker floating around last season because they felt they needed to attribute the Spurs' success to a single player, when in reality, it is, and always has been, their collective success that drives them to greatness. Russell Westbrook , on the other hand, was ignored, receiving one measly fourth-place vote last season.



So there's that. Westbrook also featured a higher PER, handled a much higher usage rate and had a much bigger part in wins than Parker. The point isn't to blast Parker's play, which was superb last season. But Parker received four first-place votes. Westbrook, who was the reason the Thunder overcame defenses' scheming against Durant on many nights to win, was ignored for no apparent reason. The reality is Westbrook is a player you should be terrified of late in games, and even those killer mistakes that have so many questioning why he has the ball late in games went down last season. He's arrived. You just can't see him because of how bright Durant's star is. But that shouldn't eclipse him completely.

Honorable mention: Kevin Love would have to either return from injury very early or be the player with the second-lowest number of games played to win the award in an 82-game season behind Bill Walton in 1978. He's the outlier and big question here. Also, Parker, Rajon Rondo and Deron Williams.

The "Mayan Calendar Award" for signs the world is ending
1. The New York Knicks  likely will start a player on opening night who graduated from college before No Doubt's first album came out. 
2. The Knicks will also heavily play Rasheed Wallace out of necessity.
3. The Knicks brought in Raymond Felton to be their stabilizing presence at point guard.
4. The Knicks have members on their roster, coaching staff and management all under representation by CAA and no one thinks this is weird.
5. Despite all of the above, the Knicks will make the playoffs.
Defensive Player of the Year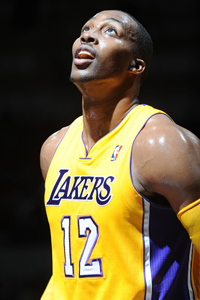 Howard is looking to return to the top.
(Getty Images)
1. Dwight Howard: Let's assume he starts trying full strength and he's healthy. There is not a better defensive force in the league. In a league in which nearly every starting point guard can beat his man inside, Howard forces more play resets and desperation shots than any player in the league. 

2. Tyson Chandler , Knicks: Last year's winner will have even more responsibilities and has had injury issues in years' past. He will be the most effective defensive force outside of Howard down low, and his communication and ability to challenge and recover on the pick and roll is nearly flawless. The tension between what his skill enables him to do and what his body allows him to might determine if he wins this award for a second year running.

3. Tony Allen , Memphis Grizzlies : The new flopping rules might not benefit any player more than Allen. He is consistently the victim of offensive flopping as his defensive style to aggressively attack the ball handler with both active hands and position gets punished by exaggerated contact. With more freedom to stay aggressive and out of foul trouble, Allen, whom many consider the DPOY already, could win the award outright. The fact that wing scorers have such a harder assignment than bigs should factor heavily into both he and No. 4's candidacy.

4. Andre Iguodala , Nuggets: The best switch defender in the league. There's not a perimeter player in the league you can switch him onto whom he can't defend. He'll do his fair share of defending the power forward off the switch this year in Denver Nuggets and if he can drag what is normally a mediocre Denver defense up to a top-10 team, he'll have earned it.

5. Kevin Garnett, Boston Celtics : I hate to include Kevin Garnett just because, eventually, despite his heart, conditioning and talent, his age will have an impact. It did in the Eastern Conference finals. He just ran out of steam. But Garnett remains a player who bullies and swallows plays whole, who contests passes, shots and rebounds, and sets the tone for the second-best defense in the league.

Honorable mention: Luol Deng, LeBron James (effort, regular season coasting), Serge Ibaka, Omer Asik

The "Windows 8" award for what you most hope will be powerful but instead just won't run

The New Orleans Pelicans offense: Eric Gordon is just now taking contact in practice, Greivis Vasquez is their point guard and Greivis Vasquez is their point guard. I needed to say that one twice.

Rookie of the Year
1. Anthony Davis, Hornets: Even with the Hornets' offense being that terrible, Anthony Davis will make enough of an impact. He's going to score more than probably initially projected, block a metric ton of shots and impress with his work ethic and athleticism. This will be tight. 

2. Damian Lillard, Portland Trail Blazers : Damian Lillard stealing this would not shock me, and he's going to have both the minutes and the moxy to challenge Davis. He can score and assist, and he has capable weapons to dish to.

3. Bradley Beal , Washington Wizards : He'll have every opportunity to shock everyone with both John Wall and Nene out for at least the near future. He has some competition in Jordan Crawford, but he's also shown some good things. If he gets his shot warm, he could stand out of a mediocre pack for the award after the top two.

4. Harrison Barnes , Golden State Warriors : It's kind of like his draft stock. If he shows everything he's capable of, he could be stunning. If he is whom he most often looks like, he'll be invisible. Little in-between.

5. Jonas Valanciunas , Toronto Raptors : Would have to have absolutely massive block numbers to win this award, but he lands here because of what he'll show otherwise as a help defender and playmaker on the offensive glass.

Honorable mention: Dion Waiters, Michael Kidd-Gilchrist, Thomas Robinson

The "47 Percent" Award for thing being ignored this season
San Antonio Spurs
It's always the San Antonio Spurs . San Antonio returns every piece from last year's run to the top seed in the West for the second year and will have improved play from Kawhi Leonard and Tiago Splitter. Even with slides from their older players, they have a tremendous coach, a great system, an excellent point guard and terrific role players who know how to do what they're asked. They'll win a ton of games, get ignored as a title contender and wind up right there in the playoffs. Of course, their defense can rightfully be ignored and that'll be their end as usual.

Coach of the Year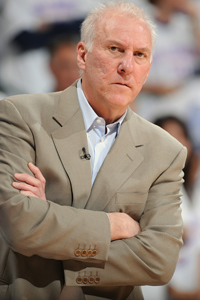 He's very excited to be considered for this award.
(Getty Images)
1. Frank Vogel, Pacers: The Indiana Pacers are the best team in the East no one ever thinks about, and their power is derived from how Vogel manages to cajole them into a defensive unit and not from any sort of superior talent advantage. He makes considerable in-game adjustments and manages his rotation well. The Pacers would be Finals contenders if the Heat didn't exist. 
2. Gregg Popovich, Spurs: They won't have a superstar, again, with Tim Duncan having fallen and Manu Ginobili having slid. They won't have a cute name or backpacks or great photoshoots. There will be no Sunday features on them or drama to follow daily. But Popovich will take a team with aging stars, largely unknown role players and subpar defenders and make them a top-three team in the West at the least. Good enough for another award he doesn't care about. 
3. George Karl, Nuggets: The Nuggets will be one of the most fun teams to watch. And should they mesh, he'll have managed something incredibly difficult: create a fast-paced team with young players who not only defend but win as well. The formula is there, and he's the perfect coach to make it work. 

4. Rick Adelman, Timberwolves: If the Minnesota Timberwolves defend to any degree, they'll make the playoffs. Adelman has taken the island of misfit toys and made them into an army of strength and style. Surviving Love's injury is the hard part.

5. Doc Rivers, Celtics: There are a larger number of "ifs" with this team than the Celtics, their fans or the media would like to suggest. But Rivers has the capacity to make them all work. He can help Jason Terry be better than Ray Allen was the past two years. He can help Paul Pierce and Kevin Garnett turn in one more vintage season. He can bring Jeff Green's potential out. He can handle Rondo. He can make the rookies part of the contender's formula. It's why he's the most popular coach in the league by its players.

Honorable mention: Tom Thibodeau, Mike Brown, Monty Williams, Avery Johnson
Signing Phoenix's qualifying offer will clear the big man to become an unrestricted free agent...

Here's a look at the seven key questions heading into the first week of training camp

Markieff Morris was already in line to miss the start of camp due to a pending assault cas...
The 76ers should hopefully get a lot of play out of their young guys this season

Okafor's been on and off the trade block for over a year and doesn't seem to be in Philly's...

Fisher is the fourth NBA player to compete for the Mirror Ball trophy on the show