Baseline Awards 2.25.13: Whither the Rookie of the Year race?
A look at the candidates for rookie of the year.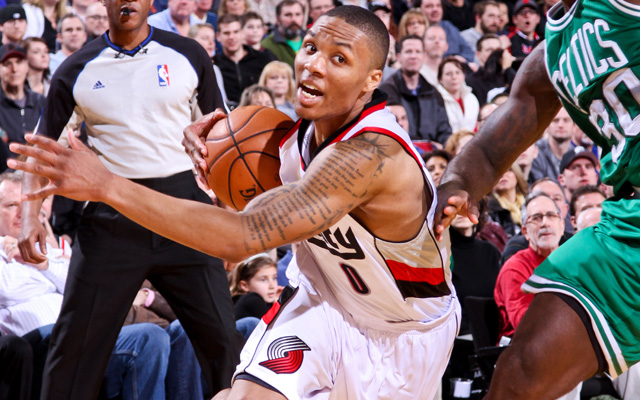 I don't know how else to put this. The Rookie of the Year race has sucked. 
Usually, there's two ways the race goes down. Either there's one player who's so phenomenally amazing that it renders all discussion moot, or there are a number of players who are great-not-phenomenal and it makes for a compelling race. 2009 and 2011 were good examples of the first case, with Blake Griffin and Derrick Rose. 2010 was a good example of the second, with Tyreke Evans vs. Stephen Curry vs. Brandon Jennings. (How that one's worked out over time is fascinating, but also a topic for another day.)
This year, we have a weird combination. 
There's one player who's been great-not-phenomenal in Damian Lillard, but who is clearly and decidedly above everyone else, with very little competition. This in a year that featured one of the best draft classes in years. They can all certainly turn out over time, but the short-term results have not been rewarding. 
First, to discuss Lillard. There's no way to take what I said above and not feel slighted if you're a Blazers fan. I basically said he's one of the few rookies to not set the bed on fire. Lillard has been great for expectations. He's led the Blazers to a stunningly good start and provided big moment after big moment for them late in games. 
But it should be noted that Lillard's numbers (17 points on 14.6 shots per 36 minutes, 6 assists and 2.8 turnovers per 36) suggest "great" not "All-Star." PER's a terrible metric to use for point guards, because it values volume shooting and rebounding, so we'll let his 15.7 mark slide there. His 41.6 percent shooting from the floor and good-not-great 34 percent from the arc isn't much to write home about, either. 
Lillard's going to win the award, going away, because he's impressed scouts and writers, because he's established himself as the 1A to LaMarcus Aldridge, and because of the problems with the other candidates. But there are very specific limitations to his game at this level, and whether he's able to sustain this production and effectiveness over time is more of a question than it is with most runaway rookie of the year winners. 
It can be both a phenomenal year for Lillard, especially vs. expectations, and still not rattle our cages based on historical precedent. I can think Lillard is an incredible talent without considering him a robot ninja, so to speak. 
From there, the candidates are all deeply flawed. Anthony Davis' numbers are actually superb. But he doesn't have go-to moves, and that's going to impact the perception of him. His rebounding is actually much better, both from a production standpoint and an exectution perspective, than I thought he'd be coming in. But he's struggled in offensive sets, does have problems with the wear and tear on his smaller frame, and has had a hard time finding a consistent role. His long-term future remains the brightest of any player in the race, but this year hasn't blown people away due to injury and the above issues. 
Dion Waiters scores a lot! But he also shoots a ton. Waiters is enjoying a phenomenal February, shooting over 50 percent from the field, but even that has only barely carried him over the 40 percent from the field mark. He's progressing, which is what you want from him. But his decision making on both sides of the ball is so bad at times that it leaves you with concerns for whether he'll develop in to a smart No. 2 scoring option for Kyrie Irving or a prototypical volume gunner. 
Andre Drummond would likely win the award but a, his coach is insane and won't play him over 20 minutes a game and b, he's out several weeks with a back problem. If the Pistons had experienced the kind of success Portland has, and if Drummond had been given free reign to develop, he'd be a strong candidate. But he's just not on the floor enough to make the kind of impact with voters he needs. 
Bradley Beal shoots great from 3, terrible from the rest of the field, and just when things were starting to click for him, he started to get banged up. Beal combines Lillard's grasp of the moment (he's been huge late in games) with a better shot selection than Waiters (Beal has a .504 True Shooting mark compared to Waiters' .484). But he still hasn't been efficient enough or taken a big enough chunk of the offense to seriously challenge Lillard. 
Harrison Barnes has his moments, but on top of the Warriors constantly looking for a replacement starter, he still seems to wander on both ends of the floor trying to find himself. 
So we're left with a race that very much seems over with two months to go, despite a concerning curve for Lillard, due to a race that's been handicapped by injury and context. Lillard deserves it and it's not close, and he's had a remarkable season. It just hasn't been the phenomenal race we expected from a draft so well hyped. 
Your post-All-Star awards update (unchanged from last week; excerpts and full analysis returns next week):
MVP
1. Lebron James, Heat: He missed a layup on Sunday night and I about choked on a pretzel I was so surprised. 
2. Kevin Durant, Thunder: As good as James has been, I can't get past the fact that Durant's got a shot to lead the league in scoring while averaging 50 percent from the field, 40 percent from 3 and 90 percent from the free-throw line.
4. Kobe Bryant, Lakers: The amnesty conversation was stupid and misunderstood, but serously, Bryant was brilliant on Sunday as he has been for much of the year. 
3. Carmelo Anthony, Knicks: Doesn't feel like a remarkably different Anthony anymore. 
5. Chris Paul, Clippers: Their level of execution improves, what, 300 percent with him on the floor?
Rookie of the Year (explained above)
1. Damian Lillard, Blazers
3. Anthony Davis, Hornets
4. Bradley Beal, Wizards
5. Dion Waiters, Cavaliers
1. Andre Iguodala, Nuggets: Remains the best overall wing defender this season.
2. Tony Allen, Grizzlies: The new rule changes are helping him to be more aggressive, which is frightening. 
3. Marc Gasol, Grizzlies: He simply locks off all available angles no matter what the set. So agile and versatile for a big man. 
4. Larry Sanders, Bucks: Leads the league in defensive rating and points allowed per possession minimum 500 possessions. 
5. Joakim Noah, Bulls: A tireless worker who combines his physical tools with a great defensive mind.
Most Improved Player
1. Jrue Holiday, Sixers: There is no argument against him. 
2. Grevis Vasquez, Hornets: No one would have thought he'd be one of the best assist creators in the league this year. 
3. Larry Sanders, Bucks: Became a monster defensively almost out of nowhere. 
4. Blake Griffin, Clippers: I know it sounds crazy, but look at his improvements in the post with footwork and his redeveloped mid-range game. 
5. Paul George, Pacers: Went from great player to star player, and that deserves mention. 
1. Jarrett Jack, Warriors: Zach Harper put it best: "He's still in GOD MODE." 
2. Jamal Crawford, Clippers: Maybe the third most feared man in the playoffs come May.
3. Kevin Martin, Thunder: Deadly replacement production of Harden.
4. Carl Landry, Warriors: Continues to hustle and bustle his way to a bigger deal soon.
5. Ray Allen, Heat: Makes the Heat even more impossible to cover. 
Coach of the Year
1. Scott Brooks, Thunder: Anyone else notice how many good players have developed under him?
2. Gregg Popovich, Spurs: 7-2 on the rodeo road trip. Unbelievable no matter how many times we see it. 
3. Erik Spoelstra, Heat: Melded new parts and their late game execution is superb. 
4. Mark Jackson, Warriors: Really needs to fix that defense. 
5. Mike Woodson, Knicks: Needs to catch the snowball rolling down hill with this team.
Executive of the Year
1. Bob Meyers, Warriors: A balanced roster with smart contracts. Their prudence at the deadline was appreciated. 
2. Daryl Morey, Rockets: The Robinson deal was just icing on the cake of a team he loaded and made dangerous while keeping his options open. 
3. Billy King, Nets: As many issues as they have, they've still improved. Spending money is a talent, I guess
4. Masai Ujiri, Nuggets: Put together a fun, versatile, flexible roster and didn't do anything impetuous at the trade deadline. 
5. Glen Grunwald, Knicks: Surprisingly, they're very good for the money. 
Jordan Bell had himself a night against Portland

The younger Ball brothers are heading to BC Prienai, but that could spell trouble

Not many games, but still plenty of action and intrigue Monday in the Association
SportsLine's advanced computer model simulated Tuesday night's Lakers-Knicks game 10,000 t...

The Reno Aces are concerned about the new WNBA franchise stealing their thunder

Hinkie parted ways with the 76ers in 2016 after drastically changing the direction of the...