Baseline Awards 3.11.13: Another Coach of the Year for Popovich?
A look at the Coach of the Year race in the NBA in our weekly awards post.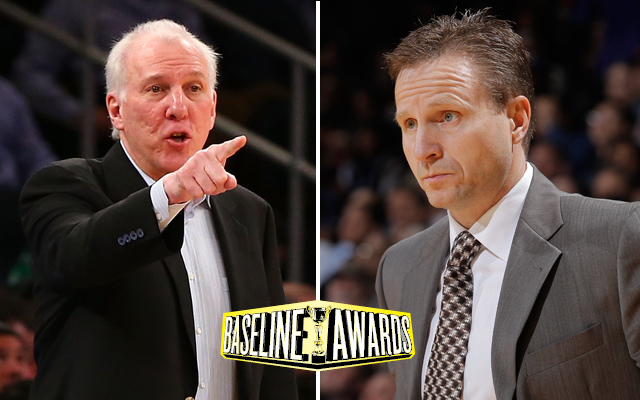 We thought for a long time we'd have a legitimate shot at a surprise for Coach of the Year. But as the schedule drags on and things are revealed, those chances seem to dwindle. Mark Jackson has been my pick for most of the year, but with the Warriors in full-on implosion mode and the defense rotting like the guy at the end of Indiana Jones and the Last Crusade, he's fallen back. 
Lionel Hollins was a pick for most of the year, and still deserves mention for how the Grizzlies have thrived after trading Rudy Gay. But the slight drift back and their woeful offense leaves him just a bit behind. 
And there are other unlikely candidates, but you know the guy who has to be in the lead: Gregg Popovich. It's not just that the Spurs have the best record in the West, or that they feature a top-five offense and defense in points per possession. It's that you can clearly tell the impact Popovich has on their success. It's the way he coaches up role players, and the way he handles minutes. It's his long-term approach while also prodding reserves to carry the game. It's pushing his stars to be the best and how he adjusts within the game. 
Popovich has to be the leading candidate, because he's the best in the business. And if I'm going to sit here and say it doesn't matter how many MVPs LeBron James has won, he's the best player in the NBA, the same has to be said for Popovich and coaching. But let's take a look at the arguments for and against the candidates, in no particular order: 
Gregg Popovich, Spurs
For: Best overall coach, team has improved its defense and maintained its offense. Best tactical adjustments, best long-term application of rest while continuing to win.
Against: Tim Duncan resurrection year, Big 3 surprisingly healthy for once, system he designed is almost so good it doesn't need as much in-season coaching, won it last year.
Tom Thibodeau, Bulls
For: Has kept the Bulls in a top-five seed position despite the absence of their best player, Joakim Noah's plantar fasciitis, Taj Gibson's knee injury, and a bench that was ravaged in the offseason. Maintains arguably the best defensive system in the league regardless of personnel.
Against: The offense is train-wrecking-into-a-landfill bad. Plays his starters too many minutes without regard for their health. Late-season swoon within context of injuries still disturbing. Offensive design is severely flawed, outside of the context of the talent. Still features two All-Stars.
Erik Spoelstra, Heat
For: Blended the talents of three of the best players in the league seamlessly for the first time this season. Worked to improve the defense and finally has it in elite standing. Built a new scheme out of his players' individual strengths, throwing aside traditional lineups. Best record in the league. 
Against: He has LeBron James, Dwyane Wade, and Chris Bosh, not to mention Shane Battier, Udonis Haslem and Ray Allen. What do you want, a cookie?
Frank Vogel, Pacers
For: Coaches the best defense in the league without the kind of defensive personnel Thibodeau has. Has developed players like Roy Hibbert, Paul George, Lance Stephenson, and Orlando Johnson into pivotal roles. Has lead Indiana to a probable No. 2 seed in the East. 
Against: Take Chicago's offense with the train-wrecking-into-a-landfill and then set it on fire. That's the Indiana offense. Inconsistent late-game execution, including several unforgiveable collapses like those against Toronto and Boston. 
Vinny Del Negro, Clippers
For: Has developed Blake Griffin and DeAndre Jordan beyond explosive dunkers (while still letting them be explosive dunkers). Has been smart enough to build the system around Chris Paul and allow him to be the superstar he is, a trait which many legends credit their coaches with (Bill Russell, Kobe Bryant, Tim Duncan to name a few). Has led the Clippers with a combination of very young and very old players to the fourth-best net efficiency rating in the league. 
Against: No one thinks he actually coaches the team, everyone thinks Paul does it. Terrible late-game execution, particularly out of timeouts, and an inexplicable fear of trusting Jordan even in situations where Hack-A-Shaq is not an option. 
Mike Woodson, Knicks
For: For three months, turned a team of isolation-heavy gunners into an extra-pass-making offensive juggernaut. Has helped maintain a high level of efficiency for a team with inconsistent players. Kept the team successful through injuries to Amar'e Stoudemire, Rasheed Wallace and Carmelo Anthony. Coaches in the biggest city on earth where many media members and voters reside. 
Against: The last two months, basically. The Knicks have turned back into an isolation pumpkin, and their defense fell off quickly. Team is too reliant on the 3-ball and goes away from what works quickly and often decisively during games. 
Scott Brooks, Thunder
For: The Thunder are 47-16 in a season after they lost James Harden and everyone thought they were doomed. Brooks has helped Russell Westbrook and Kevin Durant be better distributors and playmakers in Harden's absence and has built a system which plays to nearly every player's strength. Defense is better than advertised. 
Against: He has Kevin Durant and Russell Westbrook. Questionable late-game execution. Relies on Kendrick Perkins too often an for too long. Perception is that most of his sets are "vanilla." 
Lionel Hollins, Grizzlies
For: Coaches one of the toughest teams in the league, an identity he's responsible for instilling. Has led the team to its best regular season in franchise history. Has handled injuries to Zach Randolph and Mike Conley. Helped the team thrive after the trade of Rudy Gay, integrating an aging Tayshaun Prince, and the young Ed Davis and Austin Daye, despite disagreeing with management's move. 
Against: Offensive schemes are poor and solvable. Trusts his players too much at times. Rotation issues with the bench in third quarters. Trading Gay actually helped their offense. 
George Karl, Nuggets
For: Survived one of the toughest opening schedules in the NBA. Integrated new players with little experience in his system while still achieving great success. Took significant strides defensively in a fast-paced system, something that's very difficult to do. Has won consistently without a top-10 player in the NBA and without a player anyone would categorize as a "superstar." 
Against: The tough start was really bad. Team is considered "too dependent" on ability to win in altitude at home. Fast-paced system draws concern. Defense remains outside the top 10 n defensive efficiency. Late-game execution was a problem early (but has improved lately). Few notice how good the Nuggets have been based on market and the early start.
Mark Jackson, Warriors
For: Led the Warriors to an impressive and improbable start, forging a good defense out of poor defensive players and winning against top-tier teams. Developed Stephen Curry and Klay Thompson into a deadly backcourt while getting the most out of David Lee. Balanced a solid rotation including an unconventional two-PG lineup to end games. Won despite the absence of Andrew Bogut. His players love him.
Against: The Warriors have completely melted down, especially defensively in the past month and now seem in genuine risk of falling out of the playoffs. Offensive schemes don't really rattle anyone, and again, the defense has really stunk for a month. 
As it stands, here's where I've got them:
1. Popovich
2. Brooks
3. Del Negro
4. Spoelstra
5. Vogel
Bunch of worthy candidates above, and we've still got a month left. We'll see if Popovich can hang on. 
MVP
1. LeBron James, Heat: LeBron's last two weeks: "just" 24 points, eight rebounds and seven ssists on 52 percent shooting. Slacker.
2. Kevin Durant, Thunder: Maybe we need to reward him more for his ability to get to the line, especially considering he's a 90 percent FT shooter with such volume.
4. Kobe Bryant, Lakers: Just another unbelievable week from Bryant. This is truly the best season I've seen him play, when you look at how he works inside the offense and his efficiency.
3. Carmelo Anthony, Knicks: The injury will likely put the final nail in his coffin for this award.
5. Chris Paul, Clippers: Accomplice to making Brandon Knight look like a fool, so he's got that on his resume.
Rookie of the Year 
1. Damian Lillard, Trail Blazers: His performance against the Spurs removed any doubt. A worthy winner regardless of how weak the competition is. 
2. Andre Drummond, Pistons: Come back soon. 
3. Anthony Davis, Hornets: Showing some better stuff recently, including a great mid-range game. 
4. Bradley Beal, Wizards: You wonder how his year would have ended up if he'd stayed healthy and Wall had started the season.
5. Dion Waiters, Cavaliers: A great month for the gunner, who looks like a real weapon now. 
Defensive Player of the Year
1. Larry Sanders, Bucks: On top of the blocks and rebounds, he leads the league in points allowed per possession via Synergy Sports. 
2. Tony Allen, Grizzlies: Has turned it on the last few weeks and is wreaking havoc again.
3. Marc Gasol, Grizzlies: Like a Swiss Army Knife built like a tree. 
4. Andre Iguodala, Nuggets: Has fallen off a bit in recent weeks, but still able to lock down any player, like he did to CP3 last week. 
5. Joakim Noah, Bulls: Someone give that man a nap.
Most Improved Player
1. Jrue Holiday, 76ers: This thing was over months ago.
2. Greivis Vasquez, Hornets: Regardless of his defensive issues, his ability to do what he's done deserves the runner-up. 
3. Larry Sanders, Bucks: Took a giant leap forward that was more mental than physical. 
4. Lance Stephenson, Pacers: How about this from a guy who barely saw the floor last year? He's legitimately great on both ends of the floor and defense is not what you would expect from a player in his mold.
5. Paul George, Pacers: Went from "valuable player" to "best player on the team," and that's worth a finish in the top five. 
1. Jamal Crawford, Clippers: I'm willing to give it to him just for the between-the-legs lob. 
2. Jarrett Jack, Warriors: Still a great closer for Golden State.
3. Kevin Martin, Thunder: No one's really noticed how good he's been. 
4. Vince Carter, Mavericks: No, seriously. He's been great.
5. Ray Allen, Heat: Makes the Heat even more impossible to cover.
We have all the latest news from around the NBA on Saturday

Curry could be back for the start of the playoffs

This is not what Danny Ainge envisioned when he signed Gordon Hayward and traded for Irvin...
Irving has not played since March 11, and it appears he will miss Boston's first-round playoff...

People all across the country marched on Saturday for stricter gun regulations

Pop says while everyone wants Kawhi back, the team needs to act as if he won't return