Baseline Awards 3.25.13: Does streak lock up MVP for LeBron James?
A look at the streak and how it affects the MVP race, plus a look at Most Improved Player this week on the Baseline Awards.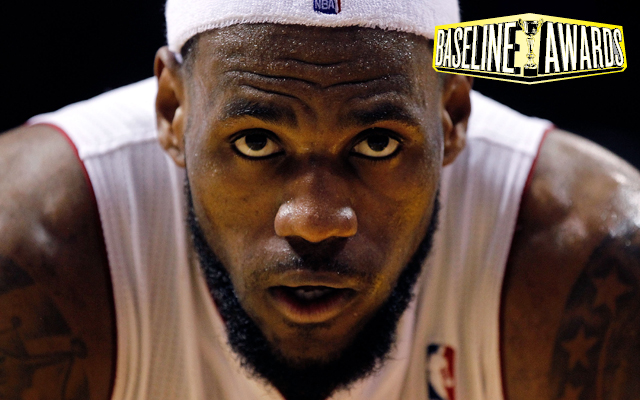 A look at the streak and how it affects the MVP race, plus a look at Most Improved Player this week on the Baseline Awards.
Winning affects the MVP race more than any other award. You don't have to be on a playoff team to win Most Improved or Defensive Player of the Year, at least not the top teams. But MVP? You'd better win some games, and win a lot of them if you're going to actually win the award.
So, how does a 26-game winning streak affect the MVP race?
The Heat's historic run is going to take its toll on the race, like nearly every factor does in a race as tight as LeBron James vs. Kevin Durant. But there are two levels on which the streak is going to have a particular impact.
1. Narrative: Voters love a good story. And "led his team to the second-longest/longest winning streak in NBA history" is a pretty good one. You've got the "grasping the reins of history" angle. You've got "simply contributed to the most wins" factor. And you've got "refused to let his team lose" as an element.
2. "Best player on the best team." The streak has pretty much destroyed anyone's foolish attempt at justifying Tony Parker or Tim Duncan over James with this, the worst of all arguments. The Spurs could still land the top spot in the league, but the streak has definitively put the Heat into most people's minds as the best team in the league once more.
James is chasing not only one of the best seasons of all time individually, but one of the best seasons of all time in terms of team success. What's more, unlike the Rockets' 22-game winning streak which was led by an improbable cast of characters playing together and scrapping out wins, this Heat streak can be attributable mostly to James. Countless times during the streak, the Heat have had trouble putting away a team, only to find James burst through the opponent's wall like the Kool-Aid man and run away with their treasure.
The longest winning streak since the merger belongs to King James. And as wonderful a season as Durant has had, history is too big of an opponent for him to overcome, and James may have put distance between himself and KD for the last time this season.
-------------------------
Most Improved Player shouldn't be such a problem. The idea's pretty simple, right? The player who improved the most since last season, since it's a yearly award. This shouldn't cause the consternation it does.
And yet ...
No award is as groused over as MIP. Does it matter more if you go from scrub to starter? Or from starter to All-Star? Should it be for a young player? Or an older player who made an unexpected leap? Is it metrics? Is it winning?
So many questions, such little meaning.
There are a few basic rules I tend to lean on, but vs. most of what I try to distill in the Baseline Awards, these shouldn't be taken as the definitive guidelines.
1. No sophomores: The key here is that the improvement has to be based on a higher-than-expected curve. With second-year players, that excludes them on two different levels. One, just based on comfort level of being a pro and natural progression physically, second-year players are going to improve. Their curve is a lot steeper than other year-to-year progressions. Hence why a downturn is described as notably a "sophomore slump" even in the NBA.
Second, establishing an expected curve for players off of one year of play is impossible. You don't know how good they should be or how much they've really improved because you only have one season to judge their ability. So stay away from sophomores.
2. Amount of improvement comes first. Does Paul George going from high-level sub-star to All-Star have more impact on his team than a player going from fringe player to starter? Yes. But the award is "Most Improved," not "Most Valuable Improvement." The question I always ask myself is "was it harder/more impressive to go from role player to star in this situation or to become a quality rotation player?" This doesn't exclude All-Stars, as my winner shows, but it's about what the jump means.
3. Overall play should factor, but the improvement can be isolated to one end. Basically, just because Greivis Vasquez is still bad defensively, that doesn't change the remarkable level of progression he's shown this year. Vasquez went from fringe back-up point guard you felt really nervous about having as your backup to leading the league in total assists. That's a huge level of improvement year-over-year, even if his defense is still a huge problem. If another player developed more on both ends, that's different, but again, it's the total level of improvement.
4. Overcoming odds should matter. Jeremy Lin had very little chance of pulling off what he did last season, which made his accomplishment that much greater. That should factor in. Like with the MVP, it's OK for the narrative to have a place here, as long as it doesn't overwhelm the reality of what the players have done on the court.
So who's the Most Improved Player this year? If you've been reading this column throughout the year, you know it hasn't changed.
It's Jrue Holiday.
The best proof for Holiday comes from an examination of how he was considered nationally at the start of the year vs. now. When Holiday received a 4-year, $41 million extension in October, the reaction from everyone, including those of us here, was to guffaw. He hadn't played nearly to that level in any facet.
Holiday wasn't a terrific distributor, nor was he elite at getting to the rim. He wasn't a crack shooter, nor was his defense known to be considerably better than what Doug Collins' scheme allowed.
All that changed this year. He's a mastermind offensively, second in total assists despite the fact he plays on a team that can't shoot. Holiday has become a terrific finisher at the rim and is shooting 37 percent on 3 pointers.
He's evolved into one of the best pressure point guards defensively. He made his first All-Star team and did it under the pressure of the extension.
This thing isn't close.
George gets a lot of mention but what he is doing is a much smaller extension of what he did last season. George made many of the leaps he's seemingly showed this season last season. He learned to catch-and-shoot effectively, he learned how to play defense more effectively, he upped his basketball IQ impact.
George's progression this year primarily has to do with his ability to operate as the primary ball-handler. Unfortunately, he's still an average pick and roll player (42nd percentile via Synergy Sports) and only a decent isolation scoroer. When you factor in that the Pacers' offense is a stuttering mess at times, George's improvement, though worthy of his first-time All-Star selection, isn't enough to get him to the top of the list.
But as mentioned earlier, Vasquez's improvement should land him there. He's gone from a player many thought would not have a long-term place in the NBA to the primary playmaker for the Hornets and doing it at an exceptionally high rate. That's a monster improvement for a guy who was considered a fringe player.
Larry Sanders is the defensive coin flip there. While much of Sanders' improvement is an extension of his natural learning curve, he's made such a significant jump this season based on what we'd seen from him, at both ends, he deserves a nod.
One player who won't wind up getting much attention but who should? Blake Griffin, surprisingly. Griffin re-worked his mid-range jumper to limited but noticeable success, has developed considerably in the post, and most importantly, took huge steps forward in terms of his basketball IQ. Griffin, like a lot of players, won't have his improvement formally recognized, but deserves a look.
MVP
1. LeBron James, Heat: He has the highest field goal percentage of any player in the top 10 PER seasons of all time. 
2. Kevin Durant, Thunder: I sincerely hope people don't forget how great his season has been, especially if he winds up winning the scoring title shooting 50-40-90. 
3. Chris Paul, Clippers: Paul's been pretty magnificent as of late, which the Clippers have needed. You wonder if he's ever going to have another shot at this award with Durant and James around, though.
4. Tony Parker, Spurs: Their struggles in his absence show why he's so valuable.
5. Kobe Bryant, Lakers: Shockingly, the injury actually slowed him down. Wasn't expecting that. 
Rookie of the Year
1. Damian Lillard, Trail Blazers: Having a spectacular March. What rookie wall? 
3. Anthony Davis, Hornets: Seriously, go look at his production. It's so much better than you'd think.
2. Andre Drummond, Pistons: COME BACK, ANDRE. COME BACK!
4. Bradley Beal, Wizards: Yet another rookie with injury issues. 
5. Dion Waiters, Cavaliers: And now Waiters too. No healthy rookies this year. At all. 
Defensive Player of the Year
1. Marc Gasol, Grizzlies: Not a better pick-and-roll or post defender in the league. 
2. Andre Iguodala, Nuggets: The Nuggets have a top-10 defensive efficiency since Dec. 15 despite playing at a top-three pace. Do you know how hard that is? Do you know how much of that is Iguodala?
3. Tony Allen, Grizzlies: Has really turned it on in the last few weeks and looks primed for a huge postseason defensively.
4. Larry Sanders, Bucks: No, seriously. Enough with the ejections, Larry.
5. Joakim Noah, Bulls: Might be the Most Valuable Defensive Player in the league. 
Most Improved Player
1. Jrue Holiday, 76ers: Logged a season-high 15 assists vs. the Nuggets; he keeps plugging despite Philly's struggles. 
2. Greivis Vasquez, Hornets: Will he be the starter next year? You don't know, but he deserves every ounce of credit he's gotten for what he's done this year. 
3. Larry Sanders, Bucks: He got so good he got his own LARRY SANDERS! moniker. Pretty good. 
4. Lance Stephenson, Pacers: Not enough people are talking about this Pacer's improvement. 
5. Paul George, Pacers: The "only guy to jump to star-status" player.
Coach of the Year
1. Gregg Popovich, Spurs: Nando de Colo is a good player for them. Anyone can be a good player for them.
2. Erik Spoelstra, Heat: Even with all that talent, the second-longest winning streak in NBA history with a shot at the longest has to put him up there, right? 
3. George Karl, Nuggets: Destroying most over/under expectations despite an especially brutal schedule. Karl has put together a phenomenal season without putting too much strain on his locker room.
4. Scott Brooks, Thunder: Doesn't get credit for the development of his players enough.
5. Vinny Del Negro, Clippers: Stop looking at us like that. 
Okafor's been on and off the trade block for over a year and doesn't seem to be in Philly's...

Fisher is the fourth NBA player to compete for the Mirror Ball trophy on the show

Barkley commends the NBA, sarcastically, for extending the season and reducing back-to-back...
Enes Kanter isn't seeing much comedy in the Kevin Durant social media situation

Iggy nearly joined the Rockets before giving the Warriors a final chance to raise their offer,...

The Celtics guard is leaning towards siding with his new teammate but has questions about the...