Baseline Awards 4.8.13: The Xander Awards starring Dwight
Celebrating the worst in the 2013 season.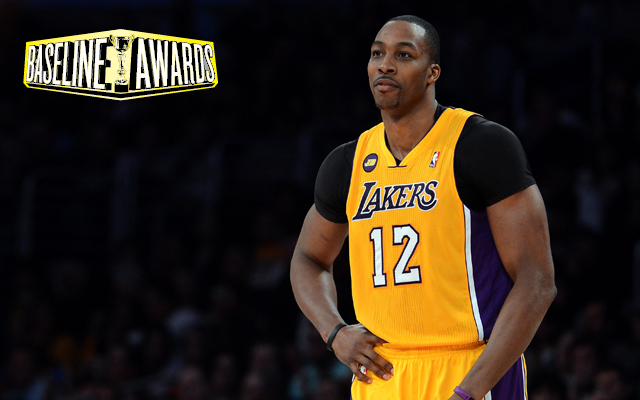 As the NBA heads into its last two weeks of play, it's time to start looking back on the season that was. And while we'll be reviewing each team in the coming weeks, and have our full, final Baseline Awards next Monday, it's time to take a look at the worst of what the NBA gave us this season.
I call them the Xanders. Why the Xanders?
That's why.
(Best of luck, wherever you are, Joe. I enjoyed watching you in Las Vegas Summer League.)
Here's the worst of the NBA Season:
The Dwight Howard Trade: Where do you want to start? OK, we were subjected to the Dwightmare, we all got up in a fluff about how good the Lakers were going to be (no one more than I who predicted 64 wins, whoops), then we had to deal with the constant talk of a sub-.500 team, Mike Brown got fired, the Phil Jackson nonsense, Chris Duhon played a bunch, Kobe and Dwight fought, the Lakers are decidedly mediocre, the Sixers got Bynum who didn't play a single second for them, the Magic had to find solace in eventually getting Tobias Harris and they still lost badly to the Lakers, the Sixers are a flaming pile of ruins, and, oh, yeah, Dwight hasn't played that well.
Denver made out great, but even their awesome defensive guy is having one of the worst offensive years of his career.
So no, that trade did not work out great overall.
Related, Dwight's Headband: He complains about people complaining about it, but the first time my wife saw it, she literally dropped what she was holding and yelled "Dwight, what is that thing on your head, get it off, get it off, get it off!" like she had a bat in her hair.
I don't even know what it is about it that's so horrible, it just is. Burn the headbands.
Austin Rivers, New Orleans Hornets: Rivers is both the least fair to give the top award to, and the most fair. Least fair because he's a rookie, and most rookies are bad. Most fair because at least he can improve. And man, does he need to improve.
Rivers averaged 9.6 points per 36 minutes this season on 9.9 shots. For every three assists he logged, he turned the ball over two times. He had a True Shooting percentage of .431. He has only two gears, and can pretty much only go north and south. He can't finish at the rim, he shot 32 percent from the arc, and he couldn't defend.
So yeah, it was kind of a rough first year for the kid. Oh, and he suffered an injury to end the year.
There's every reason to think Rivers will improve. He's so young, he's just got a lot to learn. But you can't really make a list like this without him. It's just not possible.
Lamar Odom , Clippers: Mr. Kardashian did not have a great bounce-back year. In the last two months of the season, Odom started to look like an NBA player again, and had some big moments. But he's still sporting a .429 True Shooting percentage (think about that, he's a forward shooting worse than Austin Rivers), would routinely try terrible shots (particularly threes where he's shooting 19 percent -- 19!), and still gets racked defensively pretty often.
He played himself into shape to help things, and this season has definitely been better than the really unfortunate things that happened last year, but not a good year for Odom.
Joel Freeland, Blazers: You know what? Actually. 
The Entire Portland Bench: Joel Freeland is a big man with a True Shooting percentage of .431 (40 percent from the field, 68 percent from the line). Will Barton (again, a rook) is averaging 2.9 3s per 36 minutes, and shooting 12.5 percent on them.
The Blazers' starters have scored 6,004 points, the bench just 1,521. The Blazers would undoubtedly be a playoff team had they had any bench whatsoever this season. Let me put it this way, Luke Babbitt was their best wing off the bench.
Chris Singleton, Wizards: I still have high hopes for the kid as a defender, but Singleton averaged 16 minutes per game in 52 games for the Wizards, with a PER of 8.0, just over half the average of 15. He's not a bad per-minute rebounder, but his offensive limitations just leave too much to be desired.
Norris Cole, Heat: Again, I like the kid. He plays dogged on-ball defense, he works his tail off, he throws a better lob than Mario Chalmers, according to Dwyane Wade.
But the kid's shooting 42 percent from the field and 67 percent from the line, with a PER of 7.5. He gets lost on-ball. He'd be nicely hidden on a bad team, but on a team like the Heat he stands out as the "That guy's playing?"
Michael Beasley, Suns: The contract (three years, $18 million), the player (746 points on 747 shots), every part of it. Beasley is who he is, and who he is is not very good.
Hedo Turkoglu, Magic: As @cigamodnalro put it: "Worst player of the season: Hedo Turkoglu. 1-24 from the 3PT line on the season, $11,815,000 salary, and a steroid conviction."
The Maloofs, Kings: Worst. Owners. Ever. (And we live in an NBA with Donald Sterling.)
Jan Vesely, Wizards: That moment where the draft show showed his beautiful girlfriend was his career apex.
Brandon Knight 's luck: Has to guard Kyrie in the Rookies-Sophomores game despite him being a sophomore himself, gets crossed over. Gets caught in the wrong place in the wrong time vs. DeAndre Jordan and gets destroyed. Misses a wide-open layup. The gods hate Brandon this year. Did I mention he had to deal with plantar fasciitis this season?
LEAVE HIM ALONE, BASKETBALL GODS! LEAVE HIM ALONE! (SOBS)
ACL injuries: The perennial winner, this year we had Derrick Rose, Rajon Rondo, and Danilo Gallinari taken from us for huge chunks of the season. Someday medical science will invent a way to prevent and/or instantly repair those ligaments and the game will be awesome and there will be less suffering.
I want to mention that, by the way. We talk about the Bulls and their future with Rose and how long it'll take him to get back to speed, and everything. Derrick underwent a traumatic injury that caused him months and months of pain. That's suffering. He literally underwent suffering as a result of his job. He gets paid to play, and all that. It's not a tragedy and he's not a victim. It's one of those things. I'm just saying, let's remember that there's a personal, painful side to this.
With that, on to this week's awards update:
MVP
1. LeBron James, Heat: It's over, it's done. Crown him. He is who we thought he was. The best player on the planet. 
2. Kevin Durant, Thunder: Melo's going to wind up costing him being the first player to lead the league in scoring while going 50-40-90, but it's still an amazing year for Durant. 
4. Chris Paul, Clippers: They won the division, will be a top-four team regardless in a brutal Western Conference. Take CP3 off that team and it's actually kind of a mess. 
4. Carmelo Anthony, Knicks: Hey, welcome back, Melo! I hate how everyone overreacts to the last month of the season, like the previous five months didn't matter, but Melo's strong November and December, combined with his annual rite of setting April on fire leapfrogs him back up here. Melo is the April MVP, and was the November MVP. He just wasn't good enough in between (and he was hurt) to leap the other guys. This is still his best overall season I've ever seen from him.That's not an insult, it's a compliment.
5. Kobe Bryant, Lakers: You need to understand how much I've crushed Bryant in the past when he scored tons and everyone thought he was great, but was brutally inefficient and played outside the offense. Bryant has done everything asked of him this year. He's within the flow of the game, doesn't take bad shots often, shoots remarkably high, and makes the right play almost always, yet is seldom rewarded by teammates. His on-ball defense was good, not great. His off-ball defense was not good. But he still deserves to be here. 
Honorable mention: Leaving off Tony Parker and Tim Duncan on this list made me physically nauseous. How good is this MVP race? 
Rookie of the Year
1. Damian Lillard, Trail Blazers: We should have been etching his name on this thing a month ago.
3. Anthony Davis, Hornets: The "good" star for the Hornets.
2. Andre Drummond, Pistons: Excited to see how he develops next year.
4. Bradley Beal, Wizards: Expecting big things from this kid.
5. Dion Waiters, Cavaliers: A good overall year, after a terrible start. Good job by him to improve.
Defensive Player of the Year
1. Marc Gasol, Grizzlies: Has three-game winning blocks this year, but his defense goes so far beyond all of that. 
2. Andre Iguodala, Nuggets: George Karl talks extensively about how Iguodala has made all of the Nuggets, many of whom are not good individual defenders, better. 
3. Tony Allen, Grizzlies: Such a monster at attacking the ball and has gotten better at managing himself. 
4. Larry Sanders, Bucks: How much of an impact can a kid this young have? Ridiculous.
5. Joakim Noah, Bulls: It will get lost how good he's been. It should not. 
Most Improved Player
1. Jrue Holiday, 76ers: People really don't understand how good Holiday has been this year.
2. Greivis Vasquez, Hornets: Did you expect him to be this good? Be honest. I didn't. 
3. Larry Sanders, Bucks: Huge strides in an area that's tough for a young player. 
4. Lance Stephenson, Pacers: Has become a serious impact player after being a joke for the Pacers to start. 
5. Paul George, Pacers: Many people's favorite, but it's like no one realizes how good he was last year. 
Coach of the Year
1. Erik Spoelstra, Heat: If he wins, it'll be ridiculed for how much talent he has. But he has kept this team together and focused, while managing minutes and creating a better offense. Oh, and a 27-game winning streak.
3. George Karl, Nuggets: They've exceeded expectations, continuing to win through injuries, had the toughest schedule in the NBA, and don't have that talked about "superstar." What more do you want?
3. Gregg Popovich, Spurs: Having a little bit of a time keeping everyone focused lately, but he's still the best overall coach in the game, even if the guys above did a better job.
4. Scott Brooks, Thunder: Their late-game execution has cost him, but Brooks' overall job has been phenomenal.
5. Mark Jackson, Warriors: The roster looks a lot worse when you step back and look at it, and his success should be noted. 
6th Man of the Year
1. Jarrett Jack, Warriors: Jack arrives back at the top slot because of the slip of so many other guys, including Crawford. The Warriors are not in the playoffs without him.
2. J.R. Smith, Knicks: He took four step-back, contested deep mid-range jumpers Sunday. He nailed I think three of them. Do I believe in this as sustainable offense? No. Do I think he's fundementally changed despite his improvement at getting to the rim? No. But I cannot dispute that Smith has been great for the past month and is invaluable to the Knicks. He's upped his shooting percentage all the way to 42 percent. His defense has been more than good this year, and if he's making bad decisions and they're still creating points, can I really dock him? So here he is, reservations though I may have. Smiff has been dominant the last month.
3. Jamal Crawford, Clippers: Crawford needs to get out of his funk. The Clippers need Crawford to get out of his funk.
4. Ryan Anderson, Hornets: No one's going to notice what a great year he's had. So, you know, pretty much like the rest of his career. 
5. Ray Allen, Heat: That signing worked out pretty well. 
Executive-of-the-Year: 
1. Glen Grunwald, Knicks: J.R. Smith on the cheap. Raymond Felton for decent money. Chris Copeland. Marcus Camby. Kenyon Martin. Pablo Prigioni. Someone's got to get credit for how much better the Knicks look, and that's before the genius of Jason Kidd. 
2. Masai Ujiri, Nuggets: No one in Pepsi Center can really believe they're as good as they are. They just are. The biggest thing Ujiri may have been wrong about this year is that this team is not a title contender. Pretty good thing to be wrong about. 
3. Daryl Morey, Rockets: Got his superstar and managed to build a good team around it, with a great future. Daryl Morey again runs the game.
4. Rob Hennigan, Magic: Their record is horrible. The team is bad. But look at the core, the future cap space, the draft picks. Tobias Harris, Nikola Vucevic, Moe Harkless. That team looks great as a rebuilding squad. Great job by Henngian throughout the season. 
5. Billy King, Nets: Look, he spent the money, he got a playoff team, the team made money. Gotta be something for having it worked out, even in a disappointing shade. 
Jonah Keri talks with NFL and NBA broadcaster Ian Eagle

SportsLine simulated Wednesday's Nuggets-Clippers game 10,000 times

Galin Dragiev has his finger on the pulse of the Lakers and just locked in a play for Wedn...
No more McNuggets allowed in the Barnes household

Leonard has played in only nine games this season for San Antonio

Pierce is set to have his jersey retired on Feb. 11, but there's been a lot of controversy...