Baseline Awards: Judging the MVP at midseason, Durant or LeBron?
Who's the 2013 MVP at the midseason mark?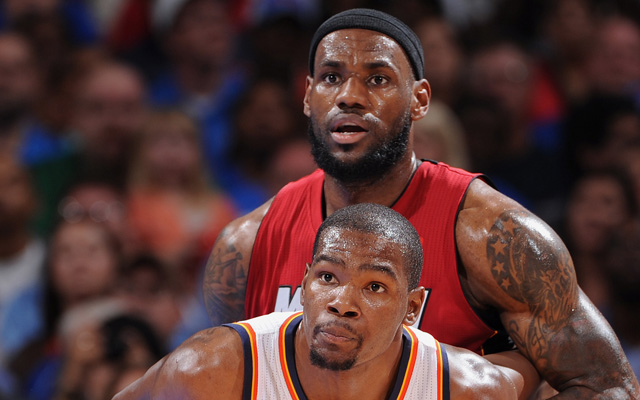 This may go down to the wire.
(Getty Images)

In the last week, this thing has gotten serious. The NBA MVP race ramped up to a new level, as LeBron James put on a prolific performance vs. the Lakers and Kevin Durant followed up the next night by dropping 52 in a league where big scoring nights are down.

The gap between those two and the other two serious candidates, Carmelo Anthony and Chris Paul, widened this week. Paul and Anthony are still worthy of consideration and a prolific game this week can certainly put them back into the virtual tie they've shared this year. But those top two... man, are they giving us something this season. What could Durant possibly do to match what James did to the Lakers, at both ends? Even on a poor shooting night, he drops 52 and that number is just going to resonate with voters.

(Big apologies to Tim Duncan, who isn't going to make a run at this thing no matter how well he plays. The voters don't pay enough attention to the Spurs, his metrics don't leap off the page enough, and is "Space Cowboys" narrative isn't strong enough.)

So with the midseason mark approaching this week, it's time to examine the race in detail. Let's start here. What are the factors that wind up influencing the MVP?

1. Excellence of play: How impressive is his play? Does he come up big in big games? Is his game as complete as needed? Does watching him astound you?

2. Narrative: Does he represent the values the voter subscribes to? Is the player a "good guy" who "works hard" and has risen from nothing? Has he taken a hard-luck team to the title contention? Has he taken on the burden of a major city and lifted it? Basically, can you tell his story and have it impact people who watch sport?

3. Team success: The team has to be winning. This is one of several elements here (No.2 and No.6 as well) that is absurd, but remains. If your contribution isn't enough to carry wins. How many wins you need varies. Since 82, the player has needed a .610 winning percentage or better. Moses Malone won his first with a .561. But you have to win. Performance relative to expectation matters here as well.

4. Importance to team success: Doesn't matter if you're putting up huge numbers and the team is winning if you're not the most important player on the team. If the voter thinks your team would still win without you, you're done.

5. The numbers: Progressively a bigger part of the equation, and has always been used, despite what voters would say. Those per-game numbers are going to stand out, particularly if they cross certain historic barriers or lead the league. New metrics are slowly starting to have more of an impact.

6. The message: A big reason LeBron James didn't win in 2011 was that voters wanted to punish him for being a big ol' jerk to Cleveland. Karl Malone and Charles Barkley both won because voters were tired of Jordan. You can make a similar argument about what voters thought of Kobe Bryant's approach in 2005 and 2006 (but there's a much better argument for Steve Nash than is routinely stated).

Those are your basic elements.

To establish who's winning these:

Excellence of play: 1. LeBron James 2. Kevin Durant 3. Chris Paul 4. Carmelo Anthony

James dunks with the wrath of the gods, runs the entire offense, posts up, hits threes, and defends the best opposing player. Durant is the best scoring player in the NBA and takes over in the biggest moments. Chris Paul plays point guard at an all-time position. Anthony has been efficient and effective at both ends for the highest levels of his careers.


Narrative: 1. Kevin Durant 2. Carmelo Anthony 3. Chris Paul 4. LeBron James

Durant, the good-hearted kid in the small market who only loves basketball and wears a backpack. The "Aw, Shucks" Superstar. Anthony has resurrected basketball in Manhattan and changed his career narrative (despite the numbers looking very similar). Paul has the Clippers, the Clippers (!) playing at an elite level and has been passed over multiple times. LeBron is old news on the MVP run.

Team success: 1. Kevin Durant 2. Carmelo Anthony (vs. expectations) 3. Chris Paul 4. LeBron James

The Clippers have a higher winning percentage but people expected less out of the Knicks. The Thunder are the best team in the league record-wise. The Heat have actually underperformed relative to expectations.

Importance to team success: 1. LeBron James 2. Carmelo Anthony 3. Kevin Durant 4. Chris Paul (This one is a four-way tie.)

James may have the best roster of any of these teams, but he also does the most. He leads the Heat in scoring, rebounds, assists, and steals, and defends the best player on the other team. Durant actually does more than Anthony, but people can say "Durant has Westbrook and Ibaka." People say Anthony has Tyson Chandler and J.R. Smith. Different levels. Paul coasts for long stretches and the Clippers have excelled with their depth.

The numbers: 1. LeBron James 2. Kevin Durant 3. Chris Paul 4. Carmelo Anthony

These are pretty self-evident.

The message: 1. Kevin Durant 2. Carmelo Anthony 3. Chris Paul 4. LeBron James

Voting Durant is a vote for a different, younger player, a recognition of his ascendance. Voting Anthony is about rewarding a player for improving and doing it in New York. (No, that should not matter, but like I said, some of this is awful.) Voting for Paul is a lifetime achievement award deal. Voting for LeBron is voting for the best player in the league, and who wants that?

So there you have it. 3-3 LeBron vs. Durant. But Durant's second-place votes give him an edge there.

Let's be clear, though. Durant has played at a phenomenal level, and honestly, if he played like this last season, he might have been the leader. I'm keeping James at the top based on the totality of his play, but Durant's improved rebounding and overwhelming scoring punch makes this exceptionally tight.

And a very fun race.

MVP
1. LeBron James, Heat
2. Kevin Durant, Thunder
3. Chris Paul, Clippers
4. Carmelo Anthony, Knicks 

6th Man of the Year
1. Jamal Crawford, Clippers: The scariest player off the bench, able to take the game over at a moment's notice.
2. Carl Landry, Warriors: Leads all players playing more than 25 minutes without starting more than five in PER, and averaging 17 points and 9 rebounds per 36 minutes.
3. Amir Johnson, Raptors: Efficient, effective and so much heart.
4. Matt Barnes, Clippers: You laugh, but he's shooting 36 percent from three, averaging 15 and 7 per 36 minutes and is a huge difference maker for the best bench in the league.
5. Jarrett Jack, Warriors: Works perfectly as compliment to Curry.

(Note: J.R. Smith is averaging 18 points per 36 minutes on 16.5 shots and shooting less than 40 percent from the field. The fact that he's under consideration is a crime against logic. He also has fewer assists per 36 minutes than J.J. Redick and fewer rebounds per 36 minutes than Mike Dunleavy.)

Defensive Player Of the Year
1. Andre Iguodala, Nuggets: Can't be exploited in mismatch and learns from coverage mistakes better than any player. It adapts.
2. Andrei Kirilenko, Timberwolves: The Wolves are hanging on solely by the strength of their defense, and most of that is AK.
3. Marc Gasol, Grizzlies: Can extend a pick and roll play to the end of its mortal coil and challenges at the rim as well as any player in the league.
4. Larry Sanders, Bucks: You need to watch this young fella attack penetrators at the rim.
5. Tyson Chandler, Knicks: You remember Tyson.

Rookie of the Year
1. Damian Lillard, Trail Blazers: Hanging on here, but the contest is back on.
2. Bradley Beal, Wizards: H's shooting 55 percent his last five games, and looks like a true star with the Wizards finally healthy.
3. Andre Drummond, Pistons: Give the man more minutes, Frank. The war's over. Give the kid more minutes.
4. Antony Davis, Hornets: Leads all rookies playing at least 20 minutes in PER.
5. Jared Sullinger, Celtics: Making the most impact on a contending team.

Most Improved Player
1. Jrue Holiday, Sixers: Well, he went from borderline starter to "should absolutely be an All-Star under any circumstances" so yeah, he should get in.
2. Greivis Vasquez, Hornets: He's third in assists per game. We didn't even think he was a rotation player going into the season. All heart, in this guy.
3. Corey Brewer, Nuggets: Has learned to harness the gambling productively and is a huge offense sparkplug for a team that needs it off the bench.
4. Brook Lopez, Nets: Has been the Nets' best player and a decent player on defense. Deserves recognition.
5. Larry Sanders, Bucks: Sanders is hosting a block party in Milwaukee.

Executive of the Year
1. Bob Myers, Warriors: Drafting, depth, roster balance, the Warriors have done all this and they don't even have Bogut.
2. Danny Ferry, Hawks: Lou Williams' injury may end their playoff run hopes, but Ferry put together a great roster with great future flexibility.
3. Daryl Morey, Rockets: Got his stars, and they have a bright future.
4. Billy King, Nets: Look, the team's hot as fire. Fired coach or not, King put the wins on the floor which the money paid for.
5. Glen Grunwald, Knicks: Come on, you gotta give someone credit for jettisoning Lin and having Felton, Kidd, and the old guys crew work out so well.
Mirotic and Portis combined for 49 points as the Bulls won their fifth straight game, beating...

Gobert, who missed 11 games earlier this season with a knee injury, will have an MRI

Get all the latest scores, news and highlights from Friday's NBA games
Porzingis is questionable for Carmelo Anthony's return to MSG on Saturday

The Spurs and Rockets will renew their in-state rivalry on Friday night

Anthony will play at Madison Square Garden on Saturday for the first time since being trad...