Baseline Awards: Re-examining Executive of the Year
The Executive of the Year award has always rewarded short-term gain. This may not be the best way to look at the award.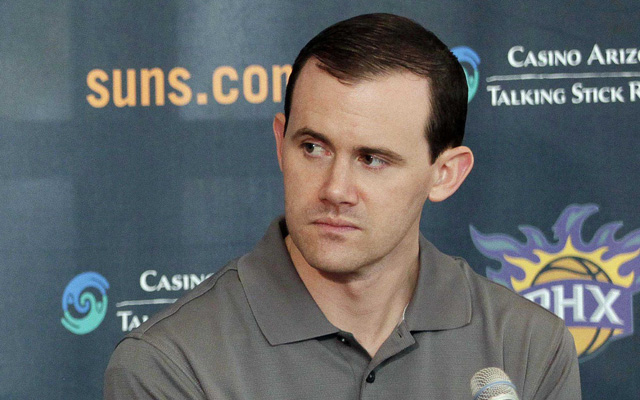 Executive of the Year, like most of the awards, drives me a little nuts. If you try and really analyze the decision making of a group of people who are not individually invested in the legitimacy of the award first and foremost, you're going to wind up frustrated.
But unlike some of the other awards which have too many complex layers wrapped on top of each other, the Executive of the Year always basically comes down to the same thing. Who made a big move in free agency or trade and won significantly more games than the previous year? Sometime's it's a delayed reaction from a previous deal or deals that resulted in more wins.
Seems reasonable, right?
I'm not here to blow up the award; I think for the most part, it's fine. But I do want to ask this question. Why doesn't the future play a more substantial role in the voting process?
The No. 1 phrase you're going to hear out of any GM these days when they talk about their priorities, unless they're Miami, New York, or Brooklyn is "financial flexibility." This has two meanings. The meaning they sell to fans is: "We have the flexibility to take on a star if the opportunity presents itself, so get those season tickets now!" The one that it actually means is "I have the ability to rectify and/or erase a terrible mistake I may have made and start over, thereby prolonging my tenure in this gig."
There's some middle ground there, but the point remains. Any reasonable look at long-term futures in the NBA is dictated by talent plus flexibility plus assets. If you have players who will either become good or can be traded for players that are good, you are inherently better off than those who do not.
But Executive of the Year only deals with the immediate. How the fruits of your labor worked out... for a single season. If the job of an executive is to rectify past mistakes, put together a plan for the future and capitalize on whatever potential there is to pursue that plan, and put a winning product on the floor, in that order, why are we recognizing immediate success?
Masai Ujiri won the award last year for a delayed effect from the Melo trade, using those assets to trade for Andre Iguodala , who helped Denver win 57 games last season. But Iguodala's gone. George Karl is gone. Ujiri himself is gone (which helped contribute to the other two. I'm not saying Ujiri was the wrong choice, because if Ujiri was at the helm, even if Iguodala still went to Golden State, you would still feel like the team could pull off something huge in the future.
Let's take this season. Portland GM Neil Olshey is likely to win the award, based on the massive jump that Portland has taken. If Brooklyn had been the team everyone thought they would be, Billy King would have won it. Does this factor how bad the Brooklyn Nets are likely to be long-term without their draft picks and with an aging, injury-riddled roster on massive contracts?
But let's go back to Olshey. Olshey has done a terrific job in Portland. Despite being about as prickly with the media as it gets, he's put together a roster that is neither old, nor substantially compromised. Their cap situation is fluid, and if something were to occur that would necessitate a trade, or if a can't-miss opportunity were to come through, they could take it. The delay-effect is very much in place here, though. The team has LaMarcus Aldridge , drafted in 2006 as its core. Wesley Matthews , Nicolas Batum ? Both in place before. These aren't reasons to not vote for Olshey. He pulled off the Gerald Wallace trade with the Nets which was an absolute heist. He landed Damian Lillard and took him several spots higher than many were expecting. He retooled the bench, their biggest weakness from last season. He's done a tremendous job and if he winds up winning it, he'll deserve it.
Daryl Morey's the other option, just for pulling off the Dwight Howard signing. What's amazing is that if you look at the other moves Morey has made (signing Francisco Garcia , Aaron Brooks , and Omri Casspi , the subsequent poison-pill signings of Jeremy Lin and Omer Asik ), they haven't been great. This is kind of funny, considering in the past, Morey made all the great complimentary signings without ever being able to land a star.
But I'd posit that we should look more at what GM's have done to set themselves up for the future. I'm not suggesting a bottom-feeder rebuilding team should get the award. The Orlando Magic have a ton of upside, but we don't know if any of their young players will actually deveop into stars, or if those veterans can be traded for impact players, or if that cap space will be put to good use.
However, look at what the Phoenix Suns have. An impact player to build around in Eric Bledsoe , which Bledsoe has proven this season. (His knee surgery has career-term effects on him, not short or even moderate-term ramifications.) They have hired a coach who has gotten more than plausibly expected. They have young players out the wazoo with ability, guys like the Morris twins, Alex Len , Archie Goodwin and more. The've filled in with veterans (some of which were left over).
And they have potentially four draft picks in the most loaded NBA Draft in recent memory. Four! They're the sixth seed, and they have four draft picks and all the future cap space you could want!
For me, it's more than that, though. It's that they were willing to cut bait with Michael Beasley , simply because of the problems he presented. They put out a statement early that nonsense wouldn't be tolerated. GM Ryan McDounough has put in a new culture, and managed to get success out of what we all thought was a bottom feeder.
But then, in a year, the Suns could fall apart again. Goran Dragic could be gone in free agency or trade, the cap space could be nulled, the expectations of continued success could poison the well, the draft picks could not work out. My larger point is this: If we're going to talk about the work of front offices in relation to the future, maybe it's time we consider that when we look at who should win Executive of the Year.
Trump rescinded Curry's invitation to the White House after Curry said he wasn't interested...

Silver said he was hoping Warriors would get chance to share their views directly with the...

Along with the Thunder, those were the three teams most involved in the Anthony trade talk...
LeBron said he was frustrated by the President's recent actions

A look at the various actors and elements in the latest sensational blockbuster trade in the...

Blockbuster deal doesn't change the Thunder's projected finish in the West