Baseline Awards: Sizing up all 30 coaches for Coach of the Year
Who's the best coach in the NBA this season? And how far is most of the league from being good?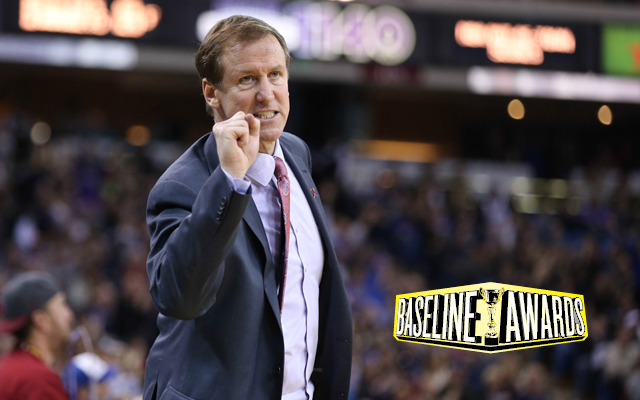 In preseason, many of us in the media wondered if there would be a single coach fired this season. After all, with 13 new head coaches, that cuts down on the opportunities, since it's really difficult to justify firing a coach, both in cause and financially. Instead, the options seem to be abundant this season.
There are mixed signals in the coaches having success and struggles this year. It would appear that having some experience as an assistant helps, but there's some noise as well, there. Stability and talent on the roster always helps, but so does having a team that fits your philosophy. So does having a philosophy. 
Initially, I was just going to examine the top contenders for the Coach of the Year honors, so you can know who's going to get fired in a year and a half. (The Coach of the Year award has been a cursed totem for years; George Karl won it and then was fired less than a month later. Good times!) But when thinking about it, we really need to establish the difference between the kinds of contenders out there, and once you do that, you might as well look at whole picture. So here's a look at hot commodities to the hot seat in NBA coaches. 
Before we get started, I want to make something clear. One of the reasons NBA coaches have so many things built into their contracts is that it's a near-impossible position. You're dealing with superstar egos wth no real way to affect any sort of control over them, a schedule of unending misery, the random injuries and team dynamics that happen along the way, and while most of the credit goes to the players for their performances, the limitations or close-game failures almost inevitably all wind up on you. It's a thankless job much of the time, and there's a reason why so many who have walked away never really miss it. The NBA's a players' league but the great coaches do a fantastic amount to help their teams and get very little credit for it. 
(Scores are on an arbitrary scale of 1-10 based on how hot they are. The lower the score, the colder they are and the warmer that seat is.)
The Hot Commodities
The favorites for Coach of the Year, young/new enough to garner curiosity but successful enough to seem legit.
Terry Stotts, Portland Trail Blazers (9.3): Stotts coaches the league's hottest team and the biggest surprise team through the first half of the season. The Trail Blazers were supposed to be better this season but not "homecourt advantage" good. Instead, Stotts has orchestrated arguably the league's best offense, with a decent chance of pushing two separate Blazers to All-Star status. Portland spent much of the first two months of the season at the top of the brutal Western Conference, and Stotts' management of both the rotations on Portland's bench, finding matchup advantages, and out of bounds play execution (the Blazers are No. 1 in side-out-of-bounds plays according to Synergy Sports) has to catch your eye. 
Is their defense good enough to sustain what will inevitably be a comedown from their wild close-game record through the first two months of the season? If the Blazers are still really good but slip from the top four of the West, will the altered expectations hurt Stotts? Had to tell but you have to think taking a fringe playoff team and making them what some consider a title contender is going to earn you points. 
Jeff Hornacek, Phoenix Suns (8.7): My personal pick for COY is the man who took what so many considered to be a tanking team and converted them into one of the most fun teams to watch in the league. The Suns are an incredible 21-16 this season in a year they were supposed to be in line for a top lottery spot. Ask the guys in that locker room what the difference has been and many of them immediately mention Hornacek. Hornacek has given players who needed confidence confidence all while keeping them within themselves. Watching the Suns, it strikes you how fundamental their play is. They focus on effort, a willingness to share the ball, and a desire to make the right play. There's very little ego in the way they play and it's refreshing to watch. 
The loss of Eric Bledsoe for an undetermined amount of time could hamper things in a big way. Phoenix has already lost three straight on an East Coast road trip and six of their last ten. Can Hornacek keep the ship afloat if the waters get choppy? Phoenix has still been in nearly every game during the rough patch, but how they respond to this adversity could make or break his campaign. 
Steve Clifford, Charlotte Hornets (6.5): A month ago, some were saying Clifford had it wrapped up. The lowly Bobcats were .500, and that alone was a mark of greatness. The Cats looked for two months like a disciplined team that always played you tough, always made the right play, and had the talent to push you if you left the door open. 
Then the West Coast road trip happened. The Cats have now dropped eight of their last ten and look right back to the pitiful mess they've always beeen. They're giving up nearly 110 points per 100 possessions after building their team around defense to start the year. If Clifford can get the team back to playing solid defense with the return of Michael Kidd-Gilchrist , he can shoot back up the ranks. But their fall-off has been dramatic. 
Mark Jackson, Golden State Warriors (8.0): Jackson didn't win it last year, and could get the bump from "should have won it last year" especially after their playoff run. Jackson combines much of what you look for in a candidate: dramatic turnaround of a once-woe-begotten franchise, the unwavering support and love of his players, a system on both ends that seems prolific, and the ability to win close games. Steph Curry's responsible for much of that offensively, Andre Iguodala defensively, but Jackson's also one of the best in the game at gamesmanship. And sportswriters love him. He's a dark horse for the award this year, you have to think. He's also, along with the next guy, very much about to transition to our "Known Quantities" category down below. But he's just new enough to generate buzz. 
Frank Vogel, Indiana Pacers (9.0): Best team in the league. One of the best defensive teams we've seen in years. In fact, the Pacers have the best points-allowed-per-possession mark of any team since the 2004 Spurs. And Vogel has been passed over multiple times despite having the argument for "making the leap with a young team" (2012) and "becoming a contender/delayed award" (2013).  Vogel has established himself as one of the top coaches in the league. He's helped turn Paul George and Roy Hibbert into legit stars. Why on Earth can this guy not win?
Mike Budenholzer, Atlanta Hawks (6.5): The Hawks remain competitive despite the loss of Al Horford . The Hawks remain competitive despite a total overhaul of their system and personnel. The Hawks remain competitive despite the absence of a truly elite player. Mike Budenholzer is doing wonders there. So why is he so low? They won't wind up with a huge win total (in part due to the Horford injury) and he's not going to get the buzz of any of the other candidates. He's certainly one of the best hires of the offseason, though. 
The Known Quantities
We know they're good. Still likely to be in consideration for the award based on their performance and reputation, but lacking the shine of one of the newer toys.
Gregg Popovich, San Antonio Spurs (8.5): Most people acknowledge that in a perfect world, Popovich would win every year. San Antonio has the best net points per possession mark in the league, a top five defense, and continues to crank out wins, often when missing key players. Popovich is the best tactical commander in the league, manages his players right, avoids blowups consistently and is a hero to many for his stance against the league and its schedule. He's always a threat to win. 
Rick Carlisle, Dallas Mavericks (7.0): No, no no, wait. The Dallas Mavericks are currently a playoff team despite starting Jose Calderon and Monta Ellis in the backcourt (defensively -- offensively they're a great combo) and DeJuan Blair down low. They rely on past-their-primes Dirk Nowitzki , Shawn Marion , and Vince Carter . And yet here they are. Carlisle is right up there with Popovich for tactical decision making, gets his guys to buy in, and most importantly, his teams are always prepared. Carlisle won't win because he's not a sexy enough pick and the Mavericks aren't good enough to demand his consideration, but just know that once again, Carlisle is doing an amazing job in Dalas. 
Tom Thibodeau, Chicago Bulls (6.5): He's winning without Derrick Rose , and now without Luol Deng . He's a sexy pick because of his animosity with the front office and his coaching in a big market. But the Bulls became an afterthought after Rose went down and even in a best-case scenario, they won't win enough games to put him at the top of the conversation. There is somehing to be said for the near-brainwashing-way he gets players to play their lungs out every single night. 
Erik Spoelstra, Miami Heat (6.0): Well, the guy didn't win it last year when the team won the second-most-games-in-a-row in NBA history, coming off a title, securing the No. 1 seed and blistering the entire league, so I don't see him snagging it in a year where they're coasting like a schooner. (It is a sailboat.)  Just know that managing those egos and finding a system to make all that talent fit isn't as easy as snapping your fingers, and that being bold enough to suggest going small and sticking with it was the key to their success. Spoelstra is a terrific coach who doesn't get the credit he deserves. But this isn't his year. 
Scott Brooks, Oklahoma City Thunder (6.5): He's got the "missing Russell Westbrook for several months" push. He won in 2010 for the rise of the Thunder, though, and since then they haven't put together a season good enough to demand his winning. He's done a great job despite the decisions that make people crazy (playing Kendrick Perkins and Derek Fisher , the Thunder's late-game clown car execution). He has the back of his players and OKC is always prepared. He's a good coach, but not enough going for him. 
Doc Rivers, Los Angeles Clippers (5.0): You know, if Doc had actually done what most people thought he would, making the Clippers into a defensive unit and gunning for 60-plus wins, he'd be a near-lock. The sportswriter voters love him to a nearly irrational degree, the guy knows how to work a scrum like few others. He manages to be fun to talk to without ever seeming like he enjoys doing it. (Hint: the profession is a little masochistic.) And the Clippers have been really good, even without Chris Paul . But the defense isn't there, and they don't seem like a contender. Doc hasn't done enough to live up to expectations... so far. 
Rick Adelman, Minnesota Timberwolves (4.5): Adelman's a good coach who runs a good system and has the respect of his players. But the Wolves have underwhelmed this year, are below .500 and have been for a long while, and their late-game execution is one giant facepalm. Not his best season. He remains here and not in another category out of respect for his accomplishments. 
Brad Stevens
This category is just Brad Stevens. Let us tell you why.
Brad Stevens, Boston Celtics (4.0): The Celtics aren't completely terrible, which, if you look at their roster, is enough to give Stevens that trophy right now. The media loves him, myself included. He's a fantastic quote and seems really genuine. The players seem to like playing for him for the most part and he's answered all the questions about whether he could make the jump from college. You would have to get pretty good odds he'll win the award within, say, four years. But the Celtics really are bad at both ends. Stevens is the coach everyone's going to want to vote for, and he may wind up getting some third-place votes. But it's a bit early to say whether he's good or not. 
The Decent Options
You could do worse. You could also do better, but you could do worse. 
Kevin McHale, Houston Rockets (4.8): McHale is a fine coach and the Rockets are a fine team, but they aren't a title contender, which was their ceiling. They seem to get bored and disinterested, especially defensively often, and their late-game execution is a lot like a cartoon character walking into a deck plank that shoots up and hits them in the face. It should be noted that McHale deserves more credit for the adversity he's coached through the past two seasons. It's been a hard year for the McHale family. 
Dwane Casey, Toronto Raptors (7.0): OK, Raptors fans, before you freak out, if the Raptors do wind up snagging a top-three seed, Casey's going to be right there for the award. You notice already his score is higher than the other guys in his category. I love Casey as a defensive coach, and really expected the last two years for them to make a leap in that category. And this run since the Rudy Gay trade is a great story, to help his argument But you have to consider the whole thing. They're two games over .500, and weren't good at all before the trade caused the team to rally around itself. Casey disappointed last season. I want Casey to succeed. I think he can. I think he's a good coach. But he's also probably going to wind up getting a bigger bump because of the story of this year than what he's actually done. We'll see if the post-Gay surge sustains. 
The Unknown Quirks
First or second-year head coaches who have shown mixed signals with talent-compromised rosters. We need more time to know who these guys are.
Mike Malone, Sacramento Kings (3.5): Malone has been all over the place. The beginning of the year, the team seemed to really respond to him. They were losing, but looked like they had a plan. DeMarcus Cousins seemed to be buying in. Then they melted down for about a month and it looked like they were legitimately not good, and that Malone was yet another in a line of Kings coaches. Then the Rudy Gay (and Derrick Williams ) trade came along and it turns out that having better talent does wonders. So right now, the Kings are playing their best basketball of the season. If it sustains, he can make a jump into that top category. But we're a long way from that. The results, in short, are mixed with Malone. 
Brian Shaw, Denver Nuggets (3.0): Denver's 19-18. They had won five straight before Monday's loss in Utah. Before that they lost eight straight. There was a series of major locker room problems in early January, in part centered around a lack of playing time for Andre Miller . I've been a consistent critic of Miller's play and his place on the Nuggets, but you had to expect a veteran to freak out at losing all of his time on the floor. The team had to have a three-hour series of one-on-one player meetings with Shaw, in what he called "an airing of grievances." 
But the overall results have been more good than bad. But the talent on this roster would suggest it should be. But Shaw has an awkward, no, bad fit for the kind of system he wants to ru in terms of personnel. But isn't it on the coach to adust to that? But are the players that good or were they just good under George Karl's system? But does it matter if they were more successful than this? 
It's a big long train of conflicting statements. Overall, I feel Shaw's a good coach who could have a long career in Denver. Something that would go a long way would be not throwing Kenneth Faried under the bus consistently when he's one of three players to always show up for the game. 
Then again, Shaw has gotten Ty Lawson to remain aggressive and has done this without JaVale McGee or Danilo Gallinari , so maybe he deserves more respect. See? It's a puzzle wrapped in an enigma. 
Brett Brown, Philadelphia 76ers (4.5): The Sixers' over/under for wins this season was 19. They have 12 already. They're simultaneously tanking and seem really competitive. Michael Carter-Williams is a ROY candidate, Tony Wroten is contributing, Evan Turner is playing the best ball of his career. Brown's done a lot with a bad roster. The question is whether he can translate that into success once he has a team worth putting expectations on. It's just too early to know. 
Jacque Vaughn , Orlando Magic (4.3): Vaughn seems to do more than you'd expect with this roster, just like he did last year, but then you look at the overall record. They seem to have a plan on offense and an idea on defense, but the translation of execution isn't there. Still too early to judge Vaughn, but there's some stuff there to like. 
The Faces of Struggle
Things have not gone well. 
Dave Joerger, Memphis Grizzlies (3.8): You can easily put Joerger in the category above. It's his first three months on the job. But what holds him back is that the team essentially had to abandon a lot of what he installed offensively when it fell apart at the start of the year, and the defense hasn't been the all-encompassing maw it was last year. They've played much better as of late and he's dealt with some terrible injury issues. But he's also dealing with the shadow of Lionel Hollins and how well-motivated he had the team. Maybe that's more on the personnel than it is on Joerger, but the dropoff has been worth noticing. 
Mo Cheeks, Detroit Pistons (3.2): He's a new team with a new roster that isn't used to playing together. He's got two guys with terrible decision making but incredible talent ( Brandon Jennings and Josh Smith ) to mesh. And they are the 7th seed in the East. (Play your kazoos now.)
They're also a mess, especially in the 4th quarter. I actually like their ball movement. They consistently rotate the ball, but it still ends up with a poor shot a lot of the time. I like their defensive basics, but the breakdowns are brutal. They're an odd team that doesn't play with an emotional edge or a tactical superiority. I'm definitely not in "Fire Mo" mode here, but it's also hard to find positives in terms of his performance so far. 
Monty Williams, New Orleans Pelicans (2.8): This team should be better. It just should be, looking at the roster. Williams has dealt with a horrific amount of injuries. He's only had his full squad (yeah, I said it, Warriors fans) for a handful of games. 
But in those brief moments where they have everyone, or at least most everyone? They've been so bad defensively. It doesn't make sense. Williams is a good defensive coach. He's coached good defense before. And the Pelicans have above-average defenders in Jrue Holiday (before injury), Anthony Davis , Al-Farouq Aminu , and a few decent system defenders. So why are they so bad at defense? Why can they score so easily, even without some of their best players, but not get stops? It's maddening. The deck's been stacked against Williams this season, and he's one of my favorite coaches in the league. But there's no getting around how much of a disappointment they've been beneath the bad luck. 
Mike D'Antoni, Los Angeles Lakers (2.0): I've always wanted D'Antoni to eschew superstar teams in big markets and instead go somewhere like Charlotte where he can spearhead a rebuilding effort. He's better when he's not clashing with egos who don't like his system. But he also needs more talent than this. Taking a team of not-very-good players and putting them in a system that abhors any defensive proclivity at all is not a good combination. D'Antoni has turned a few good players out of this ragtag bunch ( Xavier Henry , Jordan Farmar , Jordan Hill ) but there's only so much you can do when Swaggy P is your second-best player. The injuries are a legit excuse, but the overall performance hasn't been good, either. 
Mike Brown, Cleveland Cavaliers (2.4): They should be about three-to-four games better. That's it. Brown only gets low marks for not having turned Andrew Bynum around (fair or not, that was the expectation), for Kyrie Irving 's struggles, for their overall offensive performance, and the large number of blowouts they've had. We'll see if he can improve with Luol Deng on roster. 
Not Sure Why They're Still Here
It's not so much that they should be fired, but it's hard to make a case for why not. 
Tyrone Corbin, Utah Jazz (1.8): I actually like Corbin a lot and think he did a great job the past two years with a compromised roster after the Deron Williams trade. He made lemonades out of lemons a lot of the time and did some really good things. He's low here mostly for the team's horific start and this: the Jazz are rebuilding. Long-term coaches almost never survive rebuilding. He's not doing more with less this season. He's doing less with less. I have a hard time roasting him for that. But it feels almost inevitable at this point. You just hope it doesn't drag on too long. 
Randy Wittman, Washington Wizards (3.5): When I watch Washington, I say to myself "Hey, that team seems to know what it wants to do." They have a plan offensively, which is more than about 70 percent of the East. They have good players, and they've been not-horrible. They're two games under .500 and the fifth seed in the playoffs. I even like their defense. 
So why is he so low? Because it almost seems inevitable that if you're going to take the core of this team and make a leap, you have to make a coaching change. No matter how well Wittman does, when the conversation comes up about him, it always turns to "Imagine if George Karl or Jeff Van Gundy had this roster." In some ways, it's hard to argue the team has underperformed under him. It's just never shown signs of being greater than the sum of its parts. Then again, Ted Leonsis is crazy loyal, so Wittman could be here forever. 
Yikes
This is the darkest timeline.
Jason Kidd, Brooklyn Nets (.8): They've played better recently. They look like a real NBA team. But it's hard to just ignore that six week span when it was more surprising that Kidd wasn't fired day-by-day than that he would be. He had the spat with Lawrence Frank, OK, whatever, sometimes people don't get along. But the players openly questioned his leadership, and he looked completely lost most times. 
Is the turnaround in Brooklyn because of Kidd? Or is it a veteran team finding its way out of the mire? Put it this way. If there was one Eastern Conference coach you could bet against in the playoffs, it would be Kidd, right? 
Mike Woodson, New York Knicks (.5): The team has been awful (but better lately). It took him until J.R. Smith was fined by the league twice for untying people's shoelaces to hold him accountable for his miserable year, meanwhile he's been riding Iman Shumpert since training camp. The defense has been terrible and the offense remains predictable. Woodson's fighting out of the hole he dug, but remember, this team was expected to be a title contender. What the hell happened? 
Larry Drew, Milwaukee Bucks (0.0): They're the worst team in the league, they have a payroll that suggests middling high lottery team. They have no cohesion on either end of the floor, the players are fighting with themselves, and Giannis Antetokounmpo doesn't play enough. 
So no, things haven't gone great with Drew this year. 
A look at the context of the schedule and who plays who when, and how far they travel during...

Durant took on rapper Lil Dicky and actually might have lost

A report that James would once again be leaving Cleveland made the rounds on Wednesday
Known for his 'take that for data' rant, the Grizzlies coach touched on a number of important...

Wade's days with the Chicago Bulls appear to be numbered

Misty Suri will reportedly keep his job with the New Orleans Pelicans