Baseline Awards: The Entirely-Too-Early MVP rankings
Taking a look at the candidates for Most Valuable Player including LeBron James, Kevin Durant, Chris Paul, Kevin Love, and Paul George.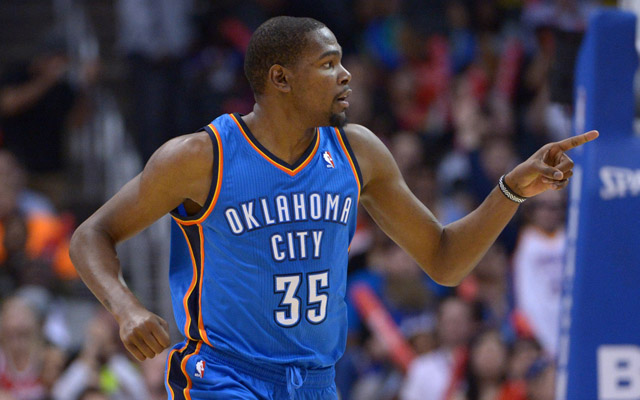 Welcome back to the Baseline Awards for the 2013-2014 season. The goal of the Baseline Awards is to provide a way to track how the races for various awards developed over time. It's too early to start making any sort of assertions on how these awards will shake out. This is more to get a photograph of how things look after the first three weeks of the season. 
We start with the most valuable award, of course, the MVP. 
The Surprise Candidates
Paul George , SF, Indiana Pacers : This isn't just "best player on the team tied for the best record," here. In 2011-2012, Paul George laid the foundation of the advancement in his game that would win him the Most Improved Player Award in 2013. He learned to play off-ball, catch-and-shoot reliably, play tremendous defense, and make plays off the cut. Then last year, he simply added onto that with some small adjustments and more on-ball play.
This year, he's a much better player from last season than he was last year from the season before. George was in the 30th percentile among isolation players last season according to Synergy Sports. He's in the 97th percentile this season. Even if he crashes back to Earth, he'll likely still log a substantial improvement. The big key for him is his confidence in his shot and in creating it. If the defense relents for a moment, he's able to spring into his shot and make it consistently. That's a big improvement, and the real reason he's been an MVP-caliber player.
George won't remain here, you can't imagine, but he's been so good on both ends of the court that he needs to be the first player mentioned. He's been incredible, and the biggest reason the Pacers have started 9-1.
Kevin Love , PF, Minnesota Timberwolves : Welcome back, Kevin Love. The Timberwolves' leading man has been blistering. He's become one of those players who punishes you no matter how you play him. Guard against the perimeter shot and the bullies you inside. Try and play him with size and he goes out to the perimeter. He's averaging five assists per game, because defenses are forced to desperately double or flash a defender at him and at that point he makes the pass to one of the Wolves' other firstarters.
His defense hasn't even been bad. He's been downright decent, especially in the post. As long as he's not a negative, he's among the top players in the entire league. Love leads the league in Win Shares per game according to Basketball-Reference.com (among players playing 27 minutes or more).
The Sub-Contenders
Chris Paul , PG, Los Angeles Clippers : Paul has been gifted a higher pace and more weapons this season and the results have been absurd. He's currently tied with Orlando Magic Johnson for the most consecutive games with 10 points and 10 assists, and is averaging an absurd 20 point and 13 assists per game, along with five rebounds and three steals. He's the biggets reason for the Clippers' success, the biggest reason they're able to make up for their dreadful defense, and really has maybe been their best defender so far this season.
Paul is a great candidate because he has the "has never won it and deserves consideration" effect going for him, the big-market effect, and makes for a great story, on top of hisfantastic production. He's third in win shares per game, and his shooting (42-24-96 FG-3pt-FT percentages) has actually been lower than what we can expect. Paul looks primed for a major run at the trophy.
Stephen Curry , PG, Golden State Warriors : Curry's shooting hasn't even reached blistering yet, but at 20 points and nine assists per game, he's right there. You have to think Curry will improve on 46 percent from the field and at least maintain 44 percent from three. The real pull for Curry will be the storyline angle, with the Warriors looking like the best team in the West (non- San Antonio Spurs ) and making for a sexy story. West Coast voters love him and love a California team being this prominent. That's going to go a long way for him.
The Favorites (Still)
I want to say Paul George is the favorite. I do. He's been so good. So freaking good.
But Kevin Durant and LeBron James continue to be the cream of the crop.
KD is averaging 30 points per game, with seven rebounds and five assists per game. He's not even shooting as well as he will. You can bet on him creeping up at least to 48 percent from the field from 45 percent even if he doesn't dance with 50 percent again this season. And he'll for damn sure improve on 36 percent from three. He's drawing 13 free throws per game.
According to Sport VU data provided by NBA.com, Durant averaged 68 touches per-game, which should bring down his points per touch. Yet he averages the third-most points per touch of any player in the league, with more touches per-game of anyone in the top ten outside of LeBron James.
Durant is leading the league in scoring and carrying an unbelievable load for the Oklahoma City Thunder ... and yet you can expect him to improve.
As for James, all he's doing is averaging 62 percent shooting from the field, 51 percent from the arc and 78 percent from the line, scoring the second-most points-per-game along with five rebounds and seven assists.
Between the two, I'll give to Durant right now, but it's awfully close. Durant's commitment and production in both rebounding and assists manaages to stave off the overall production and efficiency of James. But man, is it close.
All in all, it's the start we expected from the MVP race, and we're only a few weeks in.
Ranking as of November 19th, 2013:
1. Kevin Durant
2. LeBron James
3. Paul George
4. Kevin Love
5. Chris Paul
Stat of the week
For fun, I used the new Sport VU data from NBA.com to create a more centralized version of the points produced stat I used last year. I took points per game, then added one-half of points produced from assists per game (giving the player half the credit for creating the scoring opportunity and crediting the scorer with the other half; it's a little messy on the science side, but it's only for fun). The results were really interesting.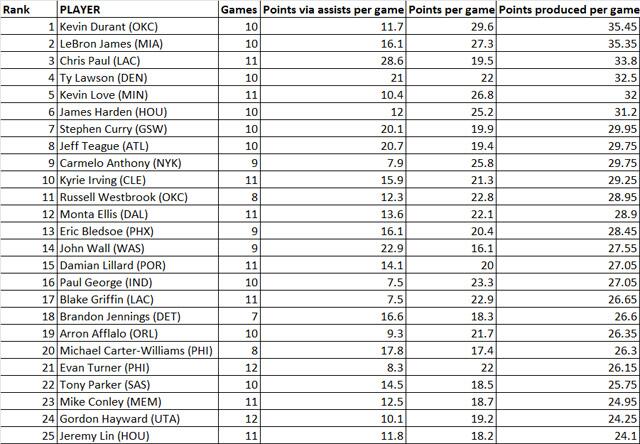 Some notes:
Ty Lawson is having an absolutely monster year, and he's responded to the added responsibility given to him under Brian Shaw. He's fourth on this list despite having maybe the worst set of weapons offensively of anyone in the top 15. 
OKC and Philadelphia are the only two teams with multiple players in the top 25. Steph Curry comes in surprisingly low here, but not as much as Paul George, who doesn't even crack the top 15. Meanwhile, Blake Griffin winds up 17th.
Tony Parker is way down the list for an MVP candidate. 
How about Jeff Teague hanging with the big boys? 
Turns out Monta Ellis in fact does have it all. 
The inaugural BIG3 season comes to a close Sunday with the championship game

Thomas was traded to Cleveland yet some fans are taking it out on him ... and his jerseys

The Celtics dealt the No. 1 pick to Cleveland as part of the Kyrie Irving-Isaiah Thomas tr...
Thompson was rumored to have been a point of discussion with the Cavs regarding Kyrie Irvi...

What the Celtics and Cavs look like after the Eastern Conference powers swap point men

Simmons was the No. 1 pick in the 2016 NBA Draft but did not play last season