Baseline Awards: The Era of Kevin Durant has arrived
He's always been tremendous, but he's begun his ascent to his apex. Kevin Durant is unstoppable, unbelievable, and coming for you.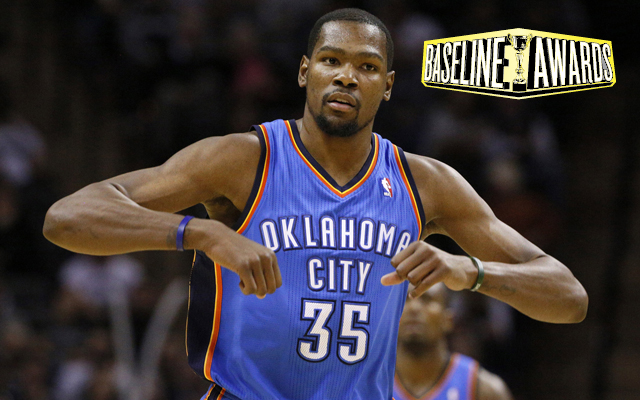 Kevin Durant was scrawny.
That wasn't just a criticism from those that felt that Durant's rival for the No. 1 pick, Greg Oden, should be the top selection. It wasn't just a hyper-over-reaction from the people that typically enjoy tearing down hype. The kid really was skin-and-bones in 2007. You watched him in college and you couldn't believe this wraith-like shape (when compared to the other players on court) could be so long. Durant's wingspan and height only made how thin he was stand out. It was like a stick-figure.
A stick figure who you knew could drop 40 at any point. I saw Durant drop 34 for the Longhorns, the game after putting 37 on Colorado. He shot 10 of 14 that night, with 13 rebounds and three assists. It was awe-inspiring. It wasn't the points or even the efficiency. It was how effortless it looked. This scrawny kid just rising up and over time after time, an unstoppable force of nature that just blew through your defense like the wind. I said after that game Durant would be a Hall of Famer. Now, that was an idiotic thing to say at the time, no matter how well he played. But that was how much of an impact he made.
And the fact that you can look back and say, "Oh, that turned out right," is really the amazing part.
He's this season's MVP
Kevin Durant is the MVP this season. It's not over, of course. But realistically, what would LeBron James have to do to catch him? Average a triple-double on the season? The four-time MVP is averaging 26 points on 58 percent shooting, with 6.9 rebounds and 6.5 assists, 1.3 steals with a 28.7 PER (Player Efficiency Rating). And the race isn't close at this point. Because Durant is averaging 31.3 points, 7.8 rebounds and 5.2 assists on 51 percent from the field, 41 percent from three, and 88 percent from the line.
Here's his shot chart the last five games, courtesy of Conrad Kaczmarek: 
That seems good.
He's hitting winning shots no matter what defense they throw at him. He's carried the Thunder to the best record in the brutal Western Conference, despite not having Russell Westbrook for most of the season. He is the most dominant force in basketball, with more 40-point-games this year than the rest of the league -- combined. There is no comparison. I have no qualms with anyone who still believes James is the best player on the planet when fully engaged, I tend to agree. But it would take either a God-forbid catastrophic injury or James to reach a level of basketball not seen since Wilt Chamberlain to drag this thing from Durant.
And Durant's onslaught comes in a season when James has struggled with back spasms. He's talked about how heavy the load is. He's aware, for the first time, of the physical drain. This isn't me predicting some sort of drop-off, the King's reign is going to continue for the forseeable future.
But we've seen "eras" ovelap. It's what happens. From 2004 to 2007, you could make an argument that it was the era of: Kobe Bryant, Dirk Nowitzki, Tim Duncan, and Steve Nash. Only Duncan won a title in that time frame. In reality, the King James Era began in 2007 when he single-handedly destroyed the Detroit Pistons. Detroit was never the same after that. But 2009 was when he jumped to an undeniable level, when he became the player most feared. Since then, four MVPs, what should have been a fifth in 2011, two NBA titles, one Decision, and one of the most dominant eras of individual basketball we have ever, or will ever see.
Similarly, you can point to 2012, when Durant dropped the Mavericks who had knocked him out the year before and dropped the almightly Spurs on his way to the Finals. Like James in 2007, Durant lost the Finals. It teaches something in great players, makes the fire burn hotter.
Again, this isn't a eulogy for James. There's every reason to think he can win MVP next year, that he'll walk away with his third title and Finals MVP this summer, that this is still LeBron's world for a few more years.
You could say the same thing about Bryant when he won his MVP in 2009, and won two more titles. We're blessed that we don't have to choose.
But let's make no mistake here. The Era of Kevin Durant has arrived. This isn't the first time he's been great, but it's the first time he's hit the point where he is undeniable. He is unstoppable. He is the complete package. He is entering his prime, in which beating him will take more than that seven nation army you've got out back.
Recalling the scrawny kid
But let's go back to that scrawny kid out of D.C., bright-eyed and quick-wristed.
The wonderful part in all this isn't just that we get to watch Durant play basketball, it's that in a league where so many players' careers go awry, Durant has fulfilled every ounce of his promise, individually. Players suffer injuries and are never the same, the money combined with bad influences breeds laziness and complacency. The adoration of the sports world sends them down a spiral of arrogance that broaches the limits of their talent. Durant, through luck, ability, and strength of character has shed all of this.
The humble superstar trope isn't a new one. It's just our society's favorite. And Durant has mastered it even better than Derrick Rose. Rose talks about how he feels he can be the MVP, about being the best point guard, his humility is a construction of the fact he's a terrible interview. Durant's crafted the image much better, always praising teammates, always deflecting individual accomplishment. His most notable quote is about not wanting to be No. 2. Not being No. 1, mind you, though that's implied. Just that he doesn't want to be something negative.
He re-signed with the Thunder and announced it on Twitter. When he made the Finals, the first person he sought out was his mother. He seems so genuinely sweet. But talk to the people who have known him a long time and they'll describe a ruthless competitor with a killer's mentality. We're seeing that more this year. He's not trying to restrain himself and he's playing with a slight design of anger. If last year was the year of "KD is not nice," then this year is "KD is coming to burn your house down and then dance on the ashes."
Did I mention he's 25 years old? 
He's become everything everyone who saw his potential dreamed he would be. The "Slim Reaper" has lived up to the most of what he can be as a basketball player. Should he win MVP this year, which, again, lookin' pretty good at this point, that should be the story. Not the humble superstar or the otherworldly phenom.
It should be that this is the Era of Kevin Durant, long-coming and worth the wait.
There are a lot of rumors, but Irving is keeping quiet about his motives for leaving Cleve...

From the Warriors to the new superteams to the Sacramento Kings, get ready.

Brett Brown said recently that Embiid's minutes would likely be in the teens to start the...
According to D'Antoni's specific plan, Houston's All-Star duo will play 18 minutes together...

Mike McClure, a DFS pro with more than $1M in winnings, gives optimal DraftKings and FanDuel...

Iggy is as focused on giving back to the Boys and Girls Club as he is with his Silicon Valley...