Baseline Awards: Trade deadline guide
Setting up the guide for the 2013 trade deadline.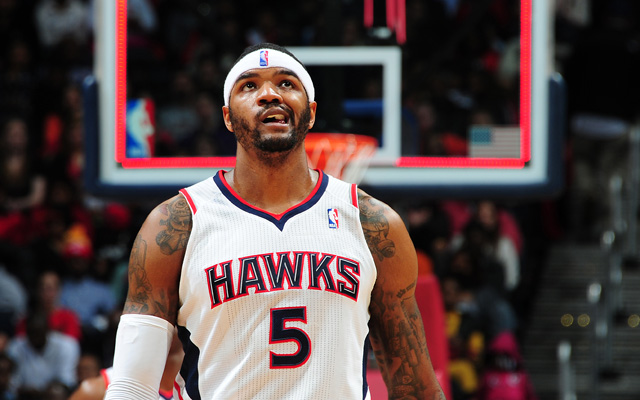 Josh Smith could be moved before Thursday.
(Getty Images)
Enough All-Star nonsense. Let's get down to business. Two months till playoffs, and we've got seedings to figure out, the Lakers to decipher, contenders to suss out, magic numbers to calculate and tanking to initiate. But before all that comes Thursday, the NBA trade deadline. 
What's the forecast? It's Missouri weather. Wait 30 seconds and it will change. I've heard from various people this week that there are lots of buyers and sellers, that the market has dried up, that there will be a flurry, and that the big deals are too constrained and will hold up any other activity. The lesson, as always, is this: Speaking with me is pointless. 
So while we try to suss out what's going on the trade front (and you should be following Ken Berger of CBSSports.com for that), we look at what we do know and hand out some awards for the trade deadline between now and Thursday. 
Most likely to be traded: Josh Smith
Smith is the biggest piece hanging out there. There have been increasing indications in the media that GM Danny Ferry has decided to trade Smith, that it's just a matter of when and where. Smith is a talented power forward with his best basketball in front of him, but he's also an expiring contract and will demand more than he's likely worth on the market. 
The range of teams that have been rumored to be in talks for Smith go from the lowly Wizards to the mighty Spurs. There's not a clear front-runner for Smith's services, but any team that lands him will face integrating a major talent who can be a tremendous difference maker, but who also has poor shot selection. 
Most likely to stay put despite rumors: Kevin Garnett
Garnett tried multiple times over the weekend to put rumors to rest by saying that he would not waive his no-trade clause for any deal, expressing a desire to retire in Boston. But he kept using the phrase: 
"If it's up to me..." 
It is up to him. It is up to him. And he answered that fact with a "Well, there you go." Basically, KG kept leaving himself outs. Like: "Well, they traded Paul Pierce, and that was important to me, so it wasn't really up to me." 
So technically, KG's still out there. 
But let's be clear. Celtics GM Danny Ainge is trapped on two fronts, emotionally and market-wise. He can't get good return on Pierce because the elite players are too young to justify trading for him, and Pierce is too valuable to justify trading for basic rebuilding blocks. KG is much the same way. The market simply doesn't have a dynamic that we can see right now as viable to conduct a trade. Things change rapidly around the deadline, but it's impossible to forecast that. 
And emotionally? Ainge talks all the time about not wanting to hang on too long with this core. Yet he's known this thing is over for months, maybe years, and he's held on. He believes in this team, in its stars. He has an emotional connection to them and he repeatedly has been unable to pull the trigger on a blow-up/rebuild. 
For all these reasons and more, don't expect KG to go anywhere. 
(This is the jinxiest jinx in all of jinxdom, by the way.)
Most likely to scare fans to death when his name gets mentioned: Monta Ellis
Josh Smith drives fans nuts, and many don't want him around taking mid-range jump shots instead of driving for their team, but Monta Ellis is a whole other boondoggle. He brings all those terrible jump shots, but way more, and dominates the ball. If Ellis would just operate in two facilities, as a spot-up shooter and a post-up player (seriously, his post numbers will make your eyes pop out of your head), he'd be fantastic. 
He doesn't do that. 
So Ellis, with an expiring contract that may force your team into paying him a big contract, represents the worst fear for most fans. A big-name player with low efficiency who you hope will "get it" with your team, despite not getting it for five coaches in four seasons. 
I will continue to hope Ellis can return to his 2010 version of awesomeness, but he's a scary trade prospect. 
Most likely to come sauntering in to help a deal get done like a used car salesman: Cleveland Cavaliers
The Cavs are in a perfect position. Want to find a place for a quality player you need to move for position-jam purposes but your trade partner needs help facilitating a deal? Cleveland can help! Need somewhere to stash your contract baggage in exchange for just giving up a low-value pick? Cleveland's happy to lend a hand! Shopping for young players? Cleveland has a few to spare, all on decent contracts! Come on down to Chris Grant's discount house o' trade value and let's make a deal! 
It's not that the Cavs are out there aggressively shopping themselves, holding up signs like those tax places make the kids wear Statue of Liberty outfits. But the Cavs are available for a wide-range of deals. They won't take your poison, but they'll help you move that poison elsewhere. And if you need a quick place to throw some money? No worries, they've got the cap room and don't have to worry about re-signing them. 
Cleveland's been good at the trade deadline since Grant took over. The Cavs create good future opportunities for themselves. It's what they do with that space that's the issue. But you can bet Cleveland will get called in if talks between two teams stall and they need some help. 
Most likely to make a move everyone will be surprised at but should have seen coming: Chicago Bulls
I'm going to get this question on radio interviews, Twitter and email a lot over the next week. "Why did the Bulls do the (insert trade) deal?" 
Look, Bulls owner Jerry Reinsdorf is like Dracula, and the luxury tax is a big ol' ray of sunlight. It burns him. The worst-kept secret in the league is that trading Rip Hamilton gets them exactly under the luxury tax. The Bulls have held off, trying to find a suitor that gets them good return, but it's not coming. If push comes to shove? That deal's likely happening. Sure, he could decide to break precedent, but the odds are very likely.
And if that one doesn't go through? Carlos Boozer's been on the block. A Boozer-Bargnani deal makes sense for both sides, and if that deal's out there, other deals are out there. 
Don't be shocked if this happens.
Your post-All-Star awards update (unchanged from last week; excerpts and full analysis returns next week): 
MVP
1. Lebron James, Heat
2. Kevin Durant, Thunder
4. Kobe Bryant, Lakers
5. Chris Paul, Clippers
Rookie of the Year
1. Damian Lillard, Blazers
3. Anthony Davis, Hornets
4. Bradley Beal, Wizards
2. Tony Allen, Grizzlies
3. Marc Gasol, Grizzlies
4. Joakim Noah, Bulls
5. Larry Sanders, Bucks
Most Improved Player
1. Jrue Holiday, Sixers
2. Grevis Vasquez, Hornets
3. Larry Sanders, Bucks
4. Blake Griffin, Clippers
5. Paul George, Pacers
1. Jamal Crawford, Clippers
2. Kevin Martin, Thunder
3. Jarrett Jack, Warriors
4. Carl Landry, Warriors
5. Ray Allen, Heat
Coach of the Year
1. Scott Brooks, Thunder
2. Gregg Popovich, Spurs
3. Erik Spoelstra, Heat
4. Mark Jackson, Warriors
5. Mike Woodson, Knicks
Executive of the Year
1. Bob Meyers, Warriors
2. Billy King, Nets
4. Danny Ferry, Hawks
Here are the full lineups for the 2018 NBA All-Star Game

We've got all the scores, highlights and news from an NBA Tuesday

Players reportedly challenged Love for leaving Cleveland's game against OKC early
The Cavaliers are reportedly very close to acquiring the 10-year veteran point guard

Kobe Bryant is now an Oscar nominee. Here's how you can watch his short

Players such as Metta World Peace, Baron Davis and Nate Robinson have signed on