Baseline Awards: Updating the Rookie of the Year race
Michael Carter Williams leads Victor Oladipo but just by a hair in the Rookie of the Year race.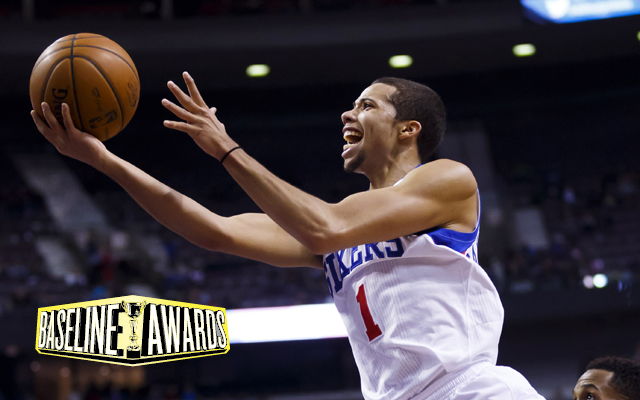 With the NBA a month in, it's probably a good time to check in on the Rookie of the Year race. It's been pretty ugly. There are some bright spots and many of the players look like they'll eventually be solid role players in the NBA, but few have had breakout performances. Michael Carter-Williams is as close as we come to a revelation and his slide has been concerning since the hot start. Still, some intriguing prospects.
We used per-36 numbers to evaluate these guys because rookies always have a hard time getting minutes their first year, and this year is especially problematic, with established starters in place for several of these players at their positions.
Here are the latest odds on ROY from Bovada.lv:Michael Carter-Williams (PHI) 1/2Victor Oladipo (ORL) 7/5Ben McLemore (SAC) 15/2Trey Burke (UT) 8/1Steven Adams (OKC) 16/1Nate Wolters (MIL) 22/1
1. Michael Carter-Williams, PG, 76ers: Who saw this coming? The Syracuse reach by the Sixers was supposed to be a guard who couldn't shoot and would struggle with running an offense. At 17 points and seven assists per game, MCW has helped make the 76ers substantially better than expected. The shooting splits (39 percent from the field, 33 percent from the arc, 68 percent from the stripe) are awful, but he's also rebounding at a decent clip and has taken on a leadership role. Either way, there's something to be said for producing at both ends of the court (3 steals per 36 minutes). MCW may still not be a good shooter, but he's getting the job done.
2. Victor Oladipo, PG, Orlando Magic: If MCW is the leading candidate if the vote were held today, Oladipo remains the odds-on favorite for the award by the end of the season. His numbers, however, don't match the eye test. Oladipo routinely makes superb plays which wow you if you watch, but like MCW, he's struggling shooting (42-31-77 shooting splits). His overall line per 36 minutes, though, is 17-5-4 with two steals. There are mistakes made; he's still learning how to run the offense as a point guard. But Oladipo remains the most polished rookie performer so far, and while he's behind MCW right now, he's likely to overtake him by the time we check in on ROY again.
3. Steven Adams, C, Oklahoma City Thunder: Yeah, who's a probably bust likely to never get minutes and a huge waste of a pick by the Thunder now? (I... may have said these things about Adams on draft night. And in preseason. And, like, a month ago.) Anyway, Adams has been a revelation. He's been so good, he's actually forced Scott Brooks to play him over Kendrick Perkins, something many of us felt was an absolute impossibility based on Brooks' Law of Missed Hook Shots. He's averaging nine points and ten rebounds per 36 minutes, leads all rookies in Win Shares (via Basketball-Reference.com) and shooting 49 percent from the field. 9-10 per 36 isn't going to win him the award, but if you want rookies who have actually made the most impact, between his defense and smart plays on offense, Adams has had a phenomenal season. Glad I saw it coming. (I did not see it coming.)
4. Tim Hardaway Jr., SG, New York Knicks: I'm not even kidding, the Knicks should trade J.R. Smith. Hardaway is like Smith, if Smith played off-ball, took better shots, and had way better upside as a defender. He's a true gunner, averaging just 1.7 assists per 36 minutes while taking 13.7 shots per game, but he's also shooting 40 percent from three. If Hardaway commits himself to keeping his shot selection in check (which means ignoring everything he sees from the rest of the Knicks) and improves defensively, he could be a real weapon in this league. He's a real long-shot to win the award, but deserves to be on the list.
5. Ben McLemore, SG, Sacramento Kings: I'm not giving up. You can't make me. I don't care that he's averaging 14 points on 13 shots per 36 minutes and shooting 37 percent from the field while averaging 1.6 assists to 1.5 turnovers per 36. He still looks like a really effective rookie. That he's No. 5 on this list just means no one else has managed to get on the list yet, though the honorable mentions are coming for this spot pretty fast.
Honorable Mention:Mason Plumlee, Kentavious Caldwell-Pope, Trey Burke, Tony Snell, Giannis Antetokounmpo, Nate Wolters, Cody Zeller, Reggie Bullock
Trevor Ariza and Gerald Green are reportedly both suspended two games

We've got all the scores, highlights and news from the night's games

Jonah Keri talks with NFL and NBA broadcaster Ian Eagle
SportsLine simulated Wednesday's Nuggets-Clippers game 10,000 times

Galin Dragiev has his finger on the pulse of the Lakers and just locked in a play for Wedn...

No more McNuggets allowed in the Barnes household