Baseline Awards: Who's the best power forward in the league?
Breaking down a theoretical race for the best power forward in the league including Chris Bosh, Anthony Davis, Blake Griffin, LaMarcus Aldridge, and Kevin Love.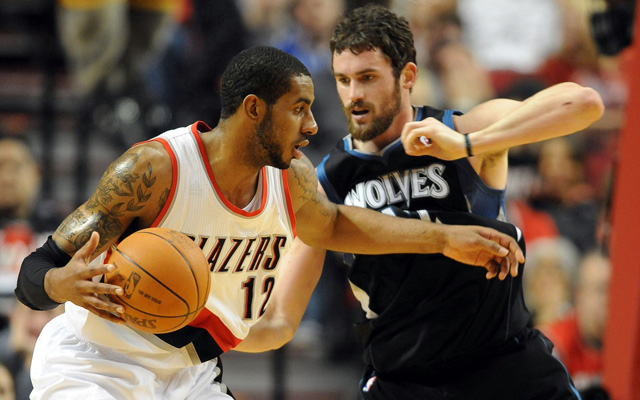 I'm worried that if you ran all the numbers and played out all the projections that eventually this season, an internet conversation about the best power forward in football would lead to bloodshed. I just don't know any way to avoid it. Moving past the fact that any conversation which takes place on the internet for long enough is assured to lose all reason and approach a place where the dark parts of men's souls go, this debate is maybe the toughest of this NBA season, narrowly edging out "Which team in New York sucks worse?" and "Which sleeved jersey is the worst?"
You have five legitimate candidates for the crown. This is particularly notable because the power forward position is not only stacked with talent, but still central the modern NBA concept. Even with the explosion of the perimeter game in the NBA and the plethora of amazing point guards, the power forward remains key to opening up the perimeter arsenal.
For the purposes of this discussion, we're excluding LeBron James. It's less about what position James plays for the Heat right now and more that at this point, he doesn't have a position. He plays LeBron. You can make an argument for him as point guard, small forward and power forward and he would be the best player at each of those positions and he would be the best player at each of those positions if you broke it down so. We won't for the sake of entertainment.
The Underdog: Chris Bosh, Miami Heat
Best argument: He's the best defender of any candidate, when you're talking team defense and not just blocks and rebounds. He plays a huge role for arguably the best team in the league. Bosh has been incredible in the clutch this season (shooting 63 percent in the last five minutes of a game within five points). He makes the smartest decisions of any of the candidates, has range out to three, and can't be accused of taking games off.
Limitations: Not the best player on his own team, isn't given the ball in key situations and asked to carry the team. Serves mostly as a super role player in support of LeBron James. Benefits mightily from attention drawn by the other 1,200 weapons the Heat have. Doesn't rebound at crazy rates or score like an elite player. Sometimes you're underrated because you can't be asked to do the things that make you overrated.
The Youngster: Anthony Davis, New Orleans Pelicans
Best argument: Leads in sensational plays. Most athletic. Has the freakiest stat line: 19.1 points, 10.4 rebounds, 1.3 assists, 1.5 steals, 3.1 blocks on 51 percent shooting. Satisfies the "most dominant player on the floor" eye test. Can overwhelm an opponent. Brings defensive ability on a physical level beyond anything the other candidates can approach. Maxes out the fun scale.
Limitations: Still primarily an off-ball player who benefits from being set up. Young. So young. Really very young. That youth means that Davis at times doesn't make the same plays that other veterans do naturally, just from experience. Can still make young guy mistakes. Defensive impact is never felt at the team level like the truly great defenders. Injury prone to a small degree. The classic "needs to wait his turn" case.
The Whipping Boy: Blake Griffin, Los Angeles Clippers
Best argument: 22-11-3 on 52 percent shooting and his free throw percentage is up to a not-eye-gouging 70 percent. Way better of a post player than he gets credit for. Maximizes the opportunity given. Second-best player on a title contender. Gives good effort on both sides, even if to mixed results. Can change the momentum of a game at any moment with one dunk, but not just a dunker. Arguably the best passing power forward out of the post of any candidate.
Limitations: Fatigue based on popularity burnout early in his career. Not the best player on his team. Team is further from title contender than they are to first-round exit team, and you can point to Griffin as a reason why. Defensively terrible, despite noble intentions. Hasn't elevated his team's play. Not a leader (but that could just be because of CP3). Better than he's given credit for in the post, but not a dominant post player. Better shooter than he's given credit for but not a great shooter. Way more of an offensive weapon than he's given credit for but not an elite offensive player. Still very much tip of the spear instead of command of the fury. Judged unfairly against his potential, but still doesn't quite measure up with the other candidates.
The Sexy Pick: LaMarcus Aldridge, Portland Trail Blazers
Best argument: Best player on arguably the best team in the Western Conference through one half of the season. 23.4 points, 10.9 rebounds (a pre-conceived weakness coming into the season), 2.9 assists on 47 percent shooting. The best mid-range player in the game right now. Able to take over a game. Able to dominate a game offensively. You can give him the ball over and over in a close game and he'll destroy the opponent and carry you home. Defensively much better than he's been in the past. One of only to candidates you can argue is "unguardable" when he gets going. Too skilled to guard with a big guy, too big to guard with a skill guy. Shoots over quicker defenders, overpowers smaller ones, destroys the rest with footwork and skill. Recognizes double-teams to make the kick out for the perimeter shot as well as any candidate.
Is really, really, really good.
Limitations: Still a defensive null at best. Benefits from having the best weapons around him of any candidate. Where was all this talk when the team wasn't good and he was, like the last three years? Still doesn't want to be guarded by bigger defenders and especially doesn't want to have to guard them. Doesn't have three-point range, doesn't draw fouls at crazy rates and benefits mightily from Damian Lillard's work.
The Favorite: Kevin Love, Minnesota Timberwolves
Best argument: 26.1 points, 13.8 rebounds (absurd), 4.2 assists (crazy) on 46-39-83 shooting splits. Undeniably the best player on his team and it's not close. Able to take over the game and does nearly every game for at least some stretch of time. Unguardable to a higher degree than any other candidate. Carries the biggest load of any candidate for his team (with only Bosh as his real competition). An elite rebounder, not just in the league but all-time. Has shown progress defensively. The best passer of any candidate. The best scorer of any candidate. The best rebounder of any candidate. The player and really the only player his team turns to for a clutch shot and still manages to succeed.
Is really, really, very super good.
Limitations: As always with Love, where are the wins? Defensively still a major liability. Chases rebounds when he could defend better, focuses on offense when he could buckle down on the other end, has poor body language when things get tough. Leadership questions. Struggles when calls don't go his way, to the point it becomes a distraction to him and his team and a liability. Gets too much blame for losses and not enough credit for wins, but that's going to weigh on a lot of voters.
How it stacks up:
I've got it ranked:
1. Love
2. LMA
3. Anthony Davis
4. Bosh
5. Griffin.
Bosh is still very much a weapon for LeBron James to use, Griffin still leaves you wanting even if you understand that he is the singularly most overly and unnecessarily criticized guy on this list. Davis is still really young and if you pay attention you'll see little things he's still having to learn.
LMA-Love is a legitimate fight and the one that will most likely lead to that bloodshed I mentioned earlier. But to watch Kevin Love is to watch a player who can score from anywhere, any time, no matter the defense or defender, is the best passing power forward in the game and its not close (no other player on this list can be given the ball at the high pinch post and quarterback a possession without dribbling once), and is consistently the biggest reason his team wins.
To make this into an argument is to try and raise the level of all the superb players listed, but so far this season, it's hard to come up with an answer but "Kevin Love" to "Who is the best power forward in the league this season?"
Stephen Curry, who grew up in North Carolina, wants to be part of the next Panthers ownership...

Vince Carter is destined for a Raptors reunion; he doesn't know when it'll happen

Thomas has a target date for his return, and with the Cavaliers scorching, this could be h...
LeBron James once again is using his platform to be socially active

Not many games, but still plenty of action and intrigue Sunday in the Association

Kobe Bryant had a solid piece of advice for back in 2016 when he left OKC for Golden State