Basketball Hall of Fame could see change in election process
The Basketball Hall of Fame is considering removing categories some or all of their five categories that open an easier enshrinement path for past figures.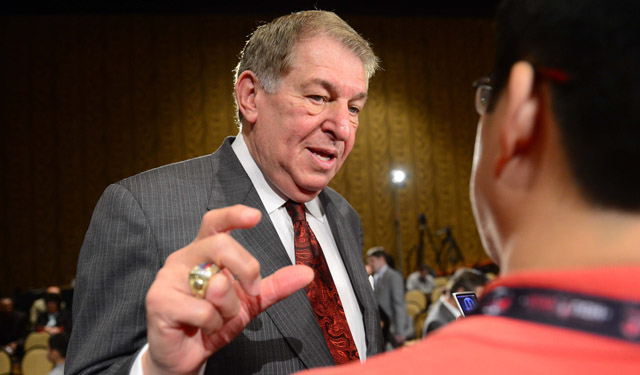 The Naismith Memorial Basketball Hall of Fame enshrinement process has five categories to help be a catch-all for making sure the proper figures in basketball history are recognized. The Contributor, ABA, African American pioneers, Veterans, and International categories were included to the process as a way to make sure prominent basketball figures weren't being ignored by the committees. But the election process could be doing away with those categories. 
NBA.com tells us that Jerry Colangelo says some or all of the categories could be removed from the election process, leaving two rounds of voting for anybody to be elected to the Hall of Fame. It would make it much harder for figures of the early days of professional basketball to get into the Hall.
The Hall of Fame has discussed ending some or all of the five categories that gave candidates an easier path to enshrinement the last four elections, an outcome that, if it happens, would most noticeably impact former players and coaches from the ABA.

"Let's put it this way," said Jerry Colangelo, the chairman of the Springfield, Mass., basketball museum. "This year, for the first time, we brought that up, to say, 'You know, when we did this, we said it's not forever.' The concept was we felt people had slipped through the cracks. This was a catch-up kind of a thing, so we're not locked in. We need now to review it each year, to say maybe we've taken care of what needed to be taken care of in this category or that category. But it's just too early to say what we're going to do."

The current format with the direct-elections will "probably" remain in place for at least one more year, Colangelo said, because the Hall would prefer to phase out categories rather than make an abrupt end. That leadership is having conversations now, though, indicates internal questions have already developed about whether enough deserving candidates exist for the specialized categories beyond 2015.
Right now, it takes 18 of the 24 voters approving your candidacy in order to be enshrined in the Basketball Hall of Fame. The international aspect of basketball would likely still have their own election process, but the ABA and African American pioneers, along with a lot of contributors that aren't as obvious as former commissioner David Stern, would likely see a greatly reduced number of figures put into the Hall.
Galin Dragiev has his finger on the pulse of the Nuggets and locked in a strong pick for Monday's...

The NBA TV analyst and ex-Raptors coach doesn't look back in anger

Jackson is reportedly unable to make the trip from Montana
The Rockets are on fire, and my money is on Durant to join LeBron and Harden in the MVP ra...

Then-Lakers owner Jerry Buss eventually shot down the idea

Bryant will have both No. 8 and No. 24 raised to the Staples Center rafters on Monday