Behind the Screen: Welcome to Larry Sanders' block party
Larry Sanders has emerged as one of the best young defensive big men in the game. We sit down to go through what it takes to block everything that moves.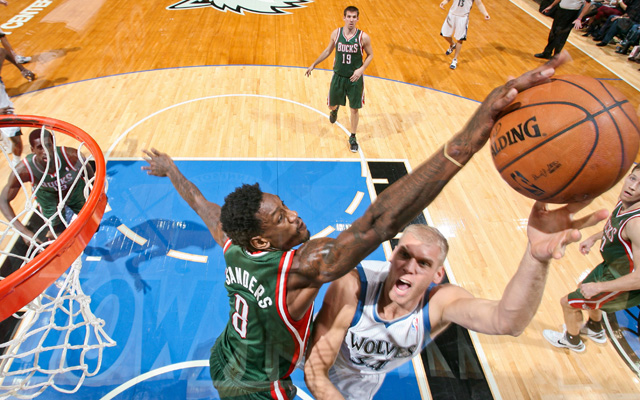 DENVER -- Larry Sanders seems nervous. The third-year big man has spoken in media recently about how it's caught him off guard, this sudden attention. He spent two years barely noticed, barely spoken to, never registering on the national radar. Now people like me are chasing him down to get his thoughts on his phenomenal season. 
Sanders hunches over a tablet screen with me in February to examine just how he manages to do what he does so well: swat the ever-loving air out of the basketball night after night. His absurdly long frame doesn't seem like it fits anywhere, and seems out of place when it's not extending to Go-Go-Gadget lengths to trap leather against glass.
It could be the attention he's got that he's not used to, jitters from a big game coming that night, or my usually twitchy nature, but the boy who became a beast seems a little edgy as he helps me understand the secrets to blocking shots. 
He's friendly and accommodating, a sweet kid who suddenly finds himself being mentioned for Most Improved Player, for Defensive Player of the Year, for awards and notoriety. But it makes sense that this would seem a little new to him. It's certainly new to us, which is kind of the problem with NBA development to begin with. 
----------------------
In an NBA that so often presents itself as a "you have it or you don't," and wants desperately to limit the amount of busts that the draft provides, Larry Sanders is kind of the prototype for what everyone wants. 
A third-year man out of VCU who didn't pick up a basketball until he was in 10th grade, Sanders came in as raw as it gets. He was one of several big men in a crowded frontcourt in Milwaukee, and many expected similarly raw Ekpe Udoh or veteran Samuel Dalembert to get most of the minutes this season. 
Instead, Sanders exploded onto the scene, earning the starting spot and emerging as arguably the best big-man defender under the age of 25. He posted more than two blocks per game his first four games of the season, then detonated with 10 blocks on Nov. 30 vs. Minnesota.
He's averaging 3.3 blocks per game, leading the league. He's averaging a ridiculous 4.4 blocks per 36 minutes. And most importantly, he's blocking 8.8 percent of all available shots when he's on the floor which is actually down slightly since he returned from a back injury. On Feb. 10, he was blocking 9.6 percent of all shots. Think about that. Almost 10 percent of all available shots, he was swatting. 
Those are numbers. And they don't really cover exactly how good Sanders has become at blocking shots. It's more than just effort, or wild athleticism, like so many players in the league. If perimeter defense is a science, manipulating the angles to block a shot is an art. 
Just ask Sanders.
----------------------

Sanders is an artist. Big guys in the NBA might have been known in media lore as brutes and monsters, but in reality, we're seeing a lot of players break that mold. Tyson Chandler is a photographer, with his own collections and everything. JaVale McGee is into a number of things and while he's known as a loon for the things he does on the court (which hide legitimate improvement he's made this season), he's certainly got a higher cultural acumen than what most think. 
And Sanders? 
He draws. On skateboards and paper. He'll get more attention if he keeps it up, that's what happens with famous people. But what's interesting is what he told the AP's Jon Krawczynski and Mark Kass. 
And Sanders has found a way to get his creativity off the court to translate to his game, viewing shot-blocking as an art form in its own right.
"I like to think of angles and meeting the opponent at the backboard," Sanders said. "It feels like an art, the way engineers connect the dots in a sense."
via Larry Sanders swats his way into Milwaukee's heart.
I ask Sanders what he meant by that. And it turns out that what made him think of it was a play where he blocked the unblockable, Kobe Bryant. 
This play exemplifies what Sanders has become this season. He's not gambling wildly, he waits for the right moment, and his length allows him to wait long enough to prevent losing his man for a pass. He's gone to extend at the exact moment when Bryant has past the point of return. This is going to be a score, a block, or a foul. That's it. Sander's length and athleticism converts it, to Bryant's surprise. 
----------------------

It's odd to hear Sanders talk about himself as if he's not big, when he's sitting next to you like a walking sequoia. But the truth is he really considers himself more spry and long than massive. You can see the difference when he matches up against the true bigs, dwarfed by Dwight Howard, overwhelmed by Marc Gasol. 
Sanders says that it's Tim Duncan, though, who gives him the most trouble. 
"Tim is pretty hard to defend," Sanders says. "Because he's deceptively quick. He moves at his own pace, kind of slow. When it comes to defending, it's not just at the basket, it's away from the basket, too. That little mid-range jumpshot is hard to defend because you don't want to close out and then get beat on the dribble, because he's long and can extend. But he takes his time and if he sees you slow down, he shoots it. And it's cash when he shoots it."
But against Duncan, who for so long has defied the athleticism of his opponents with simple geometry and careful execution, Sanders managed a pretty impressive block. 

Duncan's expecting to turn and have the edge, and instead, he finds Sanders waiting to snatch the ball out of the air. Notice that he doesn't take the angle and block it out of bounds. You'll notice this a lot with Sanders' blocks, that he'll block it back in play, often to himself or a teammate. It's the only way to guarantee that a block, which so often just delays an offensive score, actually leads to a defensive success.
Two of the league's best-known shot-blockers wind up throwing a huge number out of bounds, Serge Ibaka and McGee. Sanders targets the trap-against the glass and the snatch-out-of-the-air. He'll still block some out, but as with this one, it converts to a turnover. 
This is a big deal. Too often people, and by people I mean awards voters, simply turn to the raw numbers to evaluate things. Points without registering the number of shots needed. Rebounds without knowing how many of them are taken from teammates or off free throws. And blocks without factoring what the cost of chasing them does to the defense. 
Sanders anchors the Bucks' defense, one of the best in the league. On top of all the gaudy block numbers, he also features the fourth best defensive rating (points allowed per 100 possessions when he's on the floor) of any player in the league, and ranks as the second-best player in the league in points allowed per possession via Synergy Sports with a minimum of 500 possessions. 
In short, his chasing blocks doesn't hurt the defense. It almost always seems to only help. 
A lot of that is Milwaukee's scheme. Sanders credits a pretty basic tenet of defense to their success: Help the helper. 
"Always trying to help your teammate. If you help your teammate, someone helping you."
And when Sanders isn't overpursuing, is helping his teammates and they're helping him, the Bucks' defense is one of the more dangerous in the league.
----------------------

Sanders says he likes playing Howard, "but he's really good at drawing the foul." But the way he says it, it's clear he genuinely enjoys being tested by the best big men in the league. That's the attitude you want in your franchise center.
And better, Sanders goes into it feeling like an underdog. He's still developing strength as an NBA player, a process that for most bigs takes up to eight years. In the meantime, he's not trying to muscle someone like Howard out of the post. He can't. Howard had one of his best games of the season against Sanders and the Bucks, scoring 31 points on 14 of 18 shooting. That's part of the learning curve, and part of the burden for great defenders. You're going to get worked some nights no matter what you do.
But this play shows how Sanders is able to block even someone like Howard. 


Sanders does this trick quite a bit, blocking big, strong guys when the go parallel to the backboard and under it. See what he does here with Joakim Noah. 
It's plays like this that show why Sanders talks about his arms so much. Though they could "get in the way" as he says, they also allow him to recover at angles that most players foul at. This is one of them.
----------------------
Sometimes, it's just about knowing the personnel, or knowing the shot. 
A runner is pretty difficult to block. The player can launch it high enough to where very few players can swat it without goaltending, and it's usually from the free-throw line or just below, a hard place for a big to get to. But Sanders can do it, no surprise. He says it's just a matter of jumping early. He attributes his ability to block them to a former teammate, new Trail Blazer Eric Maynor.
And against Mo Harkless, Sanders knows from offseason training that he won't put the ball on the glass, so he goes to meet him right at the rim, to devastating results. 



So you get the idea. Floaters, runners, stars, role players, big men, guards, it doesn't matter. Sanders has been the most dominant shot blocker this season, and one of the most dominant block artists in recent years.
He's evolved from a raw player with upside into a defensive force. And he still has room to improve. Sanders says he wants to work on drawing charges as his next challenge. 
"I think that would take me to the next level as a defensive player," Sanders says. "Sometimes I'm able to move my feet and get in front of guys but I'm not able to block the shot. Usually at that point I may pick up a foul, but I'm in position to pick up a foul. I've only taken one charge in my whole career. I think that's something I can develop, which is about foot speed. "
That's the scary part. He's made this giant leap forward, and there's so much for him to improve on. For a league that's short on dominant centers, Sanders shows every sign of being headed in that direction. 
And if that happens, it's everyone else who should be nervous.
Last year Durant said returning to his old home was 'never going to be a regular game'

The All-Star forward injured his wrist during Sunday's loss to the Lakers

Steven Adams believes he's the problem with the Thunder struggles in the clutch
LaVar claims that Luke Walton has been 'soft' on Lonzo so far

Allen has filed an emergency motion in an Orange County court in response to an accusation...

Larry Hartstein has been crushing NBA picks and just made a play for Bulls vs. Lakers on Tuesday...