LSU Freshman Ben Simmons has electrified the country and NBA scouts alike with his stellar play, and he's widely considered the No. 1 prospect for next June's NBA draft. His most frequent comparison is to LeBron James, based on his hyper-athleticism, versatile skillset, passing skills (5.2 assists) and ability to handle the ball at 6-foot-10. 
However, the league-wide blog NBA Fastbreak had an even smarter comparison for the youngster. After comparing him to LeBron, Toni Kukoc, Lamar Odom, and Blake Griffin -- don't know why they didn't throw in Magic, Bird, and Rodman -- they made this comparison to one of the most talked-about players in the league right now for those dominant Warriors, Draymond Green:
LeBron may have already passed the point forward torch to Draymond Green, who may, in turn, pass it to Simmons. The LSU freshman truly does a little bit of everything on the basketball court.
He'll likely fall short of this comparison on the defensive end, but there's a good chance he'll exceed it on the other. It's not unreasonable to imagine Simmons one day averaging 20 points and 10 assists in the NBA. He's that good a passer. He just needs the determination to develop and a system in which his abilities will be magnified.
Source: NBA Comparisons for LSU's Ben Simmons - Today's FastBreak. 
This is a really interesting comparison not only for the way it bends the narrative, which is basically trying to fit Simmons into the traditional superstar comps, but it factors a lot of Simmons' offensive shortcomings, namely his shooting. Simmons has shot just 3-of-18 on jump shots this season, via Synergy Sports.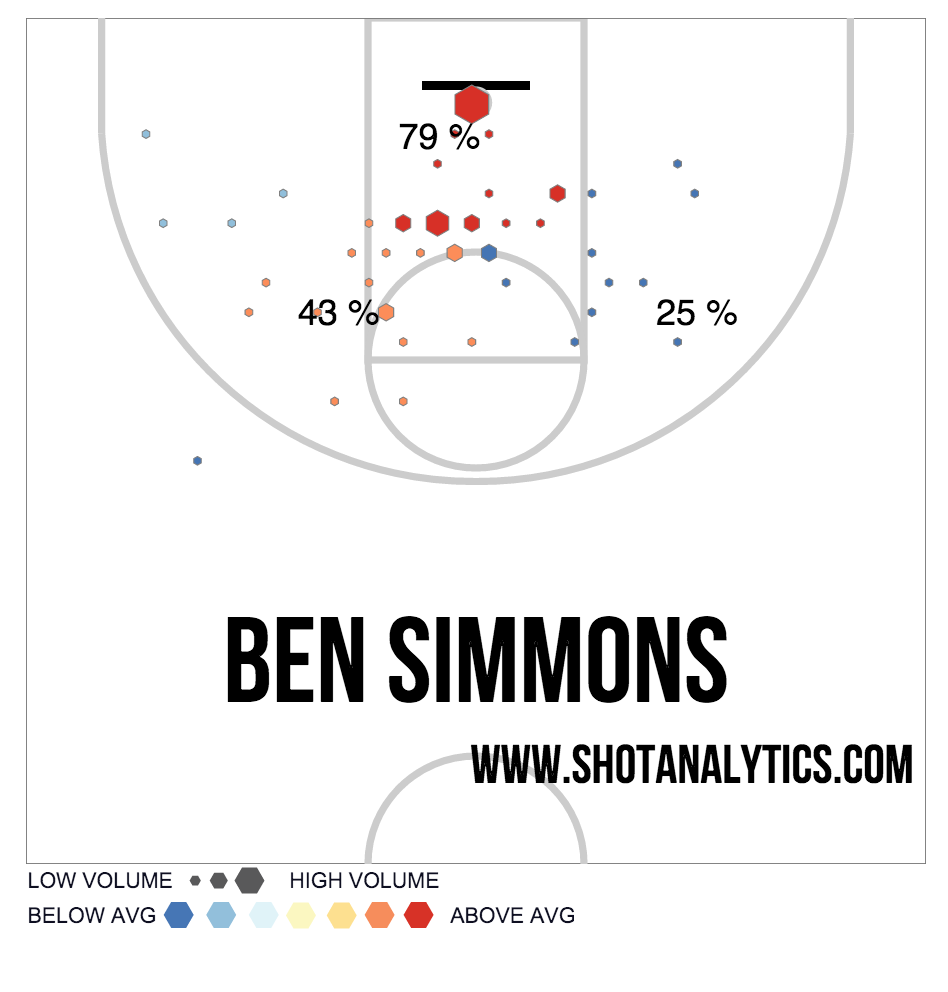 Now, Green obviously has become a deadly 3-point shooter, but he didn't enter the league that way. He worked on his spot-up shot relentlessly and that opened up everything he's been able to do. Of note, Green shot 32 percent on jump shots his sophomore year at Michigan State. The key here, though, is that Green was never the primary ball-handler, and Simmons has remarkable on-ball skills. 
The idea is not to diminish Simmons into Green's specific role offensively. It's to build a super-Draymond, who can run pick and roll and operate as a small-ball five in today's hyper-small, hyper-fast NBA. We've seen point centers be teased before, but at 6-10, with his rebounding prowess, Simmons has the real potential to be able to do that. If you pair Simmons with an elite off-ball shooter, kind of an inverse Curry, you could create something different but stylistically similar with Simmons. 
I'm wary of trying to replicate the Warriors in any regard; it's nearly impossible because of their exceptional combination of both talent and specific skills. However, if you're going to go to that small-ball emulation, it's better to start from the ground up rather than try and convert your existing team to a new approach (as the Wizards are discovering). 
Simmons' post game is incredibly strong, so you can go to him as a first weapon, but he's also great at passing to shooters out of it. Additionally, Green does a lot of his damage out of the short-roll in the high pick and roll. This is a stationary pass, but watch how similar these are:
It's a basic pass, but you can imagine Simmons as that small-ball 5 playmaker relatively easily.
Simmons would have to make huge, massive jumps defensively in order to be able to survive in those situations, however. And if Simmons is drafted to a team like New Orleans, Philadelphia, or the Lakers, they're more likely to want him on the wing. Still, it's interesting. Here's what CBS Sports draft expert Sam Vecenie had to say when I polled him:
Small-ball center is something he does a lot of at LSU. It works for them because their centers don't really give them much in the way of production or defense as it is, and they play an uptempo style of basketball, as they're in the sixth-percentile of all teams nationally in pace according to KenPom.

In the NBA, his ability to play this role will totally depend on how engaged he is defensively. Sometimes, he gets pretty nonchalant and passive on that end. Missing rotations, getting blown by players he's more athletic than, etc. Other times -- like against Kentucky -- he's so engaged and he's a guy who can switch basically every screen and defend in space and  contest shots inside. 

Personally, I'm intrigued by the idea. A team that drafts him should have something like this in mind as a way to use him situationally. I've been using the "what Blake has evolved into" comparison for Simmons for a little while now. Terrific passer, can take the ball and go in transition, can attack from mid-post both in face-up or post-up situations. It's not perfect, though. They're both amazing, but different, athletes. Simmons is a better lateral athlete with preternatural body control at his size, whereas Blake is more of a freak explosive athlete. Blake's jumper now is also a pretty major mark in his favor, but the team who drafts Simmons will need him to improve as a shooter anyway.
You can use Simmons out of the pick and roll as the ball handler, which is something Green is only starting to use sparingly. There's a lot more that Simmons can do, which will be the counter to this idea. But Green has become so important to what Golden State does, this shouldn't be considered an insult. A more-expanded, better version of Draymond Green (even if he'll never be as good defensively) isn't just a great player, it's an incredibly valuable player in today's NBA which has changed so much.