Berger: Cavaliers 'leaning' toward Jabari Parker, Bucks toward Wiggins
Ken Berger of CBSSports.com reports that the Cavaliers are looking to draft the Duke forward.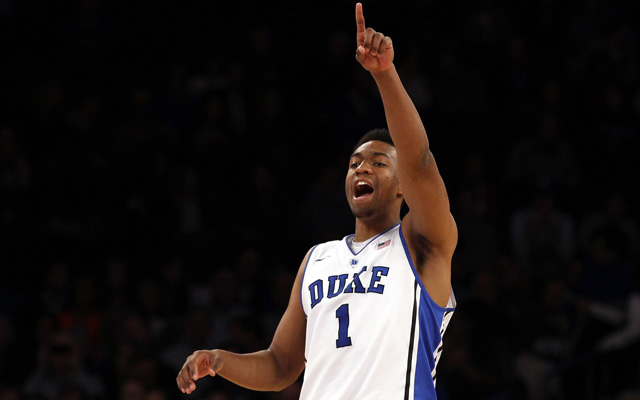 More Draft: Mock drafts | Draft news
Ken Berger of CBSSports.com reports that the Cavaliers are "leaning" toward Jabari Parker with the No. 1 pick in the wake of Joel Embiid's surgery to repair a stress fracture in his foot last week.
With Joel Embiid's foot surgery, and the reported 4-6 month recovery that comes with it, the Cavs are said to be leaning toward Duke's Jabari Parker with the No. 1 pick. Parker is more NBA-ready than Andrew Wiggins, who would go to the Bucks at No. 2. Rival executives believe it would be out of character for Cleveland GM David Griffin to trade the top pick, and believe Bucks GM John Hammond would be hard-pressed to deviate from the other consensus top player in the draft after Embiid's injury shook up the top of the lottery.
via Draft Buzz: Bulls seeking help for Derrick Rose- CBSSports.com.
Cleveland has historically been unpredictable right up until the day of the draft and has leaned toward unconventional picks outside of the decision to draft Kyrie Irving in 2011. But there's a new GM in charge in David Griffin.
Parker is considered "NBA ready" despite questions about his body shape and conditioning. It's not that Parker's not in shape or struggles in workouts. He's just "undefined" as one source told me this week. He basically needs to lose his "baby fat," which will come with a real NBA strength and conditioning program.
There's a question of fit with the Cavaliers. After all, they have Kyrie Irving and Dion Waiters, who are both perimeter ball-dominant, and Anderson Varejao and Tristan Thompson who are both traditional post bigs down low. So where does Parker fit? Likely in the same mold as Carmelo Anthony, in the mid to high post and at the extended elbow. The Cavaliers would need to improve some of their spot-up shooting to take advantage of that.
Oh, by the way, the Cavs are reportedly looking for a trade with Brooklyn to acqure shooter Marcus Thornton.
There's plenty of time for the Cavs to move and I would expect several reports about different ways they're leaning, including Dante Exum in addition to Wiggins.
The big key with the Wiggins news is that Philadelphia may have to get desperate to get their guy. If they can't convince the Cavs or Bucks to trade with them, they might miss out on the one guy, Wiggins, that they've wanted for most of the year.
Irving has requested a trade away from the Cavaliers

The Lakers made a strong push for Rose, but he would have been a backup in Los Angeles

The small forward spent last season with the Sacramento Kings
Knight still has three years left on his five-year, $70 million contract

The Golden State forward is accused of assault, battery and making misleading statements

The Nets get their shooter a year later, and the Blazers reportedly will waive Nicholson