Berger: Hornets 'focused' on Doug McDermott and Stauskas at No. 9
Charlotte looks to add scoring to help balance offense of tough, defensive playoff team.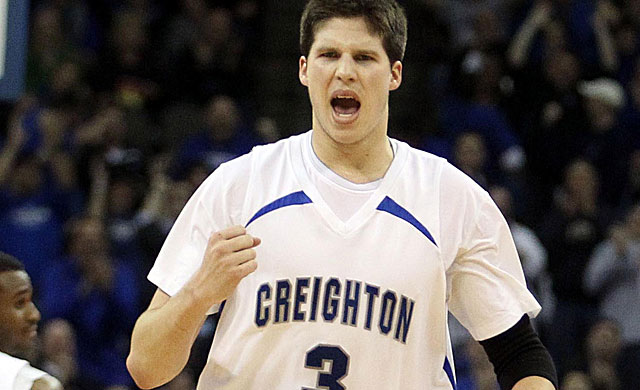 More Draft: Mock drafts | Draft news
The Charlotte Hornets weren't even supposed to have a pick in this draft. But the Cavaliers' jump to No. 1 meant that the Pistons fell out of their protected top-8 range, and Charlotte gets a top-ten pick. It's an exciting opportunity not just because of the pick but because the Hornets actually have some momentum for once coming off a playoff appearance and with some real talent. But they have to add some shooting scoring. 
Which is why it makes sense that Ken Berger of CBSSports.com reports that the Hornets are looking at two players, Doug McDermott (AKA Dougie McBuckets) and Nik Stauskas at No. 9. 
Charlotte, which has the ninth and 24th picks, is said to be focused on consensus player of the year Doug McDermott of Creighton or Michigan shooting guard Nik Stauskas at No. 9. Look for the Sixers to take whichever one is still on the board at 10.
via Draft Buzz: Bulls seeking help for Derrick Rose - CBSSports.com.
McDermott has flitted in and out of the ninth spot in the mocks I've done in recent weeks. Gary Parrish has him there on the most recent mock. He makes sense as a 3/4 combo forward able to score and provide probably more rebounding than expected (his vertical is higher than you'd expect). But mostly he can shoot. Owner Michael Jordan and the Hornets brain trust have also traditionally leaned towards players with big college resumes. 
It's unknown how the move to give new-school executive Rich Cho more power in the wake of Rod Higgins' dismissal could impact things, though. 
Meanwhile, Stauskas is a great shooter with handle. He'll strugle against super athletic defenders, but is savvy and interviews extremely well. There are four teams in the lottery that are heavily interested in Stauskas, along with Charlotte. 
Westbrook's late layup gave the Thunder a 109-108 victory

LeBron became the seventh player in league history to reach the milestone

There were a few things that stood out from Tuesday's All-Star selections
Here are three players from each conference who had legitimate claims to make the game

LeBron achieved the milestone in the first quarter Tuesday

Here are the full lineups for the 2018 NBA All-Star Game