Berger: Lakers to meet with Carmelo Anthony on Thursday
Knicks free agent star will visit LA, can they make an impression?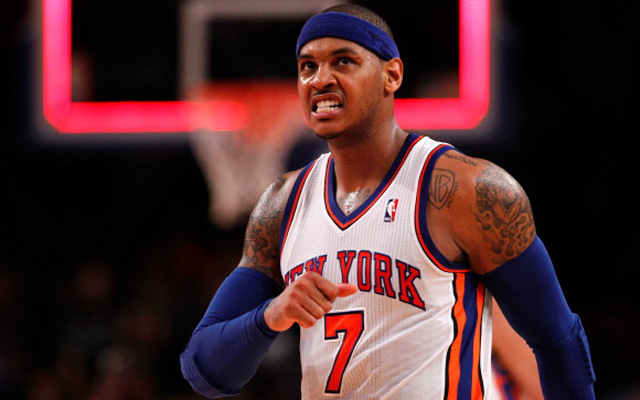 More Offseason Analysis: Updating Free Agency news | Top 40 free agents
Ken Berger of CBSSports.com reports that free agent star forward Carmelo Anthony will meet with the Los Angeles Lakers on Thursday. 
After meeting with Bulls' contingent, Melo plans to meet with Rockets and Mavs in Texas on Wednesday and Lakers on Thursday.

— Ken Berger (@KBergCBS) July 1, 2014
The news comes after reports surfaced and Berger confirmed that the Knicks star will visit first with the Chicago Bulls on Tuesday, then with the Rockets and Mavericks on Wednesday before heading to LA on Thursday. Despite the illustrious tour, Berger says the Knicks remain in the lead to retain his services. 
Knicks still viewed in league circles as the favorites in Melo sweepstakes. But he will hear compelling pitches over next three days.

— Ken Berger (@KBergCBS) July 1, 2014
The Lakers have $28 million in salary space available before the possibility of using the stretch provision on Steve Nash. They're expected to be heavily involved in free agency. Star Kobe Bryant and Anthony have a long-standing relationship, and it's believed that could influence Anthony if the Lakers can make a convincing case. Unfortunately, that's pretty much their entire case. Bryant is coming off two major leg injuries, and the rest of the roster literally doesn't exist.
It would take a miracle to get Melo to LA, but he will take the meeting. 
The Pacers believe the Lakers tampered with Paul George before they traded him

Among the questionable decisions by Jackson was signing Noah to a long-term, lucrative dea...

This Akron store doesn't want their hometown hero to leave again
Milwaukee's star did not get cleared to play for his national team due to a painful knee i...

Ball, the second overall pick in the NBA Draft, is receiving even more hype

Rap mogul supports the vision the outspoken father has for his brand and sons