Berger: Nets will let market dictate offer for Paul Pierce
Nets want former All-Star back, but want to see what the market bears for him.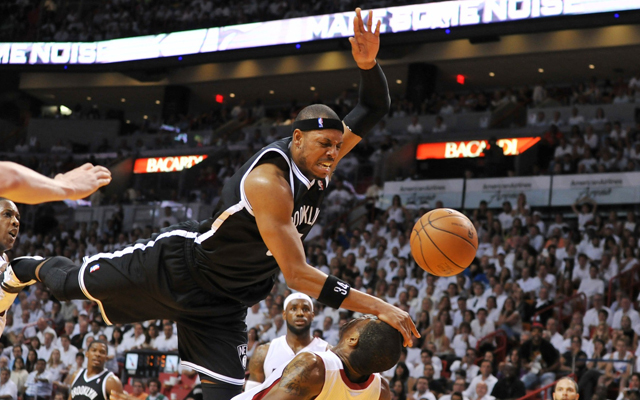 More Offseason Analysis: Updating Free Agency news | Top 40 free agents
CBSSports.com's Ken Berger reports that the Brooklyn Nets have reached out to star forward Paul Pierce to attempt to re-sign the Truth ... but only after the maket has been set for the 36-year-old. 
Nets reached out as soon as negotiating window opened to their own free agents Paul Pierce, Shaun Livingston and Alan Anderson, source says.

— Ken Berger (@KBergCBS) July 1, 2014
Brooklyn not expected to make immediate offer to Pierce, source says. Team's commitment to 36-year-old will be dictated by market.

— Ken Berger (@KBergCBS) July 1, 2014
It's a wise strategy, but still shows how far Pierce has slid from his glory days as one of the 10-best players in the league. Pierce averaged 13.5 points and 4.6 rebounds last season for Brooklyn, taking on more and more of the load as the year went on based on his move to power forward in the Nets' small-ball approach. Pierce still shot 45 percent from the field with a 52.9 percent effective field goal percentage, his highest since 2011. 
The market for Pierce has gone widely underreported, with the only name being whispered about him being the Clippers, to reunite with old coach Doc Rivers. Kevin Garnett is believed to be returning to the Nets, but a departure by Pierce in free agency, coupled with the Jason Kidd disaster, could change things. 
Either way, the Nets aren't rushing to get the Truth back in line. 
Is this rock bottom for the Cavaliers because it sure feels like it is

Wade, as he's done so many times in his career, threw it up to LeBron for the thunderous f...

The Warriors coach added there should be no shame in being picked last since everyone's an...
We've got all the scores, highlights and news from all of Saturday's games

The two teams have reportedly not had any substantial discussions to this point

Oladipo may be getting most of the shine, but this second-year big man has been phenomenal...