Big O says Melo should leave New York 'today'
Hall of Famer Oscar Robertson says Carmelo Anthony should leave the Knicks for the Rockets. Welcome back, Melodrama. We missed you so.
More Knicks: Jackson and Dolan already at odds? | Expert Picks | Latest news, notes
The Knicks' pathetic, 37-win season wasn't enough to keep them out of the news. They hired Phil Jackson, who is going to fix everything, and they have a certain prospective free agent named Carmelo Anthony who will be commanding headlines all the way to July.
Now, Hall of Famer Oscar Robertson is advising Melo that he should leave New York immediately -- don't pass go, don't collect the extra $33 million the Knicks can pay him in free agency. Just be gone ... to Houston.
That's a lot to digest, so let's go over what the Big O had to say in an interview airing Thursday night with SiriusXM NBA Radio's host and noted Knicks fan Spike Lee.
Spike:  "If you were Carmelo, would you stay?"
Big O:  "I would leave today. … Let me tell you why.  Wherever that kid has gone, when he was at Denver, they had a team that fooled around with the ball, fooled around with the ball, then all of the sudden when they needed a basket, threw it to Carmelo. Then, when he shot the ball, they said he shot too much. Then when he didn't shoot they said he didn't shoot enough. No matter what he does in New York, they're going to criticize him -- the people are going to criticize him, because you got guys on that team that cannot play. You got guys that are hurt all the time …"
Spike:  "Yeah but, O, that's why we got Phil Jackson, to clean this mess up."
Big O:  "Let me ask you: When was the last time Phil Jackson played? … I think Phil is great to have gotten $12 million out of [Knicks owner James Dolan].  Super job. Take the money and run. If I were Carmelo I would say, 'Listen, I'm not gonna stay here and take all this gruff and all this criticism. You got other guys on this team making $12, $15, $16 million and doing nothing, and here I am averaging 28, 29 points per game.'"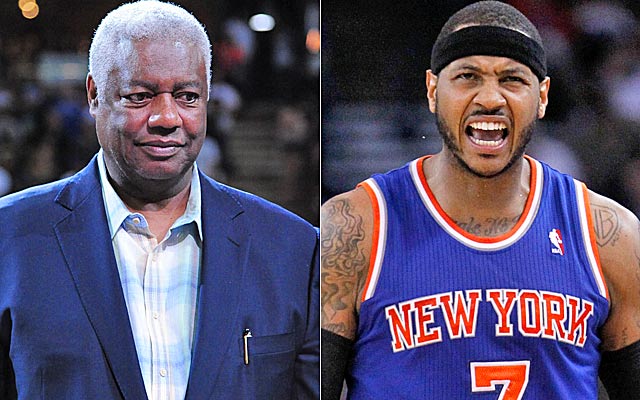 When asked where Anthony should go, Big O had the answer to that, too.
"If he goes to Houston, they're gonna win everything," Robertson said. "You look at LeBron, LeBron's got a great game and the kid down at Oklahoma, [Kevin] Durant's got a great game. They can't out-shoot Carmelo."
As I said, there's a lot to digest here. Where to begin?
We begin with the two most important people in this equation, and despite the juicy quotes, they are not Spike Lee and Oscar Robertson.
They're Carmelo Anthony and Phil Jackson.
On his very first day on the job as Knicks president, Jackson made a point of saying that Anthony has "another level he can go to" in his game. Before the next game, Anthony said he appreciated the motivation, looked forward to relying on Jackson as a mentor and said they were "on the same page."
Anthony subsequently said that winning -- not money -- would be the deciding factor for him in free agency. After the Knicks missed the playoffs and Jackson cleaned out Mike Woodson and his coaching staff, Jackson needled back, saying he hoped Anthony would be "true to his word" and be willing to accept less money to help Jackson build a winning team around him.
So what we have here is a bit of a staredown between Jackson and Anthony. The Knicks can offer Anthony more money than any other free-agent suitor, but in order for Jackson to hold up his end of the bargain and put winning pieces around Anthony, the All-Star forward would have to willingly take less.
And so, to Robertson's point, if you come at this from the premise that Anthony is willing to take less, why not take less from a team that already is in a position to contend for a title if he came on board? Why not take less to join Dwight Howard and James Harden in Houston? Why take less and lose in New York with a team that won't have meaningful cap room until the summer of 2015?
The Knicks and Anthony need each other -- to a point. There's only so much Jackson can do with a payroll that is maxed out through the end of the 2014-15 season. Anthony, who turns 30 next month, can't afford to wait much longer for a legitimate shot at the championship that has eluded him despite 10 playoff appearances in 11 seasons.
And the way the Rockets' first-round series with the Trail Blazers is going, Houston and Melo may very well need each other more come July 1. Plus, with the NBA's salary cap unexpectedly rising by $5 million next season, the haircut Anthony would have to take to leave the Knicks becomes a little more palatable.
Of course, given that the Rockets struggle when they emphasize Howard's ball-stopping low-post game over the pick-and-roll freelancing of Harden, I'm not sure I agree with Robertson's assessment that the addition of a ball-stopping high-post player would automatically deliver a championship -- it would just create another black hole. But the possibilities certainly are intriguing enough for parties on all sides of this Anthony free-agency triangle to take seriously.
In the end, it won't really matter who is true to his word but rather what truth everyone decides to believe.
Anyway, after a three-year hiatus, the Melodrama is back. We missed you so.
Dwight Howard apparently wasn't well liked by some of his Hawks teammates

Kyrie Irving created a movement -- but even he had no way of knowing the damage he could d...

Parsons, a Magic fan growing up, says his situation in Memphis with the injuries and big contract...
The Kings' big man says he was wrongfully arrested in August for possessing marijuana with...

George appeared to show some frustration with the Pacers following the trade to OKC

It's worth wondering whether or not Wade will be in the Cavs' starting lineup