Billions in TV money has NBA, players talking new CBA before it's too late
The NBA is making a ton of money, and everyone has to figure out how to work it into a new CBA before another work stoppage becomes a threat.
NEW YORK -- A few minutes before 3 a.m. ET on Nov. 26, 2011, a guy named Jarad Franzreb scurried into the lobby of Weil, Gotshal & Manges on Fifth Avenue, site of the final, desperate negotiations to end a protracted and costly NBA lockout.
Tired and disheveled, Franzreb's presence signaled that something big was about to go down. The NBA's senior vice president for production, Franzreb is present at all major league announcements and news conferences. It was time for such an announcement -- either that the season finally had been saved with the achievement of a collective bargaining agreement, or not.
Sure enough, the two sides had reached a labor deal that would alter the financial and competitive landscape of the sport, yielding a 66-game season beginning on Christmas Day. After five months of bickering, lawsuits and compromises -- after $700 million had gone up in smoke -- the NBA and the National Basketball Players Association had struck a 10-year agreement.
Labor peace as far as the eye could see.
Right?
Not necessarily.
Only four years into the agreement, each side is carefully weighing whether to exercise its right to opt out of the agreement and do this all over again. Tuesday marks the start of a 12-month countdown to the CBA's opt-out deadline, as either side must notify the other by Dec. 15, 2016 of its intention to walk away and negotiate a new deal -- or, at least, make changes to the existing one.
There are significant risks associated with either side taking that bold step, which is why commissioner Adam Silver, NBPA executive director Michele Roberts and their bargaining staffs met last week in New York to set the stage for the next 12 months. Only four years into the 10-year labor deal, league sources tell CBS Sports that the focus isn't for each side to persuade the other to stay the course. Rather, the mutual goal is to make significant progress on an entirely new labor deal by the time the opt-out deadline arrives.
"The goal is to make that opt-out obsolete," a person familiar with the process told CBS Sports. "… The goal is reaching a new long-term CBA."
Why change course and risk another work stoppage when business is booming? League revenues have soared to nearly $5 billion, up from the $3.8 billion that the two sides were arguing over in 2011. The influx of a $24 billion, eight-year national broadcast rights deal beginning next season is projected to push league revenues into the $6 billion neighborhood, and simple math reveals that the NBA is on course to be a $7 billion business within a few years.
In other words, the players' share of the pie -- approximately 50 percent -- will soon almost equal the total amount of money the league was bringing in when the current CBA began.
"All I know is, we've got a great game going right now," NBPA president Chris Paul of the Clippers told CBS Sports. "A lot of stars, a lot of excitement. We're not who we are without our fans. So as much as possible, we want to try to do everything so that we can to continue to play the game that we love and continue to grow the game like it's been growing."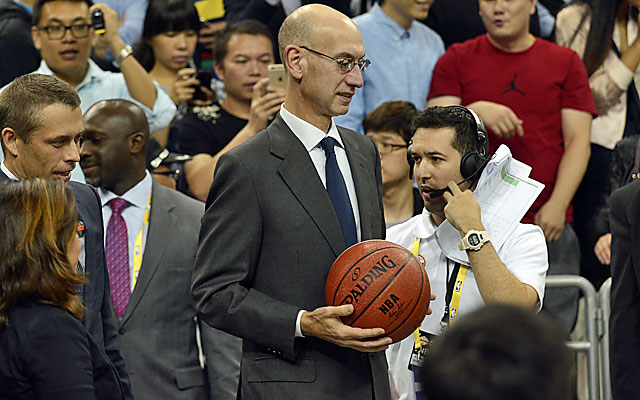 By and large, despite a smaller overall share and greater spending pressures on teams in the form of a punitive luxury-tax system and fewer exceptions, the players are happy. And though Silver reiterated last summer that "a significant number of teams" are continuing to lose money, the owners also are pleased with many aspects of the deal.
"I certainly have no reason to be pessimistic, but we haven't engaged in any real intensive way on issues around the collective bargaining agreement yet," Silver said at his Board of Governors news conference in October. "But I remain optimistic in a general way just because I think things are going so well for the teams and the players right now."
But there are pockets of dissonance -- some stemming from compromises made in 2011, and others from new dynamics that have already rendered some aspects of the CBA obsolete or ineffective.
"There's always a few things that we can discuss and improve, and that's what all the talks will be about," Paul said.
The rhetoric from Silver about the risks for the players in opting out has centered around the idea that the owners would bring back to the table two key provisions they were unable to achieve in the last negotiation: a hard salary cap and limits on guaranteed salaries. In October 2014, in the same news conference in which he revealed that one-third of the league's 30 teams still weren't profitable, Silver said, "My preference would be to have a harder cap."
The risk for the owners? Roberts, a firebrand trial lawyer, could see it as an opportunity to prove her mettle to the rank-and-file and try to claw back some of the percentage share and spending exceptions that were lost in the last deal. Roberts took over for Billy Hunter in 2013 after Hunter was accused of putting his own personal interests ahead of the union's. Hunter is suing the NBPA for breach of contract.
The ongoing internal dispute is fitting, since some of the biggest issues in the NBA's labor dynamic are not one side vs. the other, but within each camp. Some small- and mid-market teams still feel they are at a disadvantage when it comes to regional broadcast revenues that boost the larger markets' tolerance for paying luxury tax, league sources say. On the players' side, one of the unintended consequences of the agreement has been rampant spending on middle-of-the-road players, while the salaries of the league's biggest stars and revenue drivers are capped well below their true value.
But the biggest problem is something that wasn't contemplated when the current agreement was negotiated, and for which no provisions were included to minimize the distortions it is already bringing to the market: the massive influx of new TV revenue, which will begin hitting the system starting with about $1 billion in new money in 2016-17.
The resulting spike in the salary cap -- from $70 million this season to $89 million next season and a projected $108 million in '17-18 -- threatens to sabotage much of what the league was trying to achieve with this CBA. Remember Silver's refrain from 2011? "Every team, if well-managed, will have a chance to compete for a championship and earn a profit?"
Well, his league appeared to have been on the right track with all that, until the spike reared its ugly head.
It's really true, what they say: Mo money, mo problems.
In the first four years of the deal, punitive luxury-tax rates combined with a revamped revenue-sharing plan were beginning to successfully limit the advantages that larger markets enjoyed under the previous system. In the first year of the new CBA, only six teams paid a total of $31.9 million in tax -- down from 11 teams and $111 million in 2009-10, the penultimate season of the 2005 deal.
Six teams paid $70.6 million in '12-13, and though Mikhail Prokhorov's Nets broke the bank in '13-14 (accounting for $90 million of the $151 million in league-wide tax payments), the system corrected to five teams paying $41.5 million last season.
But this season, in anticipation of the higher cap and tax levels, eight teams are on track to pay $154.5 million in tax: the Bulls, Cavaliers, Warriors, Rockets, Clippers, Heat, Thunder and Spurs. They're all contenders -- though not all from large markets. Dan Gilbert's Cavs lead with way with a total roster expenditure of $175 million, including $65 million in tax.
So, is it "if well-managed" or "if well-funded?" This couldn't have been what the league envisioned four years ago when it implemented the most punitive tax system in NBA history: eight teams paying more tax than in any season since 2003-04.
"That's so far away from where they wanted to be," a league source said. "It's created a chaotic environment."
It's still better than 2002-03, when 16 teams paid $173 million in tax, according to Shamsports.com -- led by Paul Allen's Trail Blazers at $51 million. But is this what that five-month lockout was all about? A system where if you spend, you can contend?
To be clear, it's not the league's fault. First of all, both sides agreed to the deal. Second, while the league may have been unprepared for such a massive jump in TV revenues, it proposed a revision to the CBA that would have "smoothed" the new money in more gradually, avoiding the kind of chaos and market disruptions that many team executives are bracing for next summer. Roberts and the union rejected the proposal, opening the floodgates for dozens of free agents to get overpaid over the next two summers and giving big-spending teams a get-out-of-the-tax free card.
The revenue influx also has caused inconsistencies in the long-term planning strategies for teams, who went from tightening their belts to avoid the tax man to girding for a return to free-agent spending sprees. There could be more than $1 billion in cap room in the system next summer, with as many as 18 teams having room to add a max player.
The higher than anticipated revenues already have created shortfalls between players' negotiated salaries and their contractually guaranteed percentage of between 49-51 percent. There was a small shortfall last season and there will be a modest one this season, but a massive bill comes due after the '16-17 season. Silver said in July that the owners will have to write a check for up to $500 million to the players in July 2017 -- which, coincidentally, is when a potential work stoppage would begin.
"That's not, of course, the ideal outcome from our standpoint," Silver said.
So just when the CBA was starting to work, the unanticipated influx of new revenue threatens to restore some of the very imbalances that the league was trying to eradicate.
During the first four years of the deal, small-market teams like Indiana, Oklahoma City, Memphis and San Antonio have advanced to the conference finals. Depending on which side of the argument you're on, you could point out that all were good prior to the current CBA, or that all used tools in the deal to remain in contention.
Despite Golden State at one end of the spectrum and Philadelphia and the Lakers at the other, parity is more apparent than ever -- especially in the Eastern Conference, where 13 teams are legitimately in the hunt for eight playoff spots, with 10 of them above .500.
In terms of what the league refers to as "player sharing," free agency is more robust than ever due to shorter contracts and disincentives for players to sign extensions with their current teams. The Bucks landing free agent Greg Monroe last summer was heralded as a coup for small markets. But the CBA hasn't helped small-to-mid-market teams keep their prospective free agents in every case. In some instances, the opposite has happened.
In 2012, the Thunder famously traded James Harden to the Rockets, and in 2013, the Grizzlies sent Rudy Gay to Toronto -- both to avoid tax penalties. More recently, the Hawks' outstanding management went for naught when they lost free agent DeMarre Carroll to the Raptors. Carroll's deal, $58 million over four years for a role player who'd never made more than $2.6 million in his career, was perhaps the first sign of the free-agent chaos to come.
There are examples where pay has been better aligned with performance, such as the big-market Knicks prudently signing free agents Robin Lopez and Arron Afflalo to reasonable deals while using the draft to acquire budding star Kristaps Porzingis. But there's room to create a more predictable environment for teams in a new or revised deal with the players.
The 12-month clock is ticking, and both sides view it as overwhelmingly positive that they're beginning the dialogue this soon. But they also recognize that failing to reach at least the framework of a deal in that timeframe could be catastrophic.
For the players, a work stoppage costing 20 percent of the '17-18 season would be twice as costly as it was in 2011. For Silver, there's more than money at stake. There's also his goal of burnishing a legacy as the commissioner who didn't endure a labor shutdown. His predecessor, David Stern, oversaw work stoppages that devoured significant portions of the 1999 and 2011 seasons.
Nobody has a crystal ball, and there are plenty of basketball reasons to keep the business booming without interruption.
"There's a mutually stated desire to get started now and get it done," a person familiar with the dynamics said.
Four years later, 'tis the season again. Happy bargaining to all, and to all a good night.
We've got all the scores, top plays and news from Friday's NBA games

Rivers was not happy with the free throw discrepancy on Thursday night against the Rockets...

As the Cavs continue to struggle, James can't wait to get Love back on the court
The Last Two Minute Report has created an ongoing rift between the league and their offici...

Golden State will be down yet another star for a substantial amount of time.

Schroder says Howard tends to play great against his former teams, and that's about it