Billy Donovan wants the NBA age-limit lowered, not raised
Florida coach says distractions and hangers-on compromise the programs too much.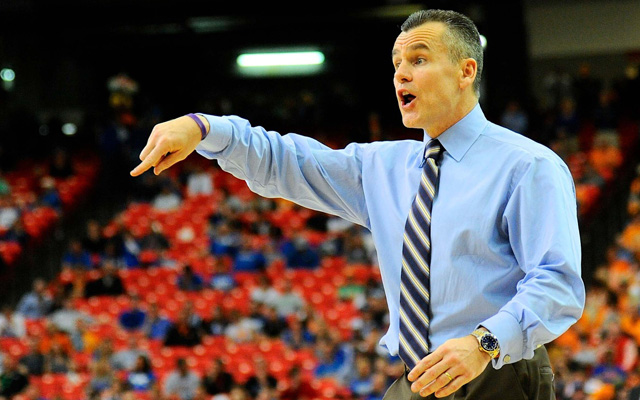 More NBA: Power Rankings | Expert Picks | Latest news, notes
Florida Gators coach Billy Donovan said this week that not only does he think the NBA age limit shouldn't be raised, he believes it should be erased. His reasoning? Colleges are assuming the risks of players who are under pressure from NBA agents and hangers-on, compromising the program and he'd rather have players who aren't forced to, but choose to play college basketball. 
"College basketball coaches and programs are taking on all the risks," Donovan says. "The kid doesn't want to be in college and wants to be in the NBA, but because of the rules, he has to stay in college. Now you're opening yourself up for potential NCAA violations. … You've got players like Jabari Parker [Duke] or Julius Randle [Kentucky], and there is so much coming at these kids. If a kid takes something he's not supposed to take or he is enticed into something, it's the colleges that are put in harm's way."

"It's colleges that have to handle situations like this and what comes with it," Donovan says of the inducements being offered to big-time NBA prospects. "And what comes with it is a lot of enticement, a lot of agent involvement, a lot of people hovering around and a lot of people trying to get their hooks into the kid. And then if the kid makes a mistake or doesn't do the right thing, all of the sudden it falls on the institution. That's not right when the kid should have never been in college in the first place and should already have been in the NBA."
via Gators Billy Donovan to NBA Commissioner Adam Silver: Don't raise NBA age limit - Orlando Sentinel.
I will now take this opportunity to promote for the 500th time my preferred course of action: two-or-none instead of one-and-done. If you want to jump straight to the NBA, it works for a player like Andrew Wiggins or Jabari Parker, who are ready right out of college. For players who need the development, give them two years to learn the fundamentals. That way players like Noah Vonleh come out with more seasoning but players who are ready to make the immediate leap can make their money. 
This way Donovan might have some of the headaches he's describing, but at least not as many. 
Either way, it's interesting to see a college coach make these kinds of comments. Commissioner Adam Silver has been very aggressive in public comments saying the limit has to absolutely be raised. 
The Warriors coach isn't surprised that the president and LaVar Ball are in a war of words

We've got you covered for all the scores and highlights from Sunday's NBA games

Kyle Kuzma is tired of how his teammate Lonzo Ball is being treated
The Warriors used a huge third quarter to come back from a 23-point deficit to get the win

Three takeaways from Golden State's 24-point rally past the Sixers

Okafor has played only 25 minutes this season