Bizarre only begins to describe this odd finish to Rockets-Knicks
Weirdness, boneheaded plays and the Hack-a-Dwight strategy backfiring highlighted the Rockets' 109-106 victory over the Knicks on Thursday night.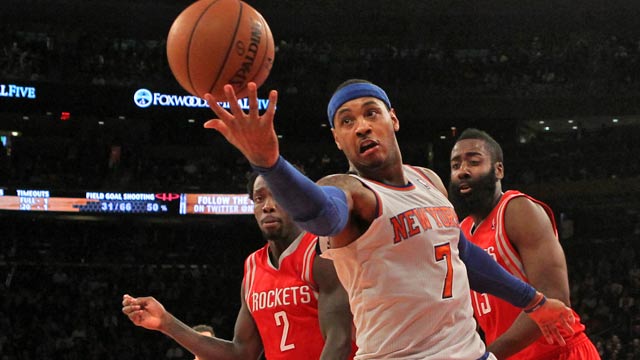 NEW YORK -- Dwight Howard got locked up defensively by Andrea Bargnani. Carmelo Anthony scored 45 points and the Knicks lost. These were the two least bizarre things that happened in the Rockets-Knicks game on Thursday night.
The most bizarre thing, easily, was '80s pop tart Debbie Gibson performing a duet with the Knicks City Dancers during a timeout. But let's not even go there.
The Rockets beat the Knicks 109-106 despite going without a field goal for the final 3:51 of the game. They won despite playing 11 players, none of whom was named Omer Asik, who has requested a trade and saw his league-best streak of 239 consecutive regular season games played come to an end.
Rockets GM Daryl Morey and Asik's agent, Andy Miller, met before the game to discuss matters, but a resolution is not expected quickly. Sort of like with this game.
Things started to get weird (well, weirder than Debbie Gibson) when James Harden was fouled by Raymond Felton on a 3-point attempt with 2:18 left. Harden made 2 of 3 from the line, and the Rockets led 104-100.
Howard, who'd been subbed out of the game with 3:16 left after missing two free throws when the Knicks began employing the Hack-a-Dwight strategy, returned with 1:39 left. Anthony made two free throws, trimming the Rockets' lead to 104-102.
As Howard made his way down the floor, Bargnani lunged for him in an attempt to Hack-a-Dwight again. His teammates shouted at him not to do it; an intentional foul away from the ball with less than two minutes left would have resulted in one shot plus the ball.
Anthony didn't get the memo. He didn't hear his teammates yelling, so he wrapped up Howard and the Hack-a-Dwight backfired, for once.
"That was a boneheaded play on my behalf," Anthony said.
"He made a mistake," Howard said. "Bargnani was going to do it to, but some of the guys told him, 'Don't do it.' And then Carmelo didn't hear it, and he did it. It happens."
Harden made his free throw and missed a jump shot, but Howard got the rebound, was fouled -- and made both his free throws to give the Rockets a 107-102 lead with 1:15 left.
The Rockets still hadn't made a field goal since Harden's 3-pointer with 3:51 left when they came out of a timeout to defend the potentially game-tying possession with 5.8 seconds left, leading 107-104. Anthony (of course) received the inbounds pass just beyond the 3-point line and was immediately slapped by Harden -- then fouled again as he launched a desperation 3-pointer that went in. But the whistle had blown before Anthony went into his shooting motion, negating the basket and giving Anthony only two free throws.
"My thoughts on that don't matter at this particular time," Anthony said. Asked if he'd seen the replay, Anthony said, "Yeah, I saw it multiple times. I don't want to see it again."
Knicks coach Mike Woodson pleaded with lead official Scott Foster to review the play, but it wasn't reviewable under the rules. The only reviewable foul calls under those circumstances would have been a clear-path foul and a flagrant, the latter of which is automatic.
"Continuation is never reviewable unless it's a foul away from the ball, which is a new rule this year," Foster told a pool reporter after the game. "The initial contact was before he started to turn, while his back is to the basket, and then he flings it up. The initial contact is way before what probably everybody else thinks. It's a push, a slap and then another slap."
If Anthony's basket had been ruled good on the floor (which it wasn't), the officials could've used replay to determine whether it was a 2-point field goal or a 3-point field goal.
Anthony, who had 10 rebounds to go with his 45 points on 17-for-30 shooting, was salty about something else in the locker room afterward -- the foul disparity, and not getting calls himself. The Rockets were 38-for-44 from the free-throw line; the Knicks were 22-for-27.
"You see how guys get their calls," Anthony said. "Me, I've got to get cut. You've got to see blood for me to get a call down there."
After all that, Anthony tried to miss his second free throw, charging down the lane to get the rebound. Of course, it went in.
"I tried to miss it; that's why I ran in there like that," Anthony said. "It didn't want to miss."
Oh, and did we mention that Jeremy Lin played in this game and had about 30 reporters at his locker afterward -- in the building where Linsanity began two seasons ago?
I know, it's too much to take in. If you dare, use the replay function on NBA League Pass Mobile to watch the final four minutes of this one to see for yourself. Just be careful: Don't watch the Debbie Gibson part. 
Cousins suffered a torn Achilles tendon on Jan. 26, and will miss the rest of the season

Ingram has become one of the team's go-to players with Lonzo Ball sidelined with an injury

Giannis skipped EuroBasket last summer, and has missed four games this season with knee so...
Some of the best and worst from the league as we head into the home stretch of the season

Cuban acknowledged that tanking is 'brutal' and that he will no longer do that after this...

Cho has been the GM in Charlotte since 2011