Black Friday Shopping List: Top 10 trade candidates
As GMs and agents emerge from their Thanksgiving comas, here's a Black Friday shopping list with the 10 players most likely to be dealt during what will be a busy NBA trade season.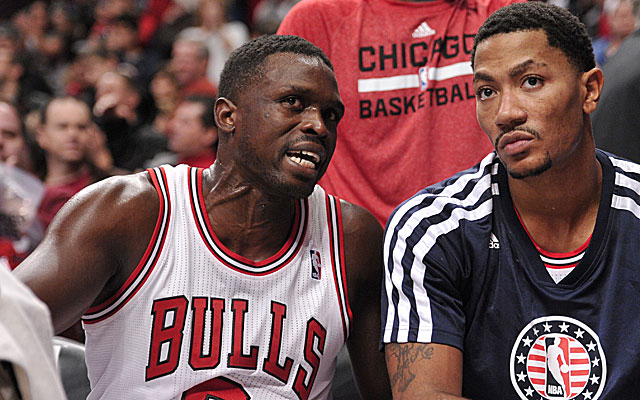 Agents and executives predict this will be a very active trade season in the NBA, for obvious reasons. As the standings begin to sort themselves out, the calendar marches along and injuries mount, the usual trigger points for deals will intensify. 
In addition to the contenders looking to solidify their positions and pretenders trying to give themselves a boost, the list of teams looking to dump players and join the tank-fest for the 2014 draft will begin to grow.
With Derrick Rose out for the year again, for example, we've already had a seismic event in the NBA trade landscape. The Bulls were able to scrape their way through one entire regular season without their MVP, but asking them to do it again is too much. Despite their championship designs before Rose went down, the Bulls are not a luxury tax team, so they don't have payroll to dump for immediate financial reasons. But they do have decisions to make for next year, chiefly with unsigned Luol Deng and soon-to-be 33-year-old Carlos Boozer, who will make $16.8 million next season.
The most difficult variable to calculate is the market for veterans on large expiring contracts. The Knicks giving up a first-round pick in the trade for Andrea Bargnani is exceedingly rare in the current NBA marketplace; typically, an underperforming player with a big salary number next to his name will not fetch a first-round pick anymore. Under the current tax system, potential suitors for such a player would demand a pick in return for the trouble of taking his contract.
So with the understanding that there are more unknowns and unknowables than usual, here's my Black Friday Shopping List -- the 10 players most likely to be traded based on conversations with league GMs:
1. Omer Asik, Rockets. Houston's disgruntled center has been unhappy with his role since the Rockets landed Dwight Howard, and the situation isn't going to get any better. After playing four minutes at Philadelphia on Nov. 13 and riding the bench against the Knicks on Nov. 14, Asik finally logged 20-plus minutes in back-to-back games this week for the first time since early November. The limiting factor, of course, is that while Asik counts only $8.4 million against the cap/tax, his actual salary next season is $15 million. Given those constraints and Asik's sad-sack demeanor, one rival GM described the Rockets as "delusional" as far as their asking price for him.
2. Evan Turner, Sixers: After failing to secure an extension by the Oct. 31 deadline, Turner has gotten off to the best start of his career. His frequent public comments strongly indicate that he has no expectation of staying in Philadelphia beyond this season. Sixers GM Sam Hinkie has the leverage, though, in restricted free agency. But Hinkie has no allegiance to the former regime's No. 2 overall pick, and the trade market will only increase if Turner's production continues to soar.
3. Jameer Nelson, Magic: Victor Oladipo is clearly the future in Orlando, and Nelson could be a viable option for a contender looking to solidify its point-guard play. Nelson is almost 32, but has only $2 million guaranteed in 2014-15 and thus is a good rental candidate. Side note: Another veteran who's been the subject of trade rumors is Pistons guard Rodney Stuckey. But a league source says the Pistons "are not trading [him]." So there you go.
4. Deng, Bulls: Chicago was comfortable keeping its core together on the theory that Rose's return would launch them back into championship contention. Before Rose went down again, it was reasonable to put Deng's extension on the back burner and see how far this group could go. Deng is a versatile wing defender who would help a contending team in multiple ways on the offensive end as well. For a team that believes it's on the cusp of contention but is afraid of getting shut out in 2014 free agency, Deng would be a solid piece.
5. Dion Waiters, Cavs: Cleveland will be active in the trade market, and Waiters is at the front of the line. His candid comments in a team meeting about Kyrie Irving and Tristan Thompson playing "buddy ball" and not passing him the ball has further stoked the flames -- and simultaneously hurt his trade value. It's also worth noting that Waiters is only 21, and some rival execs are reluctant to predict that Cleveland will give up on the 2012 No. 4 pick this quickly. As 2014 prospective free agent LeBron James said recently of his former team, "They have some really good pieces."
6. Iman Shumpert, Knicks: Shumpert and Knicks coach Mike Woodson clearly are not on the same page, and a change of scenery could be a must for both parties. Shumpert is giving the struggling Knicks very little offensive production, and his defensive reputation has far exceeded his performance as he continues to climb back from ACL surgery.
7. Jimmer Fredette, Kings: In a normal year, the Kings declining Fredette's option for next season would have made him more tradable. But in a year when draft picks are going to be so coveted, the Kings will have trouble extracting a pick of any consequence for an unproven player they're barely utilizing. Still, Fredette's potential and ability to spread the floor could be appealing for a rebuilding team willing to give up a modest asset and be patient with him.
8. Spencer Hawes, Sixers: Hawes has proved to be an excellent fit in first-year coach Brett Brown's offense. But with a $6.6 million expiring contract, Hawes could land the Sixers a quality future asset at the February deadline. Another name to keep an eye on in Philadelphia, according to rival execs: Thaddeus Young, whose athleticism and frontcourt versatility will be attractive to contenders as the Sixers continue to fade from the playoff picture in the bizarre East.
9. Ed Davis, Grizzlies: Several executives mentioned Davis as a potential trade target, but from where I sit, it only happens if Memphis is unable to move Zach Randolph and the $35.2 million he is owed this season and next. The reality for the Grizzlies is that Z-Bo has more value to them on the court than his contract has on the trade market. And until Davis gets a chance to shine with more minutes, his trade value is limited, too. Here's the real problem for Memphis, though: Davis' agent, Rob Pelinka, is notorious for working the system when it comes to gaming the system in free agency. So if the Grizzlies do trade Davis, it won't be because they want to. It'll be out of fear that Davis turned down their extension offer because Pelinka already has found a landing spot for him.
10. Paul Pierce, Nets: Here's the wild card of the group. The Nets have been awful so far, and if their struggles become a permanent condition, they could see what the market will bear for a 36-year-old sniper on $15.3 million expiring contract. The Nets are not shopping Pierce at the moment, but he could be a serviceable piece for a team looking to dump a multi-year contract. The question will become how valuable a draft pick, if any, a potential trade partner would be willing to offer.
Porzingis is questionable for Carmelo Anthony's return to MSG on Saturday

The Spurs and Rockets will renew their in-state rivalry on Friday night

Anthony will play at Madison Square Garden on Saturday for the first time since being trad...
SportsLine's Mike McClure, a DFS pro with more than $1M in winnings, gives optimal lineup...

The Cavaliers won the much-anticipated matchup, 121-112

Two of the league's most interesting teams will meet on national TV on Friday night