Blake Griffin: 'It's less than a hairline and my back is not fractured'
Los Angeles Clippers star Blake Griffin says his back is fine and that it's less than a hairline. Says back isn't fractured but wanted to make sure he's ready for the Clippers' season.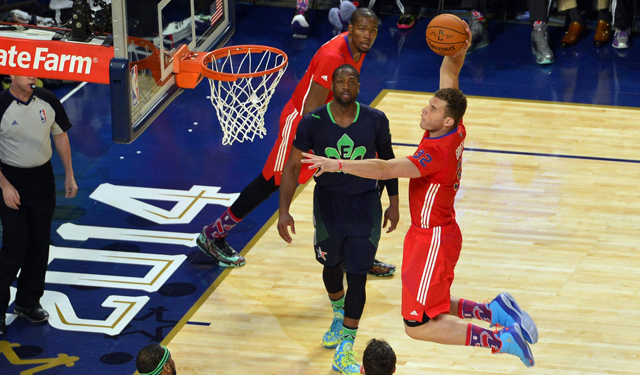 More Offseason Analysis: Coaching changes, news | Free Agency | Draft
If you were worried about the state of Blake Griffin's back injury, you shouldn't be. The Los Angeles Clippers' star pulled out of USA Basketball's training camp and won't play in the FIBA World Cup because of a back injury, but Griffin says the injury hasn't restricted him in his workouts or his play. He just wanted to pace himself, allow his back to heal, and be ready for Clippers' training camp at the end of September.
Griffin made it clear he doesn't have a broken back and described it as "less than a hairline." He says his back isn't fractured and that he's not walking around in so much pain. This should rest any concerns that we could be looking at the potential for a more serious injury down the road with Griffin. From the Los Angeles Times: 
Griffin had pulled out of Team USA's basketball training camp for the FIBA World Cup because of back concerns, though the All-Star said they haven't "restricted" him.

"It's less than a hairline and my back is not fractured. Everything is still intact," Griffin said. "I can still come out here and I can do my workouts and I can do everything I used to do. I just shouldn't be playing and practicing everyday this early."

"My whole thing is that I didn't want to go into [Clippers training] camp and put myself in a worse position," he said. "It's not that my back is broken and I'm walking around with a broken back, or I'm in so much pain.

"But if I start playing basically two months earlier than everybody else and then go through all of next season and the playoffs, then I'm probably going to put myself in a bad position. I couldn't do that."
Griffin isn't the only one sitting out Team USA activities. Stars like LeBron James, Chris Paul, Carmelo Anthony, and Dwight Howard aren't playing. Kevin Love pulled out of the training camp due to the trade rumors swirling around him. Griffin's injury is still something to keep an eye on, but he's a lock to make the team in 2016 when the Olympics come around. Until then, it's perfectly responsible for Griffin to worry about making sure he's in the best shape possible for the Clippers.
Among the questionable decisions by Jackson was signing Noah to a long-term, lucrative dea...

This Akron store doesn't want their hometown hero to leave again

Milwaukee's star did not get cleared to play for his national team due to a painful knee i...
Ball, the second overall pick in the NBA Draft, is receiving even more hype

Rap mogul supports the vision the outspoken father has for his brand and sons

Deciding who to watch on League Pass can be difficult, but these rankings promise to help