Blake Griffin scores 38 points in All-Star Game by conforming
Los Angeles Clippers' All-Star Blake Griffin put on a historic scoring display by doing exactly what his detractors criticize him for doing.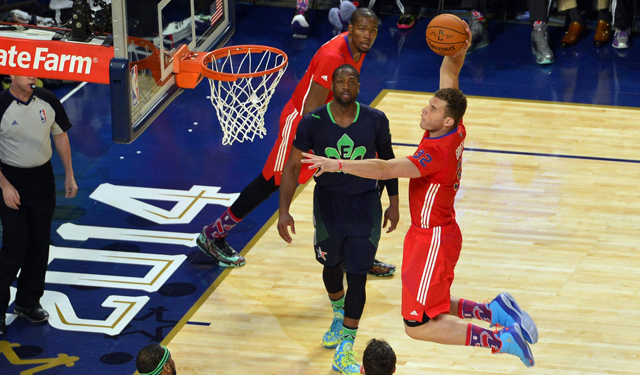 MORE: East rallies to beat West | Moore: Who needs defense? | Berger: Kyrie key to James
NEW ORLEANS -- "All Blake Griffin does is dunk."
Check out Twitter during a Los Angeles Clippers game or find a debate about some of the best players in the NBA and mention how good you think the Los Angeles Clippers' power forward is. You'll immediately get criticism of his game.
People get mad at the idea of him flopping or not being a great defender or only dunking the basketball to get his points. They ignore his improved jumper, his solid post game, his improved free throw shooting, his improved defense (yet, it's better under Doc Rivers), and his ability to get the most efficient shot in basketball. He gets to the rim either by being led from a Point God's passing or by using his incredibly dribbling ability to quickly bypass his defender and get everybody on the edge of their seat. 
In his fourth straight All-Star Game, Griffin did exactly what people chastise him for doing so well: He dunked the ball, a lot. He made 16 of his 19 shots in the restricted area, where 18 of his 23 shot attempts came. He dunked the ball 10 times, giving the fans of basketball's celebratory event a historic show. 
He totaled 38 points in the ball game, tying Rick Barry and Kevin Durant for the third highest total in All-Star Game history. Only Wilt Chamberlain (42 in 1962) and Michael Jordan (40 in 1988) have ever had that kind of scoring output in an All-Star contest. 
After the game, Griffin was asked if he was worried about being pigeonholed as just a dunker thanks to his highlights and a performance like this. Griffin scoffed at the potential criticism, knowing he didn't need to prove an argument that holds very little water these days.
"Yeah, I'm terrified of that," Griffin mocked. "I don't care, man. People are going to say whatever they're going to say. I just take the points as they come."
He didn't feel the need to show off a wide-array of skills that he possessed in order to bolster his own ego. He simply did what you'd want an athletic big man to do in an open-court, low defense game: He ran the floor, jumped really high, and brought us a bunch of highlights. It doesn't make him any more or less of a star than he was before this game started; it simply shows he knows how to fill the spotlight when he's in its general vicinity. 
"It's fun, man," Griffin said when asked if he likes to showcase his highlight-reel dunks. "This game is for the fans. And to be able to do the things that they want to see, they don't really want to see me shooting jump shots, so it's cool to be able to get up and down and have fun with it."
His detractors will use this as evidence of a limited game that hasn't really existed for about a season and a half. But those looking for a show, including Carmelo Anthony, appreciate his ability to rattle the rim repetitively. 
"Well, he's a guy who is perfect for a game like this," Anthony explained after breaking the All-Star Game 3-point record with eight makes. "He is a dunker. He's a guy who gets the crowd into it. Guys know he's a crowd pleaser, so they're going to find him, anything near the rim, near the backboard he's going to get.
So he knows how to wake a crowd up, and he did that tonight."
Through "just dunking" he did that tonight, allowing everybody to get the type of All-Star Game we love to see. 
We've got all the scores, top plays and news from Saturday's NBA games

Gentry was complimentary of Harden following the Pelicans' loss to the Rockets on Saturday

Davis was arrested last month and charged with drug possession and distribution
Dudley and Chriss were the main culprits in an altercation in Utah on Thursday

Kanter also suggested the Knicks should develop guys in the G League, not the NBA

SportsLine's Mike McClure, a DFS pro with more than $1M in winnings, gives optimal lineup...