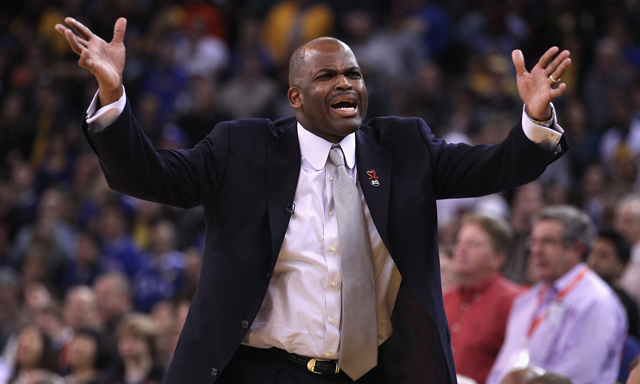 Blazers coach Nate McMillan lost his team, according to his bosses.
(Getty Images)
PORTLAND, Ore. -- Trail Blazers president Larry Miller gathered the Portland media for what's become one of the most anticipated annual events on the city's social calendar. No, not a black tie gala or a golf course fundraiser, but rather the reliable yearly exercise in excising some person of importance from an organization in freefall.
In 2010, it was former GM Kevin Pritchard and vice president of basketball operations Tom Penn, fired for allegedly being too ambitious and self-interested. In 2011, it was former GM Rich Cho, fired for being too boring for demanding and eccentric owner Paul Allen's liking. In 2012, with no full-time GM yet hired to fire, former coach Nate McMillan received the swift axe -- disposed of less than an hour after Thursday's trade deadline -- for failing to keep locker room order.
"I think [McMillan] had lost some of the players," Miller told CBSSports.com, following an evening press conference at the team's Rose Quarter offices. "I think he lost the ability to motivate the players and go out and give 100 percent. To me, that was the issue. We could see that players weren't playing with the energy level and enthusiasm and weren't going out there and giving it their all. We would expect them to play that way when they're playing Blazers basketball."
Which players did McMillan lose? More like: Which players didn't he lose on this patchwork roster full of competing interests?
Starting point guard Raymond Felton has been atrocious on and off the court it since he arrived via trade on the night of the 2011
NBA Draft
.Fellow guard Jamal Crawford, signed as a free agent in December, was visibly frustrated with his changing role, shots and minutes under McMillan. Forward Gerald Wallace -- acquired at last year's trade deadline and then traded to the New Jersey Nets on Thursday -- provided inconsistent production all season. Center Marcus Camby -- acquired two deadlines ago and shipped to the Houston Rockets on Thurdsay -- took out his evident frustration with flashes of homicidal rage during the team's current road trip, getting ejected for shoving Washington Wizards forward Kevin Seraphin to the ground and then getting a flagrant foul for decking New York Knicks forward Landry Fields on a dangerous play in transition.
All the while, franchise forward LaMarcus Aldridge has taken on the glazed look of Chris Bosh circa 2008, going through the motions on offense and in his bland post-game comments. The last time Aldridge looked genuinely excited came when he was named to the 2012 All-Star team.
Together, the Blazers haven't looked worse in years. 20-23 on the season and resting in the Northwest Division basement, Portland is 2-6 in March, its only wins coming against the lowly New Orleans Hornets and Washington Wizards. The losses, including a number of blowouts, have been embarrassing. McMillan called the team's performance "unprofessional" after a 17-point loss to the Indiana Pacers in which the Blazers set an all-time franchise low with just five assists as a team. Portland followed that game up by scoring just 29 points against the New York Knicks in the first half, on their way to a 42-point loss at Madison Square Garden.
"When you watch how we've played in recent games, it was very disappointing," Blazers Acting GM Chad Buchanan said on Thursday. "We've been very displeased with the performance on the court. This is not Trail Blazer basketball...Guys weren't laying it on the line. Sometimes that can be reflective of [a coach] losing the locker room, to a certain degree. Nate would express frustration if you would talk to him about that."
McMillan fashioned a reputation in recent years as a motivator, a strong central voice amidst the chaos caused by an endless string of injuries. He juggled lineups, managed egos, and put the ball in his star players' hands with enough care to earn Coach of the Year buzz multiple times while leading Portland to three straight playoff appearances. But he was a different man this season, seemingly resigned to the team's need to go a different direction and defeated by his roster's lack of an identity. 
"In some of the conversations that I've had with Nate, he acknowledged the fact that he was frustrated with what was going on with the players," Miller said. "He absolutely expressed some frustration... I respect Nate, I love Nate. He's a friend and that's why this was such a difficult decision for me. It was just obvious the players were not responding, we lost [to the Knicks] by 40 points. What more do I need to say?"
In previous years, the Rose Garden was one of the league's toughest buildings. This year, just another road date. In previous years, clutch two-way team play showed up regularly down the stretch. This year, meltdown after meltdown in late-game situations. In previous years, a ubuntu-like rally after each successive injury to the likes of Brandon Roy and Greg Oden. This year, a whole lot of checking out, with multiple players admitting that the team had "done enough talking."
"It became unavoidable," Miller said, continuing to explain the firing. "It's just not working. They're just not responding. I don't know why. I know Nate is a good coach, he's done some great things for us here. We're going through injuries and things like that, Nate was always able to get the players to go out and play hard. Whether we won or not, I always felt like they were playing hard for Nate. I just didn't see that over the last few weeks."
Despite the many warning signs and the recent string of losses, McMillan didn't complete expect the news, delivered by Miller, that he had been fired after spending more than six years in Portland, where he amassed a record of 266-269.
"I wouldn't necessarily say [he was] surprised, because there have conversations over the week," Miller explained. "But [he was] probably taken aback."
McMillan wasn't alone. Two Blazers television broadcasters were live-streaming a video question and answer session with fans on the team's website when news broke on Twitter that McMillan had been fired. The two reacted in disbelief, hedged on whether to discuss the news and then quickly cut to a commercial break. Meanwhile, Ken Berger of CBSSports.com reported that important members of the organization didn't see the move coming, learning of the decision from media reports rather than internal communication. The Blazers did not publicly confirm the firing until hours after news first broke and Miller had to rush up from California, where he was attending an event with a sponsor, to meet with the media. He was so hurried that he hadn't yet changed out of a black Jordan Brand jumpsuit.
But all of that dysfunction is par for this course, old hat stuff when it comes to Allen's Blazers. If there was anything to be taken aback by -- for McMillan or anyone else -- it was the organization's choice to dump its coach while retaining Felton. 
McMillan, the consummate professional, watched as Felton showed up out of shape -- by his own admission -- to training campfollowing the lockout. McMillan listened as Felton publicly expressed frustration with him and his system despite instructions to address the issues man-to-man behind closed doors. McMillan benched Felton to give him some "time" -- like a father might do to a kindergartner -- and then begrudgingly reinserted him into the starting lineup after it became clear Crawford wasn't the answer at point guard. 
Felton's personality has been so toxic that one national report accused him of leading a "mutiny" with Crawford against McMillan while a newspaper writer referred to him as a "cancer and a crappy player."
Miller denied knowledge of a particular argument between coach and player(s) that reportedly led to the so-called mutiny."I don't have any knowledge of that incident or if an incident like that happened," Miller told CBSSports.com. "I have no knowledge of that."
Even so, members of the basketball operations staff were extremely frustrated when Felton chose to publicly air his grievances with McMillan's lack of confidence in him and with McMillan's offense, which he contrasted with the player-friendly system favored by former New York Knicks coach Mike D'Antoni. It was well out of step with the organization's desire for in-house resolution to conflicts and pristine character conduct standard.
Now, though, McMillan heads home as Felton stays on despite reports that the Blazers shopped him to "all 29 teams." Buchanan wouldn't elaborate on the state of Felton trade scenarios on Thursday, saying cryptically in response to a question that the team had explored ways to improve itself but that no deal involving the disgruntled point guard had been reached.
"We expect Raymond to finish out the season, the last 22 games, we hope that he can kind of bounce back," Buchanan said. "I know he's been frustrated with his play."
While Felton didn't depart, Wallace and Camby did. The Blazers shipped out two starters in deals that netted draft picks and younger prospects. The Blazers did well in receiving value for their pieces and their decision to admit that the roster was broken beyond repair deserves praise.
Portland also formally released Oden, the No. 1 overall pick in the 2007 NBA Draft, a long-overdue move necessitated by a recent microfracture surgery (the second on his left knee) that could prove career-ending. It was a roster move that, in conjunction with the firing of McMillan, serves to mark the end of a once-promising era in Portland. 
But throughout this season, as the play turned slowly worse, Miller and Buchanan steadfastly refused to entertain the notion that the team might be headed for a rebuild.
"It was time to set a new course for things," Buchanan said carefully on Thursday.
Finally, though, Miller relented, ever so slightly.
"You can call it a rebuild," he told CBSSports.com. "I would prefer to say re-tool. We still have LaMarcus. We still have Nic [Batum]. We still have a solid core of guys in place. Now we're trying to add to that. To me, a rebuild would be just blow everything up, start from the beginning. It connotates more of a negative to me. I don't think we're in that position. We're positioned to be competitive going into next season. A rebuild usually takes you longer than that."
Make no mistake, this project could easily take years. 
Aldridge and Batum are the only two above-average players left on the roster. Felton and Crawford figure to depart in the summer and none of the younger pieces have flashed significant potential. Portland will likely hold two lottery picks in the 2012 Draft and those players figure to get plenty of playing time next season, making immediate on-court success difficult. The Blazers will hold significant cap space heading into free agency, which could be their one ticket to avoiding an extended downturn.
The problem, though, is that life inside the Blazers is one long, extended crisis management session. Miller stressed how proud he was of his front office for making tough decisions under pressure on Thursday, much like the organization dealt with Roy's retirement, a health setback to Oden and a heart ailment issue for Aldridge when training camp opened in December.
"It's been written by some that because we don't have a 'general manager' in place, that's caused some problems for us," Miller said, striking as defensive of a tone as he's used in his time in Portland. "I think it's just the opposite. If you look at what we did today, there wasn't any sitting on our hands today. There wasn't any, 'We don't know what to do' or 'We're afraid to make decisions.' We made decisions today."
Reacting well and making tough decisions is a skill, but it's not a winning business strategy. The best
NBA
franchises create a structure with unquestioned order and trust, build management teams that craft long-term plans instead of just fire escapes, and create an environment where winning and effort are produced organically. None of that exists in Portland, at least not right now or in the foreseeable future. 
Miller said that the organization hopes to hire a full-time general manager after the end of the 2011-2012 season, with that GM helping to select the team's new full-time coach. Asked if those moves would be made in time for the 2012 NBA Draft, Miller told CBSSports.com: "Idon't want to set a timeline. We're going to get through the season and then we'll move forward. To me, with what Chad and his team have done, I think we're in good shape."
Miller and Buchanan: That's about all who is left, now that McMillan has joined Pritchard, Penn and Cho out in the pasture. Promising and hungry assistant coach Kaleb Canales will take over the reigns as interim coach for the remainder of the season, despite being five years younger (34) than Blazers forward Kurt Thomas (39).
"Nate was not happy with the way things were," Miller said, finally, before being whisked out of the room by the team's public relations staff. "The team was not putting out the kind of effort that he wanted to see, that any of us wanted to see. He acknowledged that. Nate wasn't happy. He understood there were issues. He understood the fact that we had to make the move we did."
In an institution without order and proper control, why shouldn't the inmates have been expected to run the asylum?