Blazers' Damian Lillard has turned clutch moments into 'Lillard Time'
Portland Trail Blazers' point guard Damian Lillard is turning clutch moments into Lillard Time, one snarl at a time.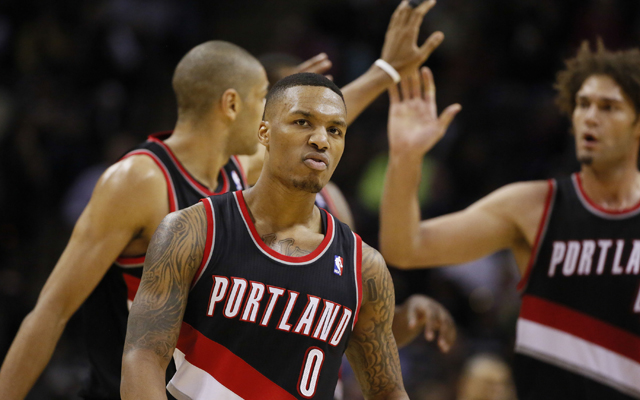 Lillard Time. 
It's a hashtag. It's a social media cue for Portland Trail Blazers' fans to unite in cheering during the fourth quarter of close games as they root on their team. It's a snarl. It's a warning signal to opposing teams that something wicked this way comes. Get to the final period of a game against the Blazers and have the gall to possess a lead or be within striking distance of a victory and you'll have to deal with Lillard Time.
That's when Damian Lillard starts muttering to himself. That's when the basket becomes an ocean and the 3-point line becomes his beach. That is the moment a buzz in the arena floods your senses, no matter where you are. The Blazers' second year point guard starts bringing the ball up the floor and you're at the mercy of his wrists as they effortlessly flick the ball to the hoop.
I caught it first hand when the Blazers were playing the Minnesota Timberwolves at the Target Center back in mid-December. The Blazers were on a fourth game in five nights and came out of the gates with a whimper against the Wolves. At one point in the game, the Wolves controlled everything going on, leading by 32 points. Lillard Time started a bit earlier than scheduled that night. 
Lillard seemed perturbed by the defensive effort of Ricky Rubio through the first half. Instead of letting Rubio redirect him with long limbs and quick feet, the Blazers' young star just began drilling long-range shots. He created space with his incredibly strong legs by jumping backwards as he squared his body to the basket and waited to use his fast-twitch muscles to catapult him into the air as soon as he landed for the jumper. 17 third quarter points later, Lillard had rallied his teammates into believing they could win that game.
He'd add nine more points in the fourth quarter to finish with 36 on the game. The Blazers cut an immense deficit to just five points with just under a minute left in the game. They'd end up losing but everybody walked away stating that Lillard Time was a terrifying experience. No lead was safe from it. 
"We did," Rick Adelman said when asked if he thought his team defended Lillard well." But I mean, when you pull up from 45 feet, you don't expect that. Usually if a guys does that and he misses one or two then that's about it. That fourth quarter he was just drilling it. We were on him, trying to bother the shot but it didn't seem to bother it too much."
That's the impression Lillard Time seems to leave. It's not up to you to stop it; it's only your job to endure it. In a brilliant Sports Illustrated piece by Lee Jenkins, the sense around the team from GM Neil Olshey to teammate Dorell Wright is that killer instinct resides in the point guard from Oakland.
"He is an incredibly humble kid from a good family," says Portland GM Neil Olshey. "He has a small-school sensibility and is active in the community. But the moment he steps on the court, he is a point guard from Oakland who will rip out your heart to win a game." When the Blazers trail deep in the fourth quarter and Lillard's expression turns to a snarl, forward Dorell Wright often asks, "You good, man?" Lillard fixes him with a hard stare. "No, I ain't good," he replies. "This stops here."

He sucks 10 deep breaths, a brief meditation, to calm himself. He pounds the ball. He sets the jaw. Oakland draws a line back to 1977. So does Portland.
Poring over clutch statistics -- with clutch being defined as a game within five points for either team with five minutes or less left in the fourth quarter or overtime -- Lillard stands out as an assassin on the court. Wonder why the Blazers have surprised the NBA world and jumped out to a 31-11 record that looks bound for 60 victories? The Blazers are impossible to stop in clutch moments, and that's mostly because these moments are Lillard Time.
Portland has the most wins in games with these "clutch situations." They're 17-8 in those games and have the best clutch offensive rating in the NBA at an absurd 126.6 points per 100 possessions. The big reason for this success by the Blazers is Lillard's play. Only Kyrie Irving, LeBron James, James Harden, and John Wall have more clutch points than Lillard this season. He's tied for fifth in the league with Kevin Durant.
Lillard shoots 45.5 percent from the field in these moments, up from the 41.4 percent he shot his rookie season. His clutch 3-point shooting is the deadliest in the NBA with the most made 3-pointers at 11. He's shooting 45.8 percent from downtown in tight games after just 31.7 percent last season.
He scores in a variety of ways in these moments but the one thing you'll always take away from them is his body control he possesses. 
If you're going to try to force Lillard into a bad shot, having him attack the rim is actually the best thing you can hope for. He's struggled in the restricted area this season while feasting with his pull-up jumper. Here's his clutch shooting chart for this season: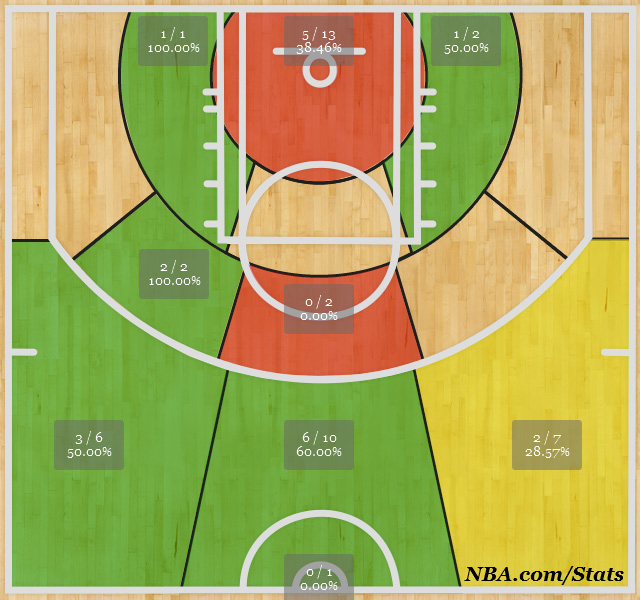 Considering he made 60.8 percent of his shots at the rim last season in clutch moments, finishing near the basket might not be something he's incapable of doing. But as long as he's utilizing the space his teammates give him to knock down big shots, he might not be forced to drive into areas he doesn't want to shoot from. He gets his shot from anywhere and he feels comfortable doing it.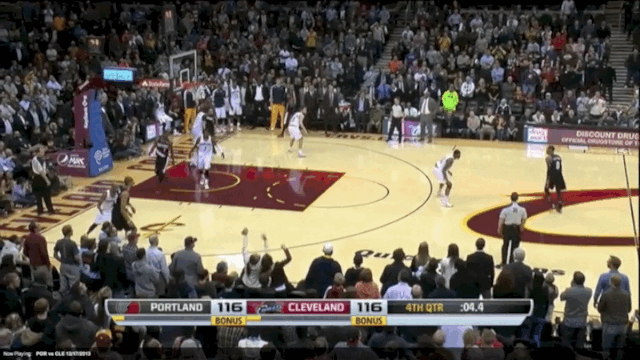 When he's calmly pulling up from well beyond the 3-point line and teammates are counting it as a make as the shot is leaving his hands, you're really just at the mercy of Lillard. Keep your hands up against him to at least make it a little more difficult for him but know that the moment is coming for you. 
The buzz in the arena, the snarl, the question from teammates of "You good, man?" and trending hashtag are all coming. That's just what Lillard Time is.
Porzingis is questionable for Carmelo Anthony's return to MSG on Saturday

The Spurs and Rockets will renew their in-state rivalry on Friday night

Anthony will play at Madison Square Garden on Saturday for the first time since being trad...
SportsLine's Mike McClure, a DFS pro with more than $1M in winnings, gives optimal lineup...

The Cavaliers won the much-anticipated matchup, 121-112

Two of the league's most interesting teams will meet on national TV on Friday night