Blazers extend qualifying offer to Nicolas Batum
The Portland Trail Blazers have extended a qualifying offer to forward Nicolas Batum.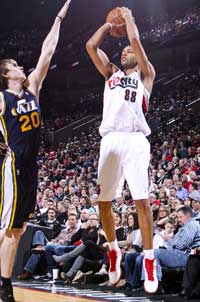 Nicolas Batum will be a restricted free agent.
(Getty Images)
The paperwork is the easy part; now comes the tough negotiations.
The Portland Trail Blazers announced on Monday that the team had issued a qualifying offer to forward Nicolas Batum, making the 23-year-old Frenchman a restricted free agent come July 1.
The Blazers opted not to extend Batum before the January deadline as they worked through a roster logjam at his position. Portland wound up moving forward Gerald Wallace at the trade deadline, allowing Batum to move back into a starting role permanently. He went on to average 13.9 points, 4.6 rebounds, 1.4 asists, 1.0 steals and 1.0 blocks in 30.4 minutes while shooting 45.1 percent from the field. Known as a two-way player, Batum is adept at knocking down the spot-up three, shooting 39.1 percent from deep on the season.
Portland has made every indication that they intend to keep Batum in recent months, both before and after hiring new GM Neil Olshey. However, Batum's agent has opted to take an aggressive approach, publicly expressing dissatisfaction at Portland's "lowball" offer in January. That's continued through to the summer, according to The Oregonian.
Olshey went as far as to compare Batum and teammate LaMarcus Aldridge to the Los Angeles Clippers' All-Stars Chris Paul and Blake Griffin, calling the Blazers' duo a "bedrock" of the future.

When Batum's agent, Bouna Ndiaye, heard the comparison Monday night, it was music to his ears.

"I like that," Ndiaye said, laughing. "Give me Chris Paul money and we will not be fighting too long. Just close your eyes and choose between Chris Paul and Blake Griffin and I'll be fine with that. Give me one of those contracts and you'll have a deal."
Batum, clearly, does not approach the max level inhabited by Paul and (soon to be) Griffin. But he ranked in the top 10 of CBSSports.com's Top 40 Free Agents, and he should wind up commanding an offer somewhere in the 4-year, $35-40 million dollar range.
Back in April, Batum said during his exit interview that he was "99 percent" certain he would be back with the Blazers next season. Nothing has changed in the interim to suggest otherwise. The only question is price.
Fergie: 'I'm a risk taker artistically, but clearly this rendition didn't strike the intended...

Victor Oladipo had a successful R&B album over the offseason and Jamie Foxx is a fan

Klay Thompson makes sure he stands out during All-Star Weekend
There's no shortage of moments to choose from

The Trail Blazers almost traded for Charles Barkley, but when they didn't, it put them in debt...

The self-proclaimed ASG snub Williams may be bitter about Butler requesting to sit out Sun...