Blazers GM: LaMarcus Aldridge 'happy,' never asked to be traded
Portland Trail Blazers general manager Neil Olshey came out and said the team isn't trading LaMarcus Aldridge and that Aldridge is "happy."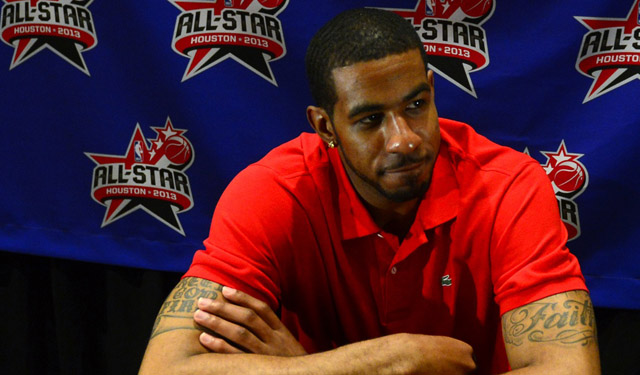 When a team looks like it might be floundering, you start to see the vultures circle. In the case of the Portland Trail Blazers, they lost 13 straight games to finish last season and during the month of July, there were rumors that LaMarcus Aldridge might want to be traded. Considering the Blazers had just found a gem with Rookie of the Year Damian Lillard, it made sense for general managers around the league to start trying to find ways to pluck Aldridge from the roster and hope the Blazers just wanted to go into a full-on rebuilding mode.
However, that didn't happen. The Blazers talked with Aldridge and his agent, made some significant moves to upgrade the center and bench positions this offseason, and now look like they're ready to make a playoff push. Blazers' general manager Neil Olshey introduced Mo Williams as the latest Portland acquisition on Thursday and addressed the LaMarcus Aldridge "situation" by letting everybody know that his big man is happy with everything. From BlazersEdge.com:
Where do LaMarcus Aldridge trade rumors come from?

"I think it comes from all you [media] -- everybody fighting to be first with inaccurate information. I can tell you, LaMarcus Aldridge, you guys have known him longer than I have. And if he had asked to be traded, he would have told people that he asked to be traded. He never asked to be traded.

"The fact that I had breakfast in a hotel lobby with [Arn Tellem], one of my oldest and best friends who I worked with for seven years, who also represents Robin Lopez and Dorell Wright, along with LaMarcus Aldridge, probably doesn't lead to the fact that we're trying to trade LaMarcus Aldridge.

"But, you know, like I said, it's part of the business. LaMarcus understands it. He ignores it. If [Aldridge requesting a trade]  was the case, we'd be dealing with it. It's not. He's happy.

"I think last year was a tough year for everybody. Portland is not a market that accepts losing. We'd tried not to rebuild but we always tried to be somewhat judicious in terms of how much future flexibility we gave away. To be honest with you, that's the results of this offseason. Had we done more minor moves and put more assets in play, moved more draft picks, there wouldn't have been a [Thomas] Robinson or a Robin Lopez. If we had given long-term deals to guys we weren't totally sure on, there wouldn't have been a Mo Williams today.

"I think what LaMarcus sees now -- like what you just brought up -- there is a plan. And we're executing the plan and we're going to stay disciplined and stay diligent about getting there as quickly as possible without jeopardizing the long-term health of the franchise.

"One thing we have to remember: LaMarcus is only 27. He's been here a long time but he's a young player in our league, in terms of how long his career is going to be. It will all work out really well in the end as long as we all stay on the same path."
There is quite a bit to digest here, but the fact that Olshey is still dealing so freely with Arn Tellem, Aldridge's agent, does show you a little bit about the situation. There are a lot of "you scratch my back, I'll scratch yours while signing your crappy client" dealings in the NBA. It's just a part of sports in order to keep pipelines for talent open to certain general managers by having a good relationship with the agents. The role of a decision-making executive for an NBA team is basically like being in politics.
Trading for Robin Lopez this offseason was something the Blazers could have done without Tellem asking them to or essentially giving permission. But the Dorrell Wright signing, when a team like Oklahoma City Thunder was potentially in the running for his services, shows a little sign of potential good faith. That's not to say there is anything underhanded going on with that signing; I doubt there is. But if an agent really wanted a big client of his out of town, it's unlikely he'd allow a fairly valuable role player sign there in the same offseason.
If the Blazers had another offseason like they did last summer and not made significant moves to upgrade the roster and give Aldridge help, we'd probably be dealing with different comments from Olshey and maybe even Aldridge. But the Blazers greatly improved the support surrounding their star player and probably avoided a potential trade request crisis.
It doesn't mean they won't deal Aldridge in the future; it just means both parties seem happy right now.
Galin Dragiev has his finger on the pulse of Cavs basketball and just locked in a play for...

Coming off a win over the Spurs, the last-place Mavericks will try to get another upset victory...

Lonzo Ball and LeBron James will meet for the first time
Toronto looks different this season thanks to a new system and the emergence of several young...

December 15 marks the day that teams can begin trading their newly acquired free agents

Magic Johnson and Rob Pelinka wanted Ball to tone down his criticisms of Lakers coach Luke...