Blazers GM Olshey doesn't want question about Aldridge trade
Portland GM asks media to "get over it" when it comes to power forward's reported unhappiness with the team.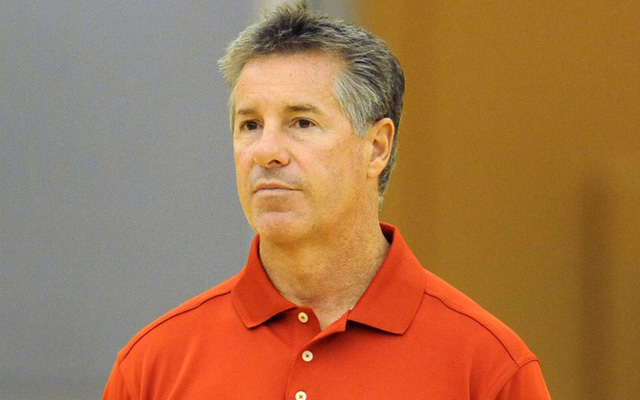 All summer long, Portland Trail Blazers GM Neil Olshey dealt with questions about LaMarcus Aldridge and whether he was unhappy or wanted a trade, after a report indicated that Aldridge had asked for a meeting during Summer League to discuss issues with the team.
Olshey said in August that Aldridge was happy. Aldridge said last month he was frustrated last year but that he didn't want a trade. Then at Media Day, the subject came up again, and, well, Olshey snapped a little bit. From BlazersEdge: 
Rumors around LaMarcus Aldridge

"Oh dear God, would you guys get over it? How many -- asked and answered. Thank you [to Chris Haynes], by the way. What else, guys? Show me a media report where LaMarcus Aldridge has said anything other than, 'I hope the team improves, I'm excited about what we did, I want to get better and I want to win.' Then we can have a conversation. Until then, let's move on. OK? Is that possible.

"It's not breaking news, dude. We covered it in July. Guys, let's talk about something, someone has got to have a better question than that."

How was your summer?

"Thank you. LaMarcus and I went hunting and fishing and talked about Portland. Lord. I would avoid that one with him because you may not get as congenial of a response, because the redundancy of it is wearing on everybody a little bit."

Fans still wonder about it

"Why? Why do they? What have they read that has indicated anything other, here's Ben Golliver from Blazersedge, who basically copies and pastes every article that's written about everybody about the Trail Blazers. Which he does and it's great.

"And the entire string that Ben showed, right, the entire string around LaMarcus, other than one, said, 'I want to get better. I want to win. I want to be on a playoff team. I don't want to go through a rebuild.' Right? 'I like what we did this offseason. I haven't given Neil a chance yet. I like what we did. I like the additions. I'm excited about coming back. I never asked for a trade.' Every one of them. So I don't know where you're getting this from? Where? Where are you getting this from? Guys, move on."

Renewed motivation from LaMarcus Aldridge?

"I don't think LaMarcus's motivation ever waned. The guy averaged 21 and 9, he was a two-time All-Star, led us in scoring and rebounding, barely missed a game, was on the floor the last night of the season after we were eliminated and had 30 and 20. Where would he need to be reengaged? If LaMarcus can get 30 and 20 every night, he can be whatever he wants to be.

"Look, if LA wasn't happy, he wouldn't be here. He's got a really good team around him, we've supported him with veterans. We've continued to do what we need to do in terms of bringing young talent in here. We've kept our long-term flexibility, we have the ability to aggregate our assets and put those into play, if it gets to that point, where we can put another star around him and Damian [Lillard] and some of the other guys.

"If there was an issue with LA, don't you think somebody nationally would have gotten to this? He's represented by the most powerful agency in the business. Don't you think somebody nationally would have gotten something if the guy wasn't happy and didn't want to be in Portland?"
via Blazers GM Neil Olshey On LaMarcus Aldridge Trade Rumors: "Oh Dear God" - Blazer's Edge.
Whoa, whoa, easy there, NeilO! Put the six-shooters away! 
Olshey's clearly frustrated by the situation, or lack thereof. The team was good last year with a terrible bench. He improved the bench over the summer, and Aldridge has two more years under contract. He shouldn't have to worry about his big star leaving his small market for another 12 months. And in that time, the Blazers could build some momentum. 
Meanwhile, any discussion of the situatio hurts Olshey's leverage should Aldridge change his mind or the team decide to cash in early on his trade value. For right now, though, the team's going to be good with Aldridge on it, and there' no reason for concern. Guys have to ask, and Olshey shouldn't freak out, but there's isn't a "there" there, so to speak. 
Now, if the Blazers do struggle and Aldridge finds his role compromised by the development of Damian Lillard, that's a different deal. But we've got some time on that. Until the, maybe don't bring it up to Olshey for a while. He seems a bit ... sensitive about it. 
If Chicago was fleeced -- the prevailing thought -- when dealing its star, so were a lot of...

I.T. is optimistic about returning in time from a hip injury, but it all depends on how things...

Noel, now being represented by Rich Paul of Klutch Sports, reportedly feels he's worth a max...
Steve Kerr opens up about his back issues and more

OJ Mayo, banned from the NBA for positive drug test, is considering playing overseas

The King? 'LeBron, it turns out, is Aquaman,' or so the account via Dwyane Wade's wife goe...