Blazers hold players-only meeting after loss to Spurs
With their record spiraling, the Blazers are trying to right things by talking things out with one another.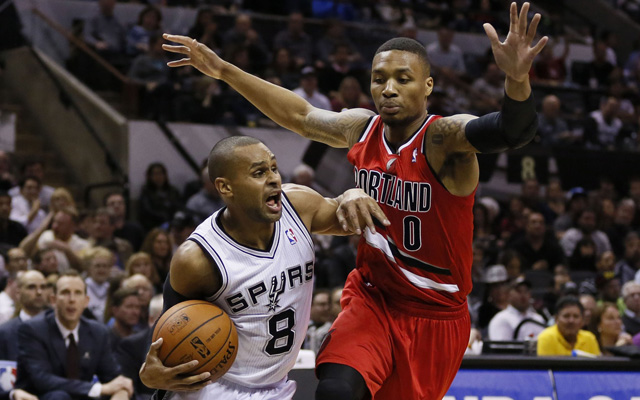 More NBA: Power Rankings | Expert Picks | Latest news, notes
The Trail Blazers are tumbling down the hill at an alarming rate. They were first in the West for the first two months of the season. They've fallen to No. 5 and Golden State is closing in. Portland is now 9-11 in their last 20 games. It's getting bad. 
Portland lost to San Antonio Wednesday in a game the Spurs lead comfortably for most of the night. Afterwards, the team got together to have a little chat and try and resolve things. 
After the Portland Trail Blazers fell to the San Antonio Spurs 103-90 on Wednesday night -- losing their fourth straight game, which happens to be their longest losing streak of the season -- the players had a post-game hash-out session that was initiated by Damian Lillard, CSNNW.com was told.

Earl Watson, Mo Williams and Dorell Wright were amongst some of the players to vocally address what was going on and what needed to change from here on out, we're told.

"I just felt like it was something that needed to be said," Lillard responded when ask why he initiated the dialogue. "At some point, it's up to the players."

The players maintain that there's no desperation in the locker room. The session was solely meant as a means to eliminating issues from reoccurring.

"It's time for a players-meeting when we see a little slippage," Wright said. "Every team has two or three a year. I love the fact that this was the only one this season where guys really had to step up and be vocal leaders.

"And the best thing about it, we got vets in here that have been through things and young guys that have been through things as well and understand when it's time to speak up. That's what guys did tonight."
via Blazers have first hash-out session of season following fourth straight loss | CSN Northwest.
It's a big late in the season for the "players only meeting" gag. It happens, but it doesn't happen to teams that right the ship and go on to make a playoff run. In reality, what we're likely seeing is their natural regression. We saw the same thing happen last year, where they were a playoff team for most of the year before falling back into the lottery. This year, we thought they'd be a playoff team, but not a top seed. 
After a blistering start that saw them face many of the tougher teams in the league on back-to-backs and win an absurd amount of close games, those numbers have come back to where you would expect them. 
But they still have a chance to do some damage in the playoffs if they can get things right. But slipping any further would be bad. Portland doesn't have the athleticism to hang with OKC or the execution level to give the Spurs trouble. 
Maybe the meeting will change the momentum. Something needs to. 
Right before Wiggins hit his shot, Carmelo Anthony hit a 3 to put the Thunder in front

The Suns firing Earl Watson three games into season is second-quickest firing in NBA histo...

Bledsoe tweeted, "I Dont wanna be here"
Giannis had his hand on McCollum's hip when he poked the ball away

Teodosic had to leave the Clippers' game Saturday night against the Suns

Irving said recently that he does not regret the profane outburst