Blazers' Meyers Leonard, Sixers' Daniel Orton suspended one game
After both being ejected for a short scuffle Saturday night, Portland Trail Blazers' center Meyers Leonard and Philadelphia 76ers' center Daniel Orton have been suspended one game.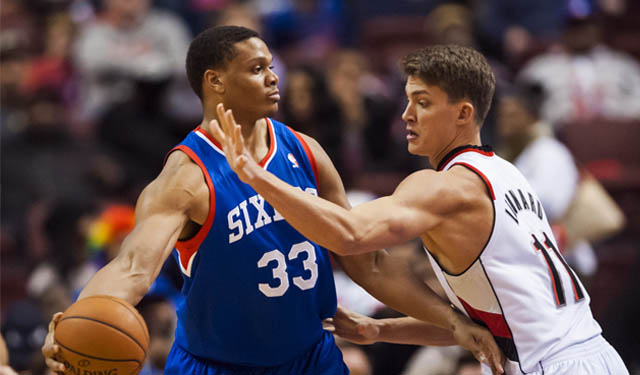 During the blowout win by the Portland Trail Blazers over the Philadelphia 76ers Saturday night, we had a kerfuffle in the fourth quarter when the game was already well-decided. With the Blazers up 126-92 in the middle of the fourth, Daniel Orton and Meyers Leonard got tangled up in a battle for post position. One thing led to another and all of a sudden Leonard had thrown Orton to the ground, followed by Orton elbowing Leonard in the mouth.
The NBA wasn't happened with this scuffle and have suspended both Orton and Leonard one game a piece without pay. From the NBA: 
Portland center Meyers Leonard and Philadelphia 76ers center Daniel Orton have each been suspended one game without pay after Leonard initiated an altercation by body-slamming Orton to the floor, and Orton retaliated by elbowing Leonard in the mouth. The incident occurred with 7:19 remaining in the fourth quarter of the Trail Blazers' 139-105 win over the 76ers on Saturday, Dec. 14, at Wells Fargo Center.
You can watch video of the scuffle here.
The Blazers' next game is Sunday night against the Detroit Pistons and the Sixers' next game is Monday night against the Brooklyn Nets. It's expected that both players will serve their respective suspensions in those games.
The Hall of Famer's jersey was retired by the Celtics in 1982

It's rare to see a legit punch in an NBA fight, but this was definitely one of them

We've got all the scores, highlights and news from an NBA Tuesday
The former Slam Dunk Contest champion will take his talents to Tri-State

Do NBA players have look-a-likes from famous paintings? We found out on the new Arts & Culture...

Larry Hartstein is on quite a run in picks involving the Suns and the Trail Blazers