Blazers' Nicolas Batum breaks finger on non-shooting hand, won't sit
Portland Trail Blazers forward Nicolas Batum broke his middle finger on his left hand against the 76ers but isn't expected to miss any time because of it.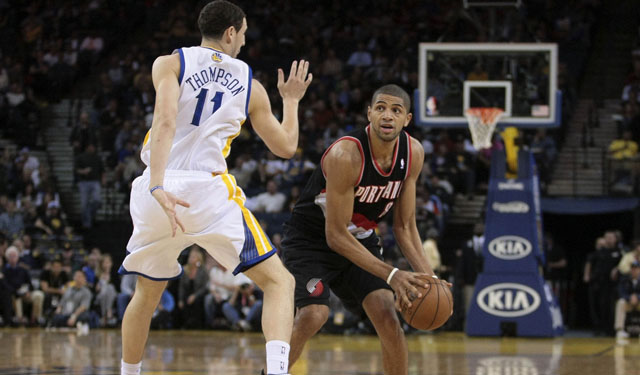 Nicolas Batum isn't going to let a little broken middle finger on his non-shooting hand keep him out of the lineup. The Portland Trail Blazers' forward got the finger caught on Evan Turner's jersey during the Blazers' loss to the Philadelphia 76ers Saturday night. The finger popped out of place and had to be popped back into place at the end of the 101-99 loss. 
According to Chris Haynes of CSNNW.com, the middle finger on Batum's left hand is broken as a result of the play. However, don't expect Batum to miss any time because of it. He plans on playing through the injury since it's not on his shooting hand.
Nicolas Batum broke the middle finger on his left hand in the final seconds of the Blazers home loss to the 76ers, a source tells CSNNW.com Blazers Insider Chris Haynes.

Coach Stotts said postgame he initially believed it was a dislocation. Batum later confirmed that the finger did, in fact, pop out.

The play that led to the broken finger occurred with 14 seconds remaining in the game on an inbounds play to Evan Turner. 

"It just got caught up in his jersey," Batum said. "I didn't really realize it until five or ten seconds after it happened when I shook my hand around."
The team is calling the injury an "avulsion fracture" to Batum's middle finger and say he's probable for Tuesday's game against the Kings.
X-Rays confirm an avulsion fracture to @nicolas88batum's left middle finger. He's probable for Tuesday night's game against the Kings.

— Casey Holdahl (@CHold) January 5, 2014
In the Blazers' resurgent start in which they've gone 26-8 to begin the season, Batum has been instrumental to their success. Batum's facilitating within the offense has helped the Blazers post the best offense in the NBA at 110.1 points per 100 possessions. He's averaging 13.5 points, 6.4 rebounds, and 5.4 assists. He's second on the team in net rating at a +8.7 points per 100 possessions, just behind LaMarcus Aldridge at +8.9. 
A report last week indicated Charlotte is looking to move Walker, along with one of its hefty...

Barea responds by claiming that none of Wall's teammates like him; the Wizards continue to...

Cousins finished with 44 points, 24 rebounds, and 10 assists
Love left Saturday's game, which the Cavs lost 148-124, due to illness

Kidd was fired by the Bucks on Monday afternoon

We've got all the scores, highlights and news from an NBA Monday