Blazers retain Nicolas Batum after matching Timberwolves' offer sheet
The Portland Trail Blazers retained restricted free agent forward Nicolas Batum by officially matching a Minnesota Timberwolves offer sheet Wednesday.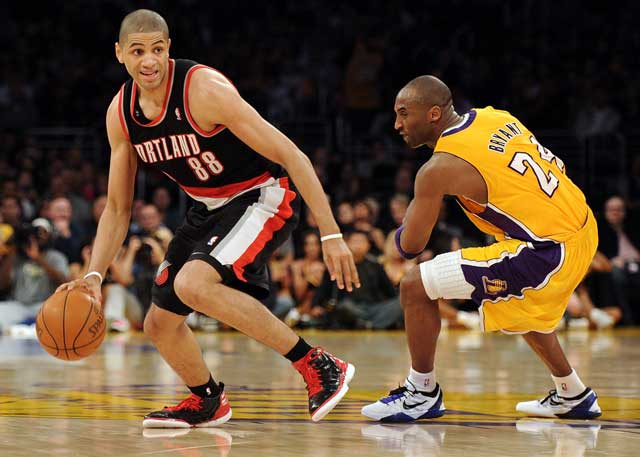 Nicolas Batum is heading back to Portland after the Blazers matched a Timberwolves offer sheet.
(Getty Images)
LAS VEGAS -- The symbolism writes itself sometimes.
Portland Trail Blazers GM Neil Olshey told a small group of reporters outside the Mandalay Bay on Wednesday that his team was officially matching a reported 4-year, $46.5 million offer sheet extended to restricted free agent forward Nicolas Batum by the Minnesota Timberwolves. As Olshey began making his comments, a Brinks truck pulled up curbside, not 30 feet away.
Indeed, it was a big haul for Batum, 23, a native of France who has spent his 4-year career with the Blazers. Portland's decision comes after weeks of speculation and rumors involving potential sign-and-trade scenarios. Batum at one point said publicly that his preference was to play with the Timberwolves, but he acknowledged throughout the negotiations that he expected the Blazers to retain him.
"The decision [to retain Batum] was made a long time ago," Olshey said. "We were never not going to have Nicolas back."
Batum averaged 13.9 points, 4.6 rebounds, 1.4 assists, 1.0 steal and 1.0 block per game last season. He plugs in as Portland's starting small forward for the 2012-13 season, joining All-Star forward LaMarcus Aldridge and guard Wesley Matthews as the team's three key returning pieces.
His role has been varied during his time in Portland. Batum started at small forward during his rookie season out of necessity due to an injury to forward Martell Webster. A 2011 trade for Gerald Wallace relegated him to the bench. At various times, Batum has also played the two guard and power forward positions. The new contract coupled with Portland's trade of Gerald Wallace to the Brooklyn Nets at the 2012 trade deadline clearly sets a steadier course for Batum going forward.
"Nicolas respects the responsibility that he's going to be held to a higher standard now," Olshey said. "He's in a leadership position. He's one of the higher paid players in the league at his position and I know he wants to embrace that and have a bigger role on the team on a daily basis."
The 4-year contract will carry Batum through his mid-20s. A long, smooth forward, Batum is regarded as a good defender and a solid 3-point shooter. His off-the-dribble game is limited but he's good at finishing after cutting to the hoop; He willingly defends multiple positions and has a knack for executive chasedown blocks.
Olshey did his best to move past what was an ugly few weeks of negotiations. The acrimony began back in January -- well before Olshey was hired in June -- when the Blazers and Batum were unable to reach agreement on a contract extension. Batum's agent, Bouna Ndiaye, voiced displeasure in the media, saying that the Blazers "low-balled" his client and promising to court outside offers rather than negotiate a new contract directly with the Blazers. That noise grew louder during the summer, when both Ndiaye and Batum went public with Batum's desire to play for the Timberwolves. 
Minnesota, for its part, pulled out all the stops, waiving Webster, using the amnesty clause on Darko Milicic and trading Brad Miller in order to clear maximum salary cap room to make the big-dollar offer to Batum. Timberwolves ownership and management met with Batum when free agency opened, selling him on playing for coach Rick Adelman in a motion offense and playing alongside Spanish point guard Ricky Rubio.
The circumstances didn't play well among fans in Portland, where loyalty is a precious commodity. While Olshey admitted on Wednesday that the Blazers and Timberwolves did broach sign-and-trade discussions, he said that Batum's public posturing was a different song than what he was singing behind closed doors.
"Nic made a couple of comments at the behest of the Minnesota Timberwolves and his agent," Olshey said. "That was their agenda, it was never Nicolas's agenda."
"He always wanted to be back in Portland," Olshey continued. "I think he would have liked to have done the deal straight up just like I would have. But he listened to his representative and that's his prerogative. His representative did a great job. He got him a hell of a deal."
He sure did. While Olshey disputed the reported $46.5 million figure, noting that the NBA league office apparently "disallowed" some of the incentives included in the original offer sheet, Batum is set to be paid significantly more than comparable players. Milwaukee Bucks forward Ersan Ilyasova agreed to a 5-year deal worth a reported $40 million, the New Orleans Hornets gave forward Ryan Anderson a 4-year deal worth a reported $32 million in a sign-and-trade with the Orlando Magic and the Denver Nuggets extended forward Danilo Gallinari on a 4-year deal worth a reported $42 million back in January. Batum will make more, per year, than all three players.
The deciding factor in the size of that pay day, league sources tell CBSSports.com, was Blazers owner Paul Allen's stubborness in retaining Batum. Allen, the billionaire co-founder of Microsoft, was unrelenting in his desire to match any offer made to Batum, even when his price soared past the expected market value price range of $36-40 million over four years.
"Can he live up to the value of the contract? We think he can," Olshey said. "There was never a [sign-and-trade] package that even came close to reaching the value of having Nicolas on our roster at his age, growing with LaMarcus and Wes and the young guys we just brought in."
The Blazers, who missed the playoffs for the first time in four seasons in 2011-12, will move forward in a rebuilding effort with the trio of veterans plus 2012 Draft Lottery picks Damian Lillard and Meyers Leonard as their core pieces. There's no question, given those circumstances, that the Blazers need Batum to emerge into the top-level small forward his new salary demands.
The Hall of Famer's jersey was retired by the Celtics in 1982

It's rare to see a legit punch in an NBA fight, but this was definitely one of them

We've got all the scores, highlights and news from an NBA Tuesday
The former Slam Dunk Contest champion will take his talents to Tri-State

Do NBA players have look-a-likes from famous paintings? We found out on the new Arts & Culture...

Larry Hartstein is on quite a run in picks involving the Suns and the Trail Blazers