Blazers talking to Clippers, Bobcats and who else about Jamal Crawford?
The Blazers have been shopping guard Jamal Crawford hard the past few weeks and could maybe have found a trade partner in the Bobcats. Or the Clippers. Or someone else. Who's it going to be?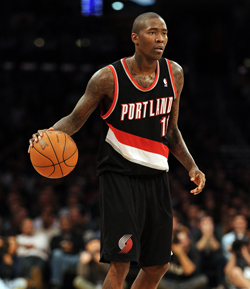 Jamal Crawford could be headed out of Portland just months after he arrived.
(Getty Images)
The Blazers seem to
really
want to trade Jamal Crawford.
They've been talking with
a number of teams about Crawford
, most recently the Pacers and
as HoopsWorld reports
, a deal is coming. The question is, who's it going to be with?
Ken Berger of CBSSports.com offers this
:
The Blazers and Clips are discussing a deal that would send Jamal Crawford to L.A. for Eric Bledsoe and Ryan Gomes, sources say.
And NBA.com has this one
:
So, now, according to a source, there's a chance Crawford winds up with the Bobcats in a potential deal for guard D.J. Augustin. Augustin has played just fine this season, but he's expendable now that Kemba Walker is there.
The Blazers obviously want a point guard (not named Raymond Felton). Bledsoe is a nice young player that isn't especially needed with Chris Paul running Lob City. And with Chauney Billups lost for the season, the Clippers have a lot of need for a scorer like Crawford.
The Bobcats are fine moving Augustin because they have the rookie Walker, who needs more playing time. Crawford is making $5 million this season and has a player option next year worth $5.2 million. The feeling has been he wouldn't exercise that and would look to land a better free agent deal this summer. Which if he's stuck in Charlotte with a bad team, he'd probably exercise it to get out regardless.
So the Bobcats could clear a bit of cap space, potentially, and make room for Walker. Problem is, the Bobcats aren't going to take back salary without getting a pick and/or compensation. That's not general manager Rich Cho's style and that's certainly not in Michael Jordan's interest. There's just no way the struggling Bobcats are going to lose money in a deal.
The Blazers though can't offer a first-round pick. They have one in 2012, but since they've already dealt their 2013 first rounder to Charlotte in the Gerald Wallace deal, they can't trade their 2012 one because of the
Ted Stepian Rule
. Which means the Blazers might need to involve a third team if that's the deal they want done.
And if the deal finds a way to happen and Augustin joins the Blazers, Felton might as well just got sit at the airport. Because he's certainly not going to be part of the team's future.
Another destination for Crawford has been rumored to be Minnesota, but that's much less likely now that Luke Ridnour wouldn't be part of a package back to Portland seeing as Ricky Rubio is done for the season.
Portland might have to keep shopping for that point guard or prepare to offer up a little incentive for Charlotte. Taking back a bad contract could be part of it. But the lesson here is, Jamal Crawford might want to start packing. Because he could be on borrowed time in Portland.
A dive into the NBA history books for every result from every NBA All-Star Game

James set the tone during practice that this year's All-Star game was going to be differen...

The 76ers center handled 'mismatches' like they were nothing
LeBron James says he will continue his social activism no matter what people say about him

The 76ers guard is in hot water after a controversial video surfaced showing him using a racial...

LeBron James earned his third career All-Star Game MVP award