Blueprint for LeBron James' Decision 2.0 looks very familiar
How LeBron James and his crew will handle the free agency frenzy surrounding his potential free agency in 2014.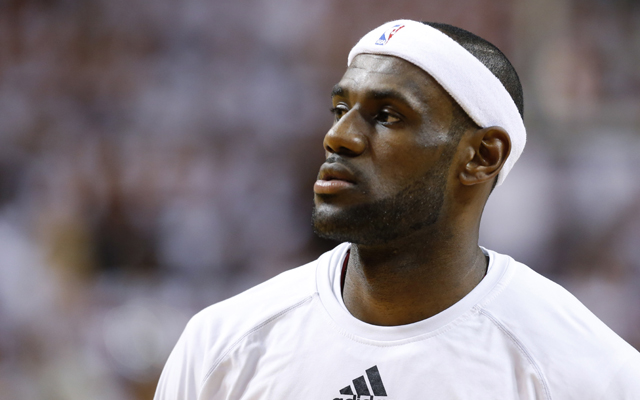 There is a blueprint in place.
LeBron James knows it, because he helped write it. Before The Decision, before the Miami Heat and two championships, before the failure of 2011 and the satisfaction of 2012 and 2013 was The Year Before. In 2009, James was entering the final year of his contract with the Cavaliers. For a year he had joked and entertained discussion about where he would go. He would openly discuss the concept with reporters.
But then, Dwyane Wade mentioned that he and James had spoken of playing together before. Suddenly, James told reporters in November 2010 that he was through talking about it. That was it. Lock, stock, and barrell, he was through.
"You know, this free-agent talk is getting old," he said testily, adding, "I think tonight will probably be the last time I answer any more free-agent questions until the off-season."

On its face, it looks like a calculated, reasoned decision to spare his team from a continuing distraction. The only problem with that conclusion is that the comments came at the end of a seven-minute session with reporters, and only after James –- without a hint of distress — had genially answered two questions on the subject.

The discussion on Wednesday was fueled by the Miami Heat's Dwyane Wade, another member of the star-studded 2010 free-agent class. Wade told Miami reporters that he and James, who were Olympic teammates in 2008, had occasionally discussed playing together in the N.B.A. The Heat will have enough salary-cap space to sign an elite player next summer.

Asked about Wade's remarks, James said, "Me and D-Wade, we've been friends for about seven or eight years, so we've talked about a lot of things. It may have come up in a conversation."
via LeBron James Says Hes Done Talking About Free Agency -- NYTimes.com.
This is the blueprint. That final year is one where you don't talk about it. You talk about your team, and how much you love them, the fans, the owners, the team, the city. You stick constantly to a series of lines that guide you through.
"I'm just trying to focus on this season, with this team."
"I don't know what's going to happen."
"It's not fair to my teammates to talk about something that might distract us from what we're all working so hard for."
"There's no use talking about something so far away."
"I'm not even thinking about that stuff."
And the biggest one.
"We'll see."
This is how you survive the media gauntlet of free agency for a star, and it's a carefully crafted approach that accomplishes two goals. It keeps the fans and media on your side, preventing them from being able to lash out at you for betraying your team. It also does not commit you to anything. No promises, no guarantees, no assurances, no "leaning toward." You are at once thrilled about playing with the team you're on, and keeping your options open.
It's a message Carmelo Anthony pulled off publicly but failed to manage internally, as trade demands and internal strife leaked. It's one that Dwight Howard failed miserably at, taking the bait constantly to stroke his ego and revel in his imminent freedom. He rubbed it in the face of two franchises and then left them buried in his wake.
But James? James was disciplined. He jerked everyone's chain for years about his free agency, but once that last year came, he buckled down. There was speculation in whispers, reports and anonymous sources, complete with reasons why he was going to Chicago, New York, LA, Miami -- or reasons he wasn't going anywhere. There was nothing that year. His team handled it, kept it on lockdown. James' attitude may have been reveling in that freedom, smugly knowing what he was doing, but the sound bites followed the blueprint.
Which brings us to Tuesday and the kickoff of The Decision 2.0.
"I have absolutely no idea," James recently told ESPN.com. "I would love to spend the rest of my career in Miami with this great team and great organization as we continue to compete for championships. That's ideal. But we don't know what may happen from now to the end of the season. That's the nature of the business. It's the nature of not knowing what tomorrow brings.

"I mean, as a kid, I never thought the Bulls would break up. Never. If you'd of told me as a kid that [Michael] Jordan and [Scottie] Pippen wouldn't play together for the rest of their lives, I'd have looked at you crazy. And Phil Jackson wouldn't be the coach? I'd have looked at you crazy. But sometimes the nature of the business doesn't allow things to happen like you would want them to. But we'll see."

"I owe it to myself, I owe it my teammates and I owe it to the Miami Heat to stay focused," he said. "As a leader, I'm not even going to let that side of the business get me unfocused on what I'm trying to do and that's trying to win another championship.

"I'm going to try to [stop the discussion about free agency], but you always have reporters who are going to always bring it up. They're going to change the question and make it sound like something else. But it will get to a point, if I continue to hear it, where I will say, 'Hey guys, I've answered the question and out of respect, let's talk about this after the season.' "
via LeBron James of Miami Heat focused on season, not free agency - ESPN.
You notice what he did there? "We'll see." "My teammates." "No idea." It's all part of the plan. What was surprising about The Decision wasn't just the audacity of it, it's that it came from a management team that had been so careful with James. It was a crushing miscalculation. James owns pieces of soccer teams and branding concepts. He's ingratiated himself with business leaders and entertainment icons. He's made himself into something more than a basketball player.
And yet he sat there in that ridiculous checkered shirt and turned his back on Cleveland, making himself into the sports world's greatest villain for 23 months. Then, just as Michael Jordan adjusted his game, vanquished his demon and started his title streak, James took back the throne.
There are always the possibility for a major upset. Someone else could win the title next season, but the Heat enter as the prohibitive favorites, the two-time defending champions. In 2010, he was arguably the world's greatest player, but he wasn't verified. The rings weren't on his fingers, there were still holes in his game, he still seemed human. Now?
He's more like some emperor built into mythology. And he could very well wind up on the open market. But don't expect hints or signs. There will be reports and analysis and a whole lot of (probably unnecessary) discussion because the interest is there. He's the most iconic player in the NBA today with free agency on the horizon after having concluded the most stunning summer for a player ever three years ago. So, yeah, this is going to be a thing.
But let's be clear on one thing. There's a plan. There's always a plan, a blueprint, a design.
Not letting us in on it just happens to be a huge part of it. The real question on everyone's mind is whether this one will lead to such a disastrous process (The Decision), and such a validated result (two championship rings) the next time around. 
LeBron had 29 points, 11 rebounds, and 10 assists in the Cavs' 109-100 win over the Jazz

The montage showed Carmelo's best Knicks moments before playing the Thunder game

KCP can't leave California for 25 days due to the terms of his pleading guilty to a misdemeanor...
Keep it right here for all of the news, notes, scores and highlights from around the leagu...

LeBron tried to keep what he said a secret, but one mic on the court picked it up

SportsLine's Mike McClure, a DFS pro with more than $1M in winnings, gives optimal lineup...