Bo McCalebb hits free agency, several NBA teams interested
Point guard Bo McCalebb might finally be coming to the NBA after leaving Fenerbahce.
• 1 min read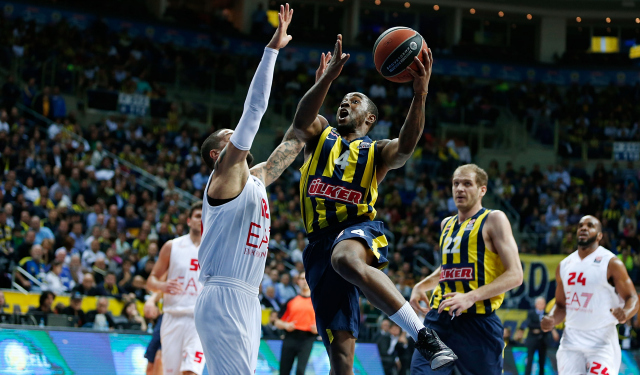 More Offseason Analysis: Coaching changes, news | Free Agency | Draft
Bo McCalebb is a free agent, and the point guard might finally make the jump to the NBA. He has been on the league's radar for years, and spent the past two seasons playing for Fenerbahce.
Via email, Eric Fleisher agent for Bo McCalebb confirms client is an official free agent without a buyout of any kind.

— David Pick (@IAmDPick) June 30, 2014
Bo McCalebb is open to exploring the NBA, his agent tells me. "He has skills to make an immediate NBA impact."

— David Pick (@IAmDPick) June 30, 2014
With Bo McCalebb now a free agent and NBA buyout fee gone, NBA teams have expressed interest, I've been told. Spent six seasons in Europe.

— Jeff Zillgitt (@JeffZillgitt) June 30, 2014
Undrafted out of the University of New Orleans in 2008, McCalebb has taken the long road to professional basketball relevance. He's starred for Macdeonia in international competition and scored efficiently in Europe. 
McCalebb is an interesting, last-minute addition to the free-agency pool, and he'll immediately insert himself into front-office conversations. Might he, at 29 years old, be a better signing than Steve Blake? How about Devin Harris? It's hard to know, as he's never played in the league, but McCalebb's ability to get to the basket and shoot from long range suggests he'll be a solid option as a backup. 
The Lakers power forward invited her as a guest to an NBA game in Los Angeles

LeBron called a report that he would beat up Kyrie Irving 'not facts'

There are still some gems to be found in what amounts to the NBA's summer scrap heap
It seems The King is unhappy after being hearing about the point man's request to be dealt

Irving wants to play on his terms, and may be willing to throw away winning with James to do...

Can the former MVP be a healthy contributor to the reigning East champs amid organizational...