Bob Barker to Penny Hardaway: Journey down the rabbit hole
One of the greatest game shows of all time can get you to one of the best guards of the 90s. How, you say? Let's journey down the rabbit hole.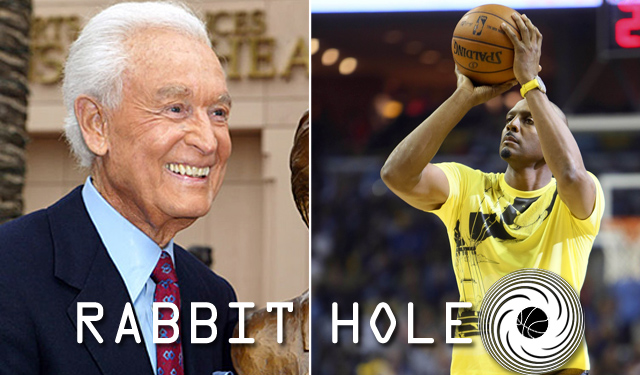 This has been a pretty fun couple of days with having the NBA season starting up. We've had some great nights of basketball, including an improbable win by the Lakers that was followed by an embarrassing loss. We also had the Heat showing the Bulls who is boss before the 76ers showed the Heat they still need to make sure they concentrate on the opponent in front of them. And all the while we've had some fun highlights that are already building the hype of such a historic season before us. 
While we're waiting for the tonight's games to dazzle us once again, we've got some time to kill and there's no better way to kill time on a Friday than to journey down the NBA rabbit hole. OK, there are probably lots of better ways but you've already clicked this link. Might as well journey on down:
First Stop: Bob Barker says that LeBron James is the greatest player ever
I get sent links every so often, but one in particular I was fascinated by was this radio interview that had Bob Barker saying LeBron James is probably the greatest player in NBA history. Why would this be so fascinating to me? I just love the idea of Bob Barker from "Price is Right" fame going around, doing radio hits, and discussing NBA basketball. Barker spent over a half a century on television telling everybody the value of things, so why wouldn't he know the value of basketball impact and skills? 
Earlier today, Jordan Buscarini of Castle Country Radio KAOL 750AM in Utah had the pleasure of interviewing the legendary TV show host Bob Barker. Barker is one of the most famous people to ever grace the television screen and he has been apart peoples lives for generations

During the show the Jordan asked Bob who as his preseason favorite and Bob responded with "I don't know how anyone can beat Miami."

"LeBron James is probably the best basketball player to ever live, he has it all, he's tall, powerful, fast, really fast, he can shoot from the outside, he can pass and a good rebounder, what else do you want from a player."

"He was a man amongst boys in high school and I wouldn't want to bet against any team he was on."
While this may send most people into debates about just how great LeBron James is when compared to the legends of NBA history, all it did was send me looking for Bob Barker television highlights. The first one that came up was when he was on the "Late Late Show with Craig Ferguson" and he destroyed Craig's desk because it looked cheap.
After watching that, there is no way the scene in "Happy Gilmore" with Bob Barker and Adam Sandler is an exaggeration of what he can do when he puts his might into something.
Let's watch some Price is Right awesomeness
If we're taking sports out of the discussion and you had me pick one game to play for the rest of my life, it would be the board game Mall Madness. That's just fun for the whole family.
But if I were able to pick two games to play for the rest of my life, it would be Mall Madness and Plinko. Before we get into the greatest moment in Plinko history, we should probably watch some bloopers from "Price is Right" and watch people fall down spinning that giant wheel. It's mesmerizing. 
As for Plinko, it's really the greatest games how game of all time. It's like playing a fun version of Connect Four only you don't have to wait for someone who is about to lose try to defy all logic and block two winning spots with one chip. When you're looking up Plinko highlights, you get treated to the greatest feat that's ever been seen on that board. Check out history by Aaron, a god amongst Plinko men:
How is that even possible? It's like watching those rare occasions when the ball gets stuck, not wedged between the side of the rim and the backboard, but when it stops on the flat part of the back of the rim. It seems impossible that the momentum and spin of the ball could ever end right there, but it does happen. It's even been caught on the top of the shot clock before. It's just like Aaron's wizardry with Plinko.
Monta Ellis was playing in that game. How distracting do you think it was for him seeing a ball on the court and another ball hanging above the basket? Was there ever a hope for him it would fall to him during play so he could have a chance at scoring both on one possession? 
Finding it's way to the back of the rim is more common than the top of the shot clock but still I can only assume sorcery is involved for such antics. If you told me that Tony Allen was going to attempt a layup in the pressure packed situation of a playoff game and manage to neither make it nor miss it, but to actually have it rest on the rim without rolling off in some direction... I'd probably say, "Yeah, that sounds like something a Tony Allen layup could do."
The most improbable of all is also from last season when a fan at an Atlanta Hawks game was given an opportunity to shoot a halfcourt shot for some cash. If he made the heave, he'd win $1,000. Then this happened:
There is no way this is possible. I know there are really cool things that can happen visually when it comes to balancing things. In theory, there is a way to balance just about anything on any surface but I still don't believe that happened.
Back to "Price is Right," my two favorite game shows that were on regular network television were "Price is Right" and "Wheel of Fortune." I guess I had something for spinning wheels, but that probably wore off since I have no feelings toward the game Roulette. "Wheel of Fortune" was a lot of fun, but now all it does is conjure up horrific memories of the Dunk Contest Wheel. 
The opposite of the fun of Wheel of Fortune is definitely the Dunk Wheel
The NBA tried to find a way for the Dunk Contest to survive post-Vince Carter's brilliance. Unfortunately, it became too gimmicky of a process and caused some of the more awkward moments in the contest's history. When Desmond Mason had to try to imitate something Dr. J did (even though they're two completely different dunkers), it was uncomfortable.
Too. Many. Julius Erving. Dunks. 
Jason Richardson was able to pull it off, but he's also one of the most underrated and underappreciated dunkers in NBA history. Steve Francis was reminded yet again that he can't palm a basketball, which seemed to be mentioned a dozen times whenever he was in one of these. And Charles Barkley and Francis both alluded to the fact in real time that the wheel was a bad idea.
Gerald Green is done with the dunk contest apparently
Speaking of dunk contests, Gerald Green is done with them after not winning last year when he tried to dunk twice on a hoop without a net attached. Apparently the experience of all these dunk contests coupled with the fact that he wants to be recognized as a basketball player more than a dunker has finally taken its toll with him. From Suns.com: 
"I hate talking about the dunk contest."

"I'm just so sick of the dunk contest. I'm done with that. That point of my life I'm over with. Last year I tried to do a dunk no one has ever seen before. I wasn't successful in it. That was the end of that book. I close the book, threw it in the treasure (chest), locked the key, threw it in the ocean and will never see it again."

"I'll never be in a dunk contest again. I don't ever want to be a part of it."
I thought about showing some of his dunk contest videos here, but instead it got me thinking about which dunk contest champion of the past he career may resemble the most. You have to pick a player that won the contest but struggled to stick around in the league or in a rotation. Green has managed to be more successful than these two dunkers but they were the best I could come up with to fit the criteria.
Is Gerald Green more of a Harold Miner or a Fred Jones?
Harold Miner only lasted four seasons in the NBA after a fine college career that put him on the map. Fred Jones lasted seven years in the league but was gone just after he turned 30 years old. Gerald Green is going to surpass both of those guys by the time his contract is up, but if he doesn't show an ability to do more than just jump, he may not get very many shots to stick around. It got me wondering about what Harold Miner did after he stopped playing in the NBA at the age of 25. 
Jim Weber of Yahoo Sports had a great follow-up with Miner a few years ago:
It certainly has. Miner became a household name almost two decades ago as a junior at USC by piling up points and dunks during the 1991-92 season. Miner had the shaved head, No. 23 jersey, MJ mannerisms and the spectacular slams that reminded many of "His Airness." Suddenly, the "Baby Jordan" nickname he picked up on the playgrounds of Inglewood had spread across the nation and made him a star, something he always grappled with.

"I probably never got used to being in the spotlight," Miner said. "I'd say it's always been uncomfortable for me, not natural for me."

Miner led USC to a No. 2 seed in the 1992 NCAA Tournament, becoming USC's all-time leading scorer (a record he still holds) and earning Sports Illustrated's college basketball's Player of the Year award over LSU's Shaquille O'Neal and Duke's Christian Laettner. But the storybook season came to an abrupt end when Georgia Tech's James Forrest knocked the Trojans out of the second round on a legendary buzzer-beating 3-pointer. Weeks later, Miner held an emotional press conference to announce he would be turning pro.
I had forgotten all about that James Forrest buzzer-beater from an awesome Georgia Tech-USC tournament game. 
Did I see Matt Geiger in that video? Is Matt Geiger on YouTube?
Yes, I did. Geiger was a part of that Georgia Tech team and actually made the pass to Forrest for the winning shot. It was a little weird seeing him with hair because he definitely sported the Mr. Clean look when he hit the NBA. Remarkably, they have a Matt Geiger mixtape on YouTube.
From that highlight mix, I can only assume that over 50 percent of his points over the course of his career came against the Sonics. By the way, did you know he once listed his house in the Tampa Bay area for $20 million, only to eventually sell the 28,000-square-foot estate for $8 million? It had a shark tank!
One of the highlights that comes up when you search for Matt Geiger highlights is the time Dennis Scott abandoned the 3-point line and dunked on Geiger.
The best Orlando Magic days and Penny Hardaway
Dennis Scott will always bring about memories of his days with the Orlando Magic. Those teams were some of my favorite national watches growing up, often looking to see whether the aerial assault of the Magic would come from the 3-point line (Dennis Scott, Nick Anderson, Brian Shaw) or at the rim with Shaquille O'Neal and Anfernee Hardaway throwing down. There was a really cool sit-down during the 2011-12 season between Scott, Shaq, and Penny on "The Jump on NBA.com" that aired on NBA TV.
The three former teammates got together to discuss their time together and how they stacked up then. There are some great candid comments by Shaq about his exit and how failure drove him. 
I would say we need more of this stuff but the "Open Court" series on NBA TV pretty much gives us these great conversations already. That brings me to Penny Hardaway. Like many kids that grew up in the 80s and 90s, I was a huge fan of Penny. He was one of my favorite players and dazzled the masses before his knees betrayed him. Some people may not remember just how great he was before the injuries took over, but he looked like an all-timer. 
There is so much more we could do with a Penny Hardaway rabbit hole that perhaps this is best to be continued next Friday when we have more time to discuss and watch the greatness of Penny. To be continued...
LeBron James will try to finish off his 30,000 point milestone tonight when the Cavaliers play...

The old rivalry of Celtics-Lakers is renewed once again, but the stakes are still pretty l...

David Blatt thinks Cleveland players aren't doing enough for Tyronn Lue and the rest of the...
Lillard has a private meeting with owner Paul Allen over the future direction of the organ...

The reserves will be drafted playground style by LeBron James and Stephen Curry

Seven players from each conference will join the starters