Bobcats' Jefferson out for Game 4 Monday
Bobcats center Al Jefferson will miss game against Heat with Charlotte down 0-3 to Miami.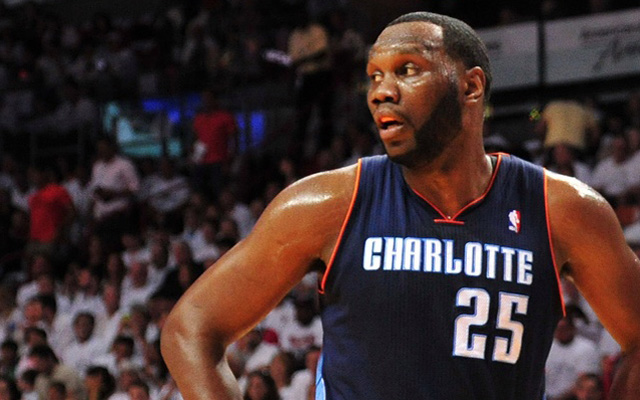 More postseason coverage: Playoff schedule, results | Latest news, notes
Update 5:25 p.m.: The Bobcats have announced Jefferson is out for Game 4.
Bobcats coach Steve Clifford said Monday that center Al Jefferson is doubtful to play in Game 4 vs. the Miami Heat in Charlotte. Jefferson suffered a torn plantar fascia in Game 1 and hasn't been the same since. 
UPDATE: Head Coach Steve Clifford stated that it is doubtful Al Jefferson will play in tonight's #heatvbobcats #game4

— Charlotte Bobcats (@bobcats) April 28, 2014
Jefferson averaged 21.8 points and 10.8 rebounds on 51 percent shooting in the regular season but is averaging just 18.7 points on 49 percent shooting in the playoffs. The Bobcats are down 3-0 headed into Game 4 and have shown no capacity to keep up with the Heat from a firepower perspective. 
Jefferson described the injury as "like stepping on nails." Though doctors have said no further damage can be done to the foot by playing, with the series effectively over there's no reason to put Jefferson through it. Instead the focus should be heading into the offseason with some momentum for the first time in Bobcats history and trying to upgrade their offensive weapons to provide some scoring balance beyond Jefferson and point guard Kemba Walker. 
Irving has requested a trade away from the Cavaliers

The Lakers made a strong push for Rose, but he would have been a backup in Los Angeles

The small forward spent last season with the Sacramento Kings
Knight still has three years left on his five-year, $70 million contract

The Golden State forward is accused of assault, battery and making misleading statements

The Nets get their shooter a year later, and the Blazers reportedly will waive Nicholson