Bobcats offer 'buy one season ticket, get second season free' after losing Draft Lottery
The Charlotte Bobcats are offering a "buy one season, get a second season free" ticket promotion.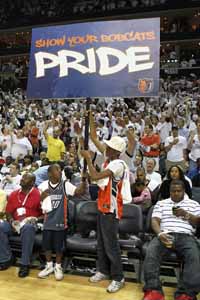 Pride! And savings!
(Getty Images)
Who took the biggest loss in the 2012 NBA Draft Lottery?
Clearly, the Charlotte
Bobcats
. The
NBA
's worst team in 2011-2012, winners of just seven games, had a 25 percent chance -- the best odds of any team -- at landing franchise-changing Kentucky big man Anthony Davis in Wednesday night's Lottery.
Of course, the New Orleans
Hornets
prevailed
, leaving the Bobcats with the No. 2 selection and the choice between the likes of Michael Kidd-Gilchrist, Bradley Beal, Thomas Robinson and Andre Drummond. Given the justified hype surrounding Davis, the results qualified as a major letdown.
So how did the Bobcats respond to their fans' hopes being dashed after sufffering through one of the ugliest seasons in recent memory? By offering a "buy this season, get the next season free" ticket promotion
on their official website
.
Immediately after the Lottery, Bobcats.com began offering
upper bowl season ticket packages
 at two seasons for the price of one.
The site announced: "Purchase seats for the 2012-13 season at regular price and get the 2013-14 season completely FREE !!!" 
Prices for the package start at $537.50 for corner seats. That equates to roughly $6.55 per game over 82 regular season seasons during the two seasons. Upper level center court seat packages run $752.50, or $9.18 per game.
In 2011-2012, the Bobcats finished 7-59, posting the worst winning percentage (.106) in NBA history. Along the way, they 
averaged 14,757 fans per game
 at Time Warner Cable arena, among the lowest in the league. They played to 77.4 percent capacity, third-worst in the NBA, ahead of just the New Jersey
Nets
and Detroit
Pistons
. Of course, the reported attendance figures in the NBA are often much, much higher than the number of fans who actually show up to attend the game in person.
Hat tip: BusinessInsider.com
The investigation detailed a hostile workplace environment

Cousins suffered a torn Achilles tendon on Jan. 26, and will miss the rest of the season

Ingram has become one of the team's go-to players with Lonzo Ball sidelined with an injury
Giannis skipped EuroBasket last summer, and has missed four games this season with knee so...

Some of the best and worst from the league as we head into the home stretch of the season

Cuban acknowledged that tanking is 'brutal' and that he will no longer do that after this...