Bobcats waive Ben Gordon after playoff eligibility ends
The Charlotte Bobcats have waived Ben Gordon a day after the deadline for waived players to be eligible for postseason play.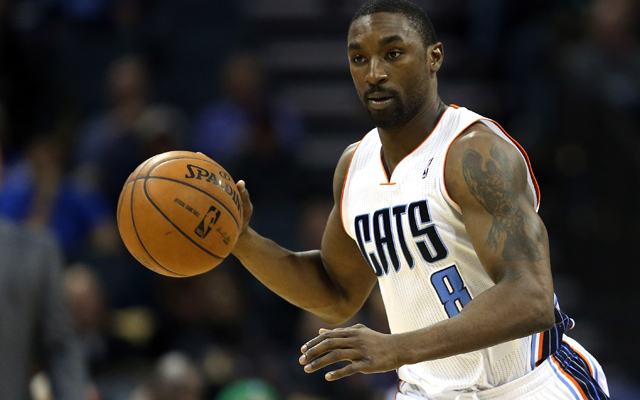 More NBA: Scoreboard | Standings | Schedule | Stats | Injuries | Expert Picks
Buyout season is technically over, even though NBA players can still be waived through the end of the season. But any player who had waivers requested on him by his team after March 1 is ineligible for postseason play, as per the collective bargaining agreement. Any veteran looking to find a new team after the trade deadline is officially out of luck as of Sunday, including Ben Gordon.
A day after the last possible playoff eligibility, the Charlotte Bobcats announced they've requested waivers on guard Ben Gordon, who is in the last year of his contract. From the Bobcats:
Charlotte Bobcats President of Basketball Operations Rod Higgins announced today that the team has requested waivers on guard Ben Gordon. The Bobcats roster now stands at 14 players.

"With the recent acquisition of additional backcourt depth to our roster, we believe this is in the best interests of both parties," Higgins said. "We want to thank Ben for his contributions over the past two seasons and wish him the best as he moves on in his career."
This move can be viewed to be a bit cold by the Bobcats. They certainly knew before Sunday whether they would want to keep Gordon on their roster for the rest of the season. And yet they waited until after the eligibility deadline to waive him. This isn't the first time something like this has happened but for someone like Gordon who may be looking to get back to the playoffs, it's certainly frustrating.
Had he stayed on the Bobcats, he would get to be on a postseason roster anyway. The 27-31 Bobcats are currently seventh in the Eastern Conference, 4½ games ahead of the Cleveland Cavaliers. Gordon has only played in 19 games this season, averaging 5.2 points in 14.7 minutes of action. 
Greek Freak scores career-high 44 points and reaches scary level to finish the game

It was an ugly finish as the Warriors fell to 1-2 on the season -- both Curry and Kevin Durant...

Mirotic was hospitalized with facial fractures after an altercation with Portis during pra...
Irving had some choice words for a fan who heckled him in Philadelphia

Several teams were reportedly interested in Nelson after he was waived by the Nuggets

Cousins got into a heated exchange with a fan during the Pelicans' season opener